Thinking about opening a cafe but worried it might be too complicated? Let us put your mind at ease. Starting any new business takes a lot of work, but if you break it down into manageable chunks, you may not get as overwhelmed by the process.
In this article, we discuss the specific steps for opening a cafe and introduce you to a tool that can help you organize your team's activities once the business gets going.
Table of contents
Opening a cafe: Get ready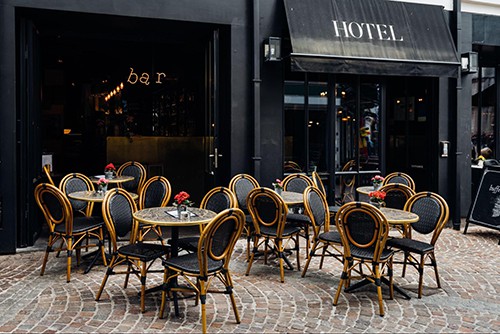 1) Work in a cafe first
One of the best ways to get started on the path toward opening a cafe of your own is to actually work in one.
As you do, learn all you can about the foundational activities that go into keeping the doors open, such as:
Working in a cafe is also a great way to see if it's something you enjoy doing. While running the business is different from working in it, if you don't like the day-to-day activities, you might want to look into starting some other type of venture.
2) Research state and local health codes
Opening a cafe means you'll have to abide by state and local health codes, following all rules and regulations that pertain to handling, cooking, storing, and transporting food and drink.
It can also mean outfitting your cafe with food-grade equipment (think stainless steel) and submitting to periodic inspections (among a long list of other things).
You should speak with your legal counsel to ensure your bases are covered.
3) Brainstorm names for your cafe
Coming up with a good name can be one of the hardest and most time-consuming parts of opening a cafe. If you don't already have something in mind, start brainstorming early.
Once you begin the process of registering your business, filling out forms, and opening bank accounts, it can be labor- and cost-intensive to make changes if you suddenly come up with a business name you like better.
4) Build a business plan
When it comes to opening a cafe, building a business plan is crucial.
A good business plan often contains the following information:
Including as much information as possible can streamline your activities in a variety of ways — from helping you secure funding to showing you exactly what to do to get your cafe up and running.
Opening a cafe: Get set
5) Create a menu for your cafe
This is one of the first parts of your new cafe that your customers will see, so put plenty of time and energy into creating a menu for your new business. Keep in mind that your menu should match with the food and service style you choose.
For example, if you want to open an upscale cafe that caters to adults, you wouldn't necessarily print your menu on paper placemats and you wouldn't need to include a kid's section.
You would, however, perhaps want to put a bit more thought into your wine list so that your target market can find what they're looking for quickly and easily.
6) Choose a location
The right location for your cafe may depend on the type of food you want to serve and the customer base you want to target.
For example, if your cafe will cater to travelers, the perfect location might be along a busy road just off the interstate. Or, if your cafe will cater to pedestrians or office workers on lunch break, the perfect location might be downtown in the business district.
As you search, be sure to look at more than just the space itself. Consider other details as well, such as:
Distance from your target market
Parking (if necessary)
Extent of building maintenance
Cost of operation and upkeep
Safety of neighborhood
Esthetics
Decor
Security
It may take some time to find a suitable location for your new business, but, when you find a place that fits your needs, it will make all the effort worthwhile.
7) Register your cafe
This part of opening a cafe requires you to think about how you want to structure your business for legal, financial, and tax purposes.
This step typically requires a lot of paperwork and can start with deciding on one of the following options:
Sole proprietor/self-employed — working by yourself under your own name (e.g., Jane Cafeowner)
Doing Business As (DBA) — a sole proprietor doing business under another name (e.g., Jane Cafeowner doing business as Cafe Effect)
Limited Liability Partnership (LLP) — a legal arrangement that serves to keep personal assets and business assets separate
S-Corp — an independent corporation that allows profits and losses to pass through to the owner's personal income
C-Corp — an independent corporation that is taxed separately from the owner's income
Once you settle on the type of business you want to run, you'll need to register with local, state, and federal agencies (including the IRS) in order to obtain the necessary licenses and permits.
8) Open a business checking account
Regardless of the type of business setup you choose, it's a good idea to open a separate checking account just for your cafe.
This can help you keep your personal and business finances separate and can streamline a wide variety of business activities, including:
Recordkeeping
Payroll
Profit and loss
You may not see the need to open a separate checking account for your new cafe, but doing so can save you time, effort, and lots of headaches down the road and when tax time rolls around.
Opening a cafe: Go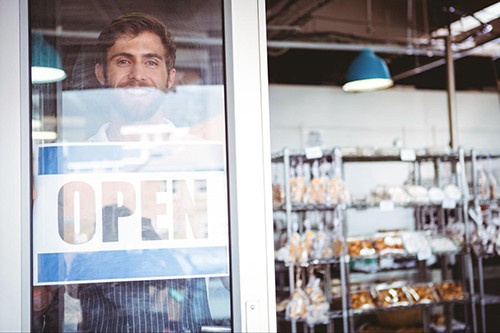 9) Outfit your cafe
Once you've found the right location, the next big step in opening a cafe is purchasing equipment. You'll need refrigeration space, cook and prep surfaces, tables, chairs, point-of-sale equipment, and much more.
Some of this equipment can be very expensive because of possible health and safety regulations. Shop online and in-store to find the best deals possible, but try to purchase as high a quality of equipment as possible so it doesn't break down when you need it the most.
10) Hire and schedule employees
Hiring and scheduling employees can be a complicated and difficult process. Modern technology — like the Sling app — can help make it easier.
The Sling software suite is particularly useful for such demanding tasks as:
Once you've hired and scheduled a team for your cafe, you can use the Sling app to assign tasks, get a handle on labor costs, and even democratize future scheduling efforts.
11) Make customer service a priority
One thing you can do to set your cafe apart from others is to make customer service a priority right from day one.
Providing friendly service at all times can create an open, welcoming atmosphere that may help draw in customers from all over.
12) Advertise your cafe
At first, advertising the new cafe may take up a lot of your time, but it doesn't have to take up a lot of your money.
Instead of focusing on the more traditional advertising channels (i.e., TV, radio, and print media), try these "guerilla" tactics to get the word out to as many people as possible:
Build a website
Post flyers
Put together a Facebook page
Get friends and family to spread the word
Take advantage of social media apps like TikTok, Instagram, and Pinterest
With a bit of creativity and patience, you may be able to find inexpensive advertising channels that reach plenty of potential customers in your area.
Optimize your team with Sling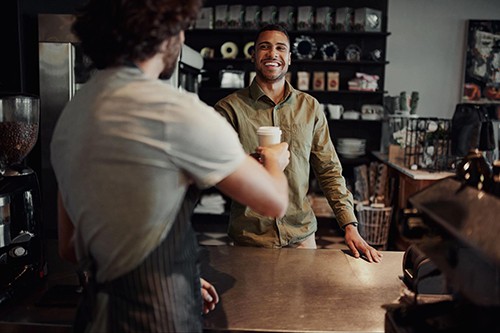 When it comes to organizing, managing, and optimizing your team, Sling is the right choice for the job.
The Sling app can help you save countless hours each week that you can then put into more important pursuits, such as growing your new small business and keeping it on track for success.
For more free resources to help you manage your business better, organize and schedule your team, and track and calculate labor costs, visit GetSling.com today.
See Here For Last Updated Dates: Link
This content is for informational purposes and is not intended as legal, tax, HR, or any other professional advice. Please contact an attorney or other professional for specific advice.