If opening a restaurant is in your future, you are undoubtedly excited — and perhaps feeling a bit overwhelmed. If that's you, don't worry. This step-by-step guide will break things down and help you determine the direction that's right for you.
We'll discuss how to navigate the early planning stages, review some essentials to take care of before launch day arrives, and leave you with some tips to keep your restaurant running smoothly once it opens.
Table of contents
Opening a restaurant: Early stages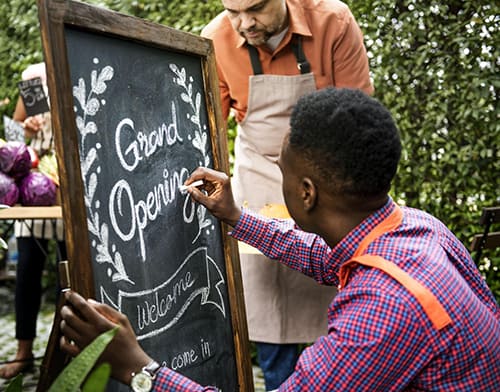 We've all heard the phrase, "When you fail to plan, you plan to fail." This is especially true when it comes to opening a restaurant. You can't just wing it and hope everything comes together.
To best set yourself up for success, start by taking time to complete the following steps.
1) Define the concept of your restaurant
"Restaurant" is a word encompassing a wide variety of venues, from bistros to fine dining establishments and even ghost restaurants. With so many different options, what's your restaurant concept?
If you're not sure yet, ask yourself these questions to start defining it:
What type of cuisine do you want to serve?
Who is your target market?
What atmosphere do you want to create?
What do you want people to love about your restaurant?
Why will customers keep coming back after their first visit?
How is your restaurant different from all the other restaurants in town?
As you ponder your answers, use them to draft a written concept for your restaurant. You'll need this as you move forward with your opening.
2) Research local regulations and permits
Every city has requirements and health codes for restaurants. Before you continue the process of opening a restaurant, do your homework on local laws and rules to avoid getting into hot water.
The Small Business Administration is a good place to look, and you should plan to speak with your legal counsel for more guidance.
3) Create a business plan
A business plan is a blueprint for your eatery. It can also become a powerful tool to help you get funding for your new venture.
As such, it should include information about your restaurant's:
Mission statement
Organization
Staffing needs
Financial projections and budget
Industry analysis
Market differentiation
It may take some time to develop and write your business plan, but doing so is a crucial step in the launch process.
ADD_THIS_TEXT
4) Secure financing for opening a restaurant
Once your business plan is in place, it's time to find the funds you need to make your restaurant dreams come true. This could mean leveraging your personal resources, applying for a loan, or seeking investors.
5) Pick a great location
When you've got cash in hand, it's time to take the next step and find the spot that will soon turn into your restaurant.
Since location is crucial in this industry, you'll want to scout out the possibilities. A successful eatery needs to be in an area with plenty of foot traffic and visibility from passersby. Look for spaces near other popular restaurants, transportation hubs, or entertainment venues.
Opening a restaurant: Preparing for launch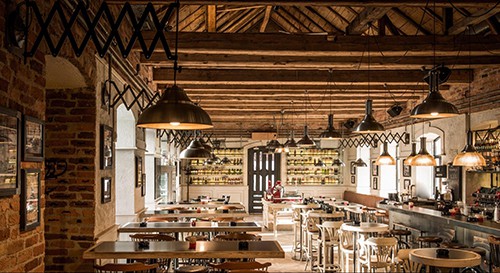 Now that the wheels are all in motion, it's time to shift your gears a bit and set your restaurant up for a successful opening day.
6) Design an inviting interior space
First impressions matter, which means it's essential to put thought into your interior design. Think about the ambiance you want the restaurant to reflect, and keep it in mind as you make decisions.
Carefully choose each design element, from the tables to the signage. You want everything to be a good fit with the concept you're going for.
As you start furnishing your restaurant, watch out for potential bottlenecks and areas that could be hazardous.
7) Fine-tune your menu
Your restaurant's menu is the heart of its identity. It should feature high-quality dishes that customers will love and find unique.
However, remember that you'll need to source all of the ingredients and equipment required for each menu item. A massive menu may not be the best idea, as it might lead to unused or spoiled inventory.
Keep it simple, at least at first. You can always add more menu items later. And as you plan, review your pricing strategy. Price every item so that it makes a profit while remaining competitive in your market.
8) Partner with suppliers
No matter how good your menu is, you can't prepare anything without the right ingredients and supplies. Your success often depends on having fresh products coming in daily from reliable vendors.
Shop around to find suppliers that can get you everything you need at a reasonable price. You may need to work with multiple companies to stick to your budget.
9) Hire and train the right people
It can be difficult to run a restaurant alone. A solid team can help create a quality dining experience for everyone who walks in the door.
Be clear on your staffing needs and requirements before you start hiring. Review your schedule and note how many people you need for each shift. You don't want to be over- or understaffed.
During this stage, draft your job descriptions carefully to attract the right people. When interviewing applicants, look for someone who meshes well with your restaurant culture.
Once you've hired a great team, you can take advantage of the Sling app to help manage everyone. Use it for tasks such as:
10) Promote your restaurant
Create a buzz about your restaurant by getting the word out. Consider running ads and promotional campaigns on social media. Take plenty of behind-the-scenes photos and film short videos to give people a sneak peek. Shots showcasing your delicious food will also be a hit.
But as you grow your online presence, don't forget about more traditional advertising platforms, like local radio stations and community bulletin boards. They're still good ways to drum up some noise and excitement, especially if you include discounts or coupons.
Make everyone eager to taste what you have to offer.
Opening a restaurant: Steps for continued growth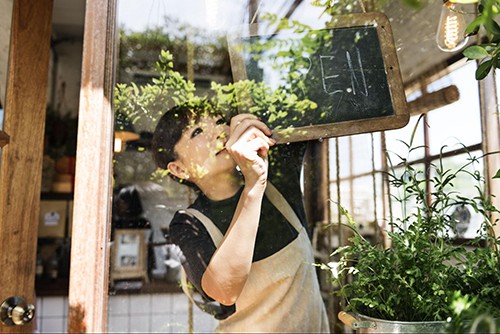 Your hard work paid off and brought your business to fruition. However, your job isn't over yet.
Now it's time to focus on continued growth to ensure your place remains successful. The below steps may help with that.
11) Monitor and adjust operations as needed
Your day-to-day operations can make or break your business, so monitor them closely.
Here are some metrics to consider tracking:
Cost of goods sold
Break-even point
Gross profit
Net profit
Table turnover
Average amount a customer spends per seat
Customer retention
Customer satisfaction
Keeping track of data is an essential part of running a restaurant. But if you try to document it all by hand, paperwork can consume your time.
To help free you up, streamline this part as much as possible with software. For instance, consider using the Sling suite of tools to review your labor costs and ensure adequate coverage before a busy shift.
Once you have a plan and tools in place for collecting the necessary data, take time to review it regularly. This allows you to recognize problems as they arise and proactively correct them.
Opening your restaurant with Sling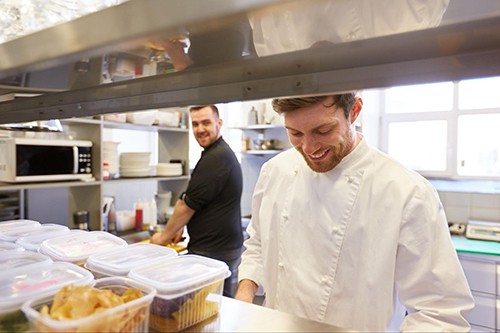 Opening a restaurant doesn't have to be daunting. The steps above can help you break the process down into bite-sized chunks that don't feel as overwhelming. And once you're open, Sling can help keep things running smoothly.
This powerful software has features any restauranteur would appreciate. It's one of the best ways to optimize your workforce schedule and track labor costs.
Features include:
Intuitive scheduling capabilities
Comprehensive time-tracking
Effective budgeting tools
Customizable communication between you and your team members
Seamless integration with Toast, Square, Gusto, Restaurant Manager, and other business management tools
For more resources to help you manage your restaurant, visit GetSling.com today.
See Here For Last Updated Dates: Link
This content is for informational purposes and is not intended as legal, tax, HR or any other professional advice. Please contact an attorney or other professional for specific advice.