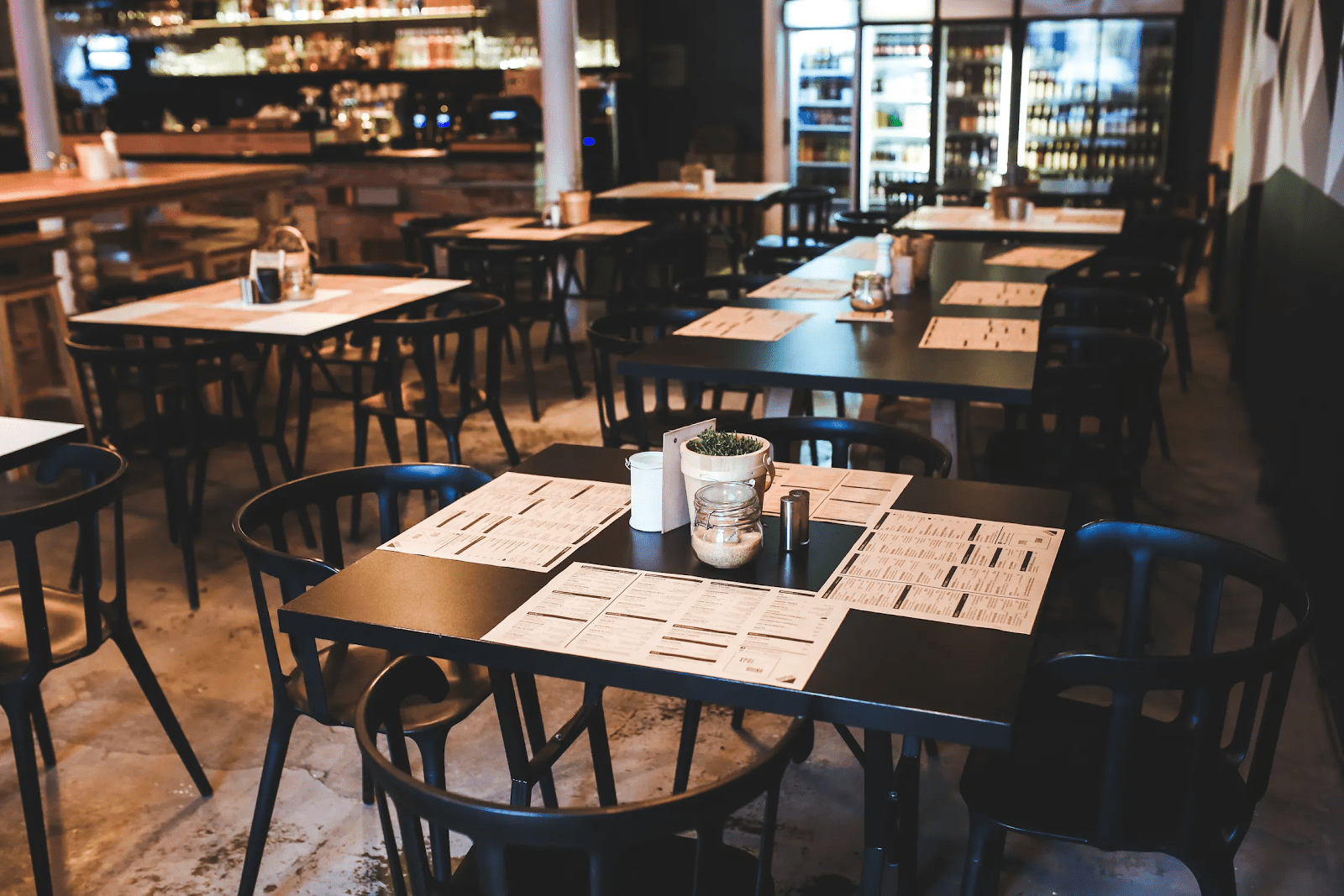 Now more than ever, it's vital to your business's success that you and your staff learn how to clean a restaurant properly to prevent the spread of disease.
In this article, the restaurant-management experts at Sling have created the ultimate checklist to help you keep your eating establishment — be it a food truck or a seven-course restaurant — as clean and safe as possible.
How To Clean A Restaurant: Pro Tip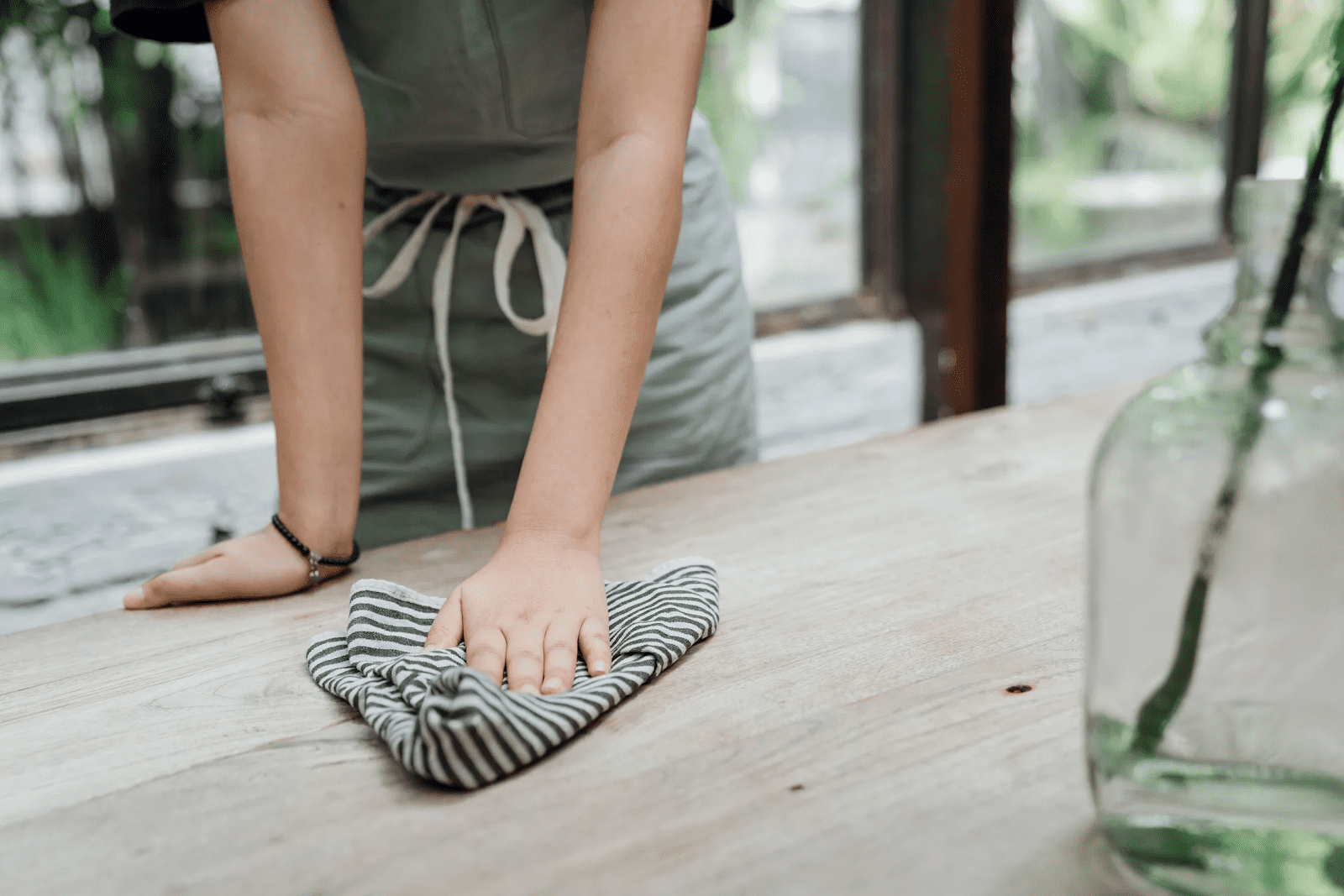 Check CDC Recommendations & Guidelines
For accurate, up-to-the-minute advice on how to clean a restaurant, always check the official website of the Center for Disease Control and Prevention (CDC).
There, you'll find procedures, suggested supplies, and frequency recommendations that you can implement into your daily, weekly, and monthly cleaning routines.
You'll also find guidelines on how to conduct daily health checks, perform a hazard assessment of your restaurant, and improve the ventilation of your building.
All of these practices will help you maintain a clean restaurant and keep your staff and customers safe.
How To Clean A Restaurant: Checklist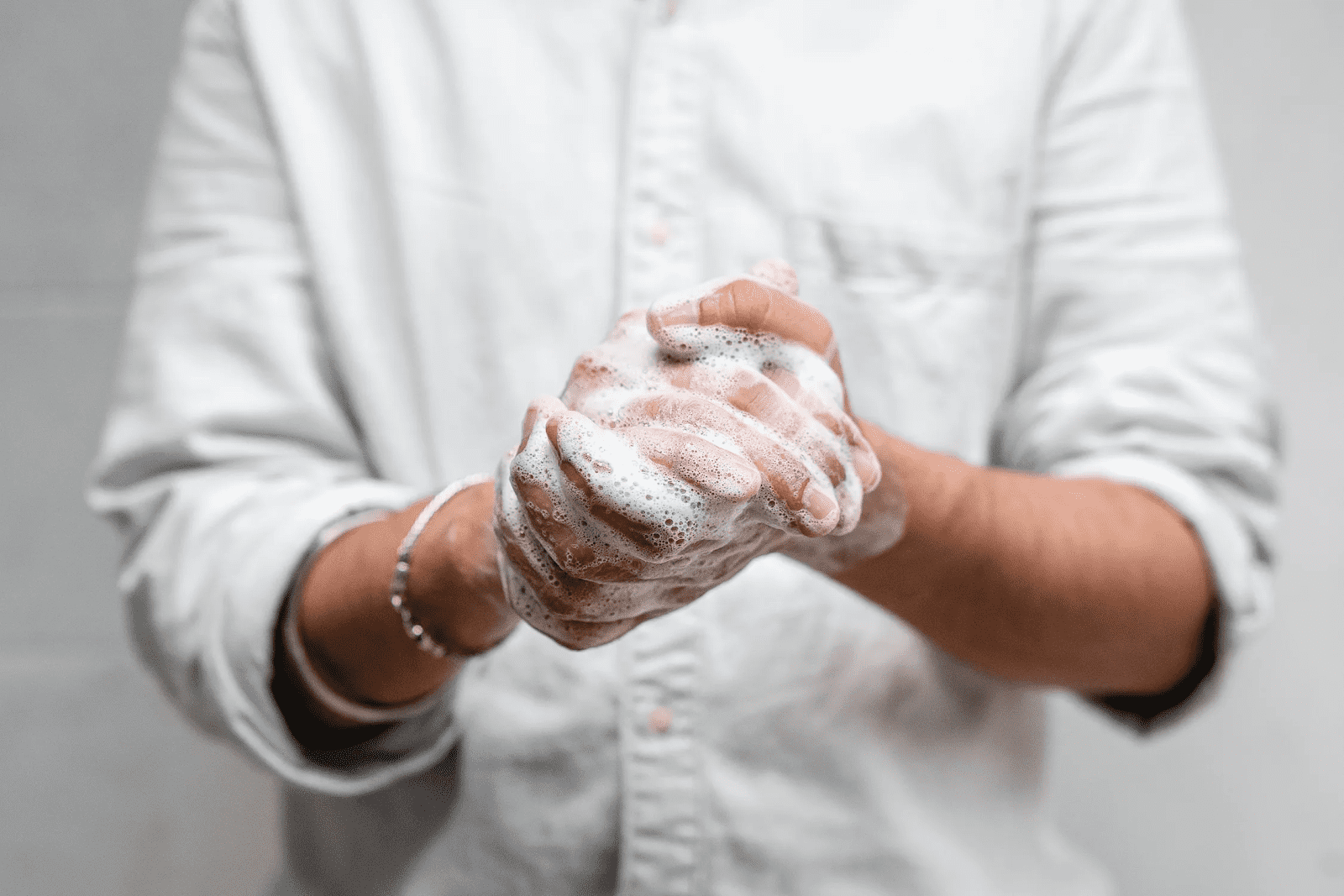 Staff
Supplies
Hot water
Soap
Hand sanitizer
Surgical gloves
Instructions
You might think we'd start our "how to clean a restaurant" checklist in the kitchen or the dining room. But, as vectors — organisms that transfer disease from one place to another — your employees are probably the biggest culprit.
In fact, they may be doing it without even realizing.
It's vital, then, to encourage your employees to wash their hands more often and under these circumstances:
Before and after their shifts
Before and after their breaks
After coughing, sneezing, or blowing their nose
After using the restroom
Before eating or preparing food
After putting on, touching, or removing cloth face coverings
Remind them that if their hands are visibly dirty, they should wash with soap and hot water for at least 20 seconds before using hand sanitizer with at least 60% alcohol.
You might even consider making these habits part of your standard operating procedures and including them in your employee handbook. That way, everyone abides by the proper cleanliness standards.
Be sure to include the cost of extra soap and hand sanitizer in your restaurant budget so you don't overspend.
Front Of House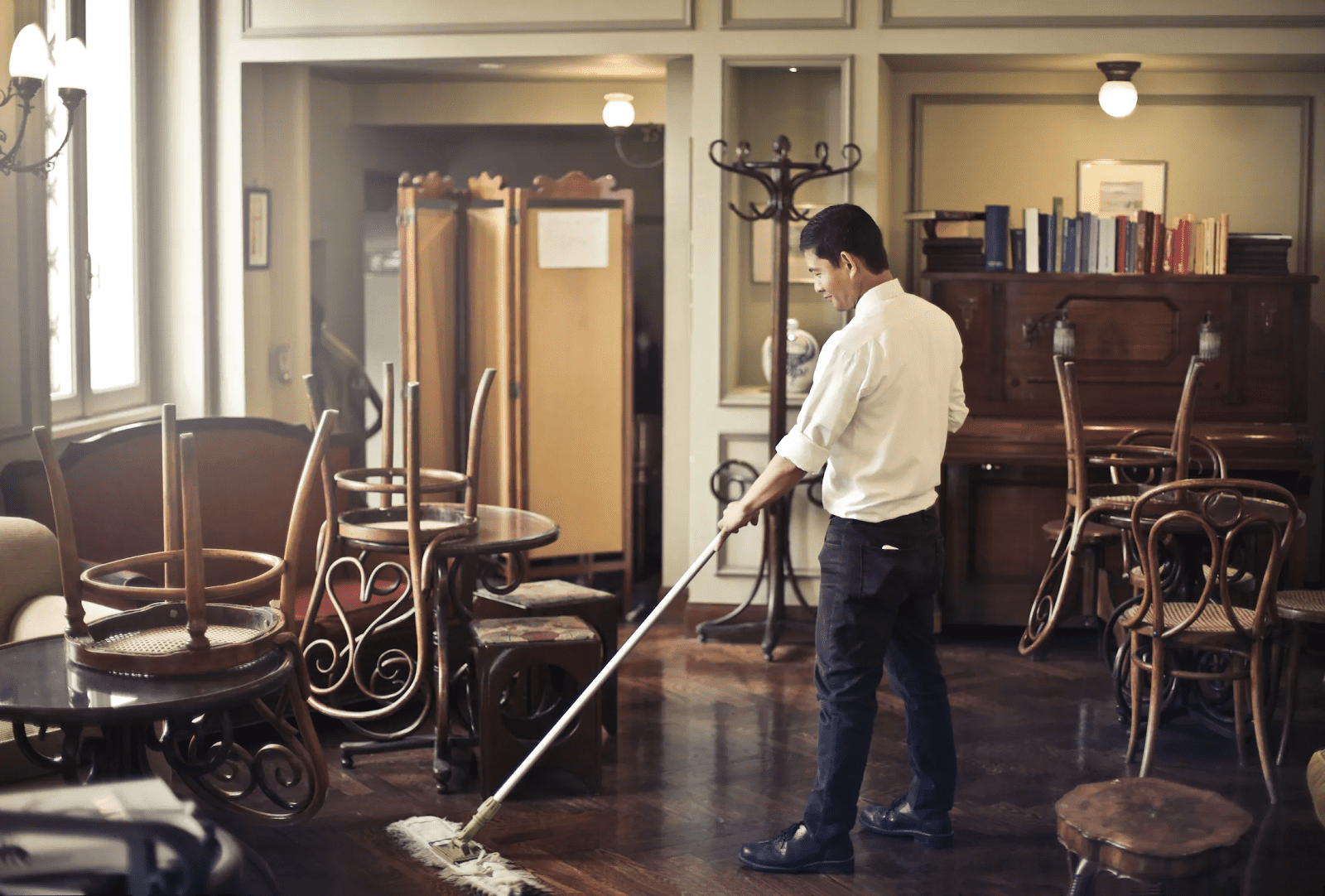 Your restaurant's dining room and reception area (the front of house or FOH) are the first places your customers see. As such, they should be as welcoming and clean as possible during normal business hours.
Below, we've created a "how to clean a restaurant front of house" checklist so you can keep track of what has been done and what still needs your attention.
Supplies
Surface cleaner
Glass cleaner
Disinfected cleaning cloths
Mop
Bucket with hot, soapy water
Broom
Vacuum
Bathroom cleaner
Toilet brush
Bathroom supplies
Instructions
While You're Open:
Wipe down high-traffic surfaces — door handles, railings, chairs, and tabletops — with an approved cleaning solution and clean cloth after each customer. For the most-touched surfaces (like door handles and railings), you may need to wipe them down after every contact. For chairs and tabletops, disinfect them between customer use.
Spot-clean windows and glass surfaces so they are smudge- and streak-free.
Disinfect bathrooms every 20 or 30 minutes (more often if necessary) to ensure that these heavily used rooms are as clean as possible.
You might also consider removing any communal condiments that are part of the regular place setting (e.g., sugar packets, salt, pepper, ketchup, mustard, and other sauce containers). Whether you make them by-request-only items or not, be sure to wipe them down with an approved cleaner after each use.
Before Closing:
Spray and wipe down all hard surfaces (chairs, tables, door handles, host/hostess station, etc.)
Spray and wipe all menus
Sanitize bathroom surfaces
Sweep and mop all floors with cleanser and hot water
Vacuum rugs
Include in your cleaning all supplies and equipment that your wait staff and food runners use on a regular basis
Once A Week:
Make extra time before you open or after you close to perform a deep cleaning of every surface in your restaurant.
Rather than making your employees come in early or stay late, you might consider hiring a third-party cleaning company to give your establishment a thorough once-over.
Alternatively, you could hire several new team members to be responsible for the extra work necessary to keep your restaurant clean and safe.
Back Of House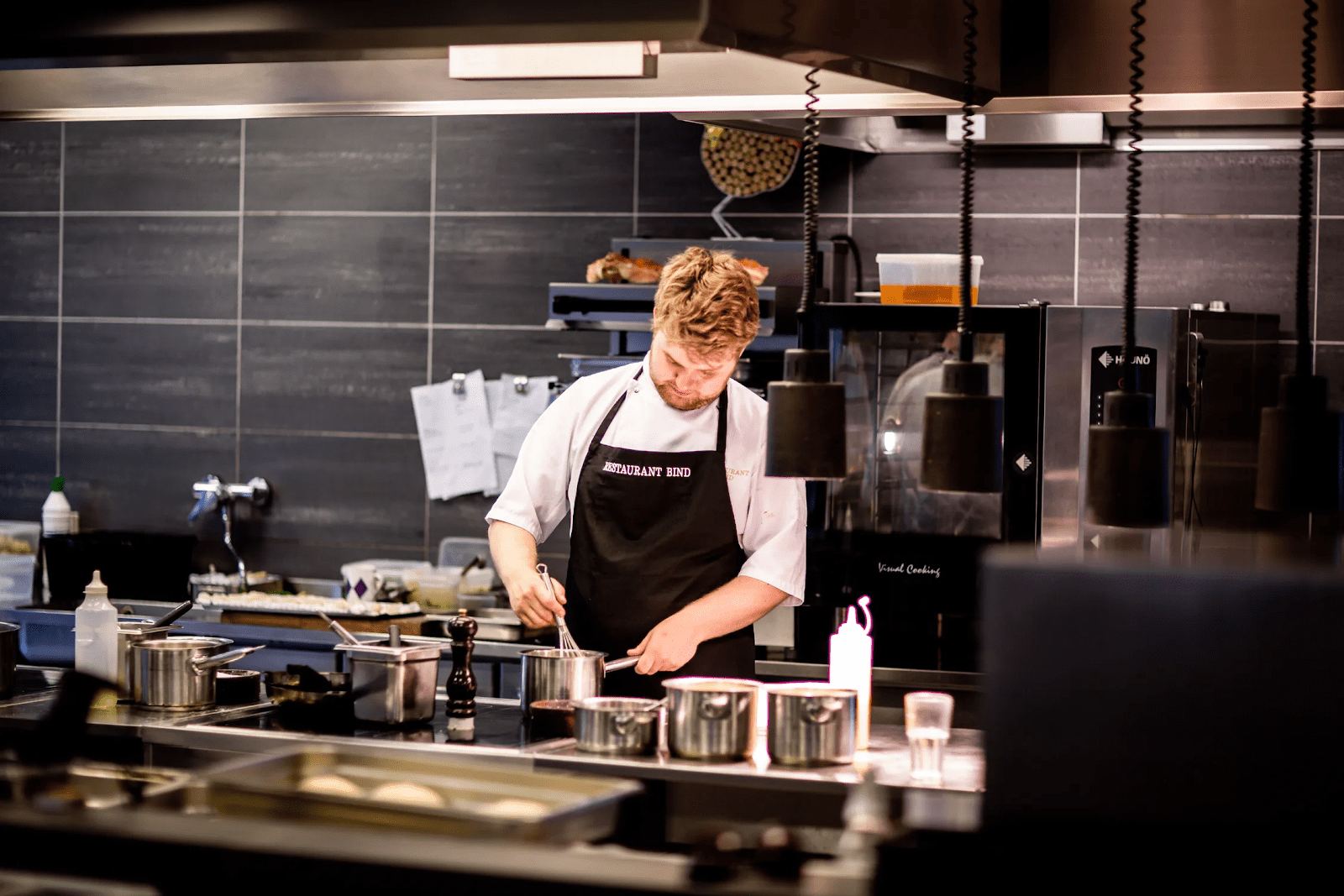 Your restaurant's back of house (or BOH) usually includes the kitchen and employee-only area that regular customers never see.
For this "how to clean a restaurant" checklist, we've also included your bar area as part of the back of house because the cleaning procedures and schedules are similar.
Supplies
Surface disinfectant
Disinfected cleaning cloths
Bleach sanitizer solution
Trash bags
Steel wool
Stainless steel cleaner
Dishwasher detergent
Mop
Bucket and hot, soapy water
Stiff-bristle brush
Paper towels
Broom
Degreaser
Hand soap
Instructions
While You're Open:
Give all prep surfaces a quick rinse before starting food prep.
Sanitize and disinfect all surfaces between preparing different types of food.
Wash all bowls, spoons, and utensils after use and before using again.
Empty trash and recycling bins before they get too full.
Wipe down the bar surface with a sanitizing solution and a clean cloth more frequently than usual (every 10 to 15 minutes or less if possible, especially during busy times).
Run glassware through the dishwasher and consider wearing surgical gloves while handling it.
Remove disposable items, such as napkins, straws, and stir sticks, from customer areas.
Before Closing:
Wipe down equipment, such as soda guns and speed wells.
Empty and sanitize ice wells.
Wipe down all bottles behind the bar.
Clean mirror behind the bar (if applicable).
Empty and disinfect garnish trays.
Remove and clean floor mats.
Sweep and mop floors underneath.
Polish all stainless steel surfaces.
Wash all tools, bowls, containers, silverware, and cutting boards.
Dispose of dirty linens, towels, and cleaning cloths in their appropriate bins.
Empty trash and recycling.
Once A Week:
Disinfect surfaces inside coolers, cabinets, and refrigerators.
Clean and flush keg lines.
Clean behind movable equipment in the bar and in the kitchen.
Clean fan guards, vents, and hoods.
Verify that all drains (floor, sink, bar, bathroom) are clean and flowing.
As we mentioned in the front-of-house section, it may be beneficial for employee morale if you hire new cleaning staff or a third-party company to come in and deal with the bulk of the heavy cleaning.
Your current team will need to step up their cleanliness during regular work hours, but it does no one any good to make your employees work overtime after (or before) a long day to keep your restaurant clean.
Hiring another shift to focus on this important activity is well worth your while, but adding another shift to an already-complicated schedule may be more than you can handle right now.
Harness the power of scheduling software to keep every aspect of your business organized and operating smoothly.
Organize Your Cleaning With The Best Software
Keeping track of what's been cleaned and what hasn't is difficult. Especially when you factor in all the hard work that goes into running your restaurant, dealing with customers, and scheduling and managing your workforce.
With the right software, both jobs — task management and workforce optimization — are as easy as point and click.
The best scheduling and employee management software is a suite of tools with the power to simplify everything from team communication to payroll and everything in-between. That solution is Sling.
The Sling app started out as a way to simplify and streamline the scheduling process, but it has evolved into so much more.
With built-in artificial intelligence that notifies you when there's a conflict in your schedule; an integrated time-tracking feature that turns any computer, tablet, or smartphone into a clock-in/clock-out station; and a vast array of reports and export features, Sling makes running every aspect of your business a breeze.
And that's just the tip of the iceberg!
You'll even get a powerful task-management system that will help you keep track of how to clean your restaurant during especially difficult times.
For more information on how the Sling app can help your business or to try the app for free, visit GetSling.com today.