The success of your business depends, in large part, on your staff rota. That makes planning, creating, and implementing your rota one of the most vital administration responsibilities you have.
In this article, we'll discuss what makes for a good staff rota — from both a manager's and an employee's perspective — and give you six easy tips for building the best schedule possible.
What Is A Staff Rota?
The word "rota" comes from the Latin word for wheel and was adopted in the early 17th century to refer to the repetitive nature of when an employee is scheduled to work (i.e., rotation).
A staff rota — also called a roster or schedule — is a list of employees and associated information, such as:
Shifts worked
Location
Responsibilities (e.g., server, hostess, food prep, etc.)
Tasks to be undertaken
At its core, a staff rota keeps everyone organized and on track so your business can operate smoothly and efficiently.
The Best Staff Rota From A Manager's Perspective
1) Satisfies Your Business's Needs
From a manager's perspective, the best staff rota will satisfy all of your business's needs.
The correct number of qualified team members will be in the right place at the right time to keep your business operating successfully — with the minimum amount of effort on your part.
2) Quick To Create
As a busy manager, you've got a lot on your to-do list. You don't want to spend hours and hours finalizing your staff rota. That is time that could be better spent on more pressing activities.
Your scheduling process should be quick and efficient with a minimum of delays and difficulties.
3) Stable
Last-minute changes are inevitable, but you don't want to make major alterations the day before the schedule goes into effect.
Stability (or sometimes "certainty") is a key aspect of a staff rota that comes about with good planning and preparation.
The Best Staff Rota From An Employee's Perspective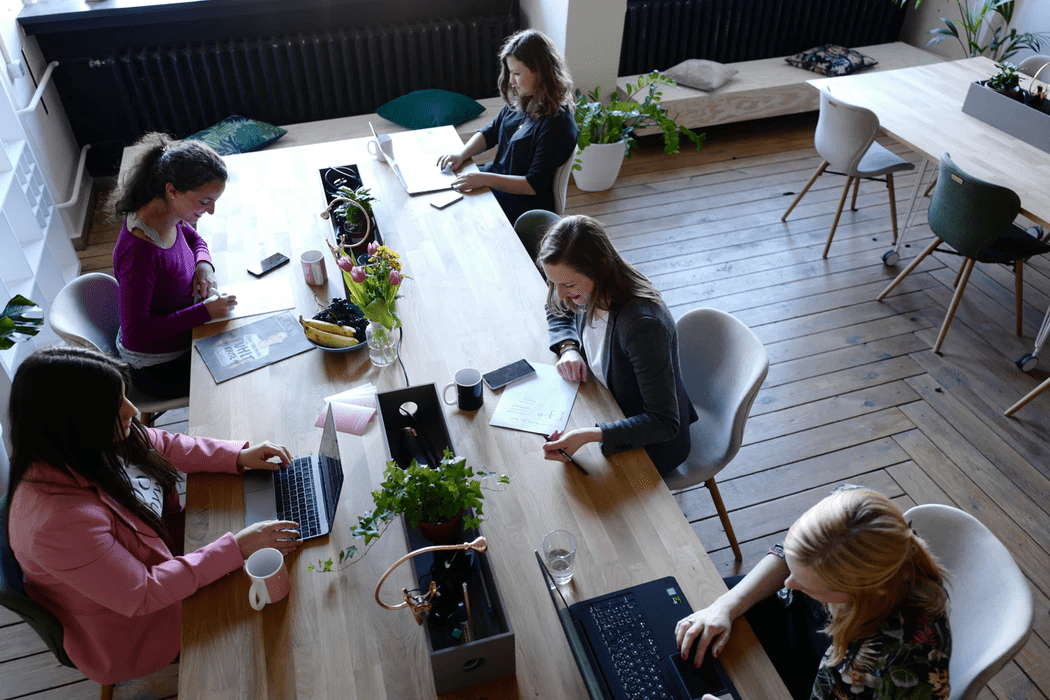 1) Accessible From Anywhere
The best staff rota from your employees' perspective is one that can be accessed anywhere, anytime.
The easiest way to provide this type of around-the-clock access is to harness the power of the cloud. But not all scheduling solutions have this feature built in.
We'll discuss the best cloud-based staff rota tool at the end of this article.
2) Stable
Just like you, your employees want the schedule to be stable. They have lives to plan, and finding out that they have to work when they thought they were off can become a significant problem very quickly.
3) Easy To Read
One of the best things you can do when creating your staff rota is to make it easy to read.
It should take your employees less than 15 seconds to figure out when they work and what they will be doing. Any more than that and your schedule may contain too much information.
Tips For Building The Best Staff Rota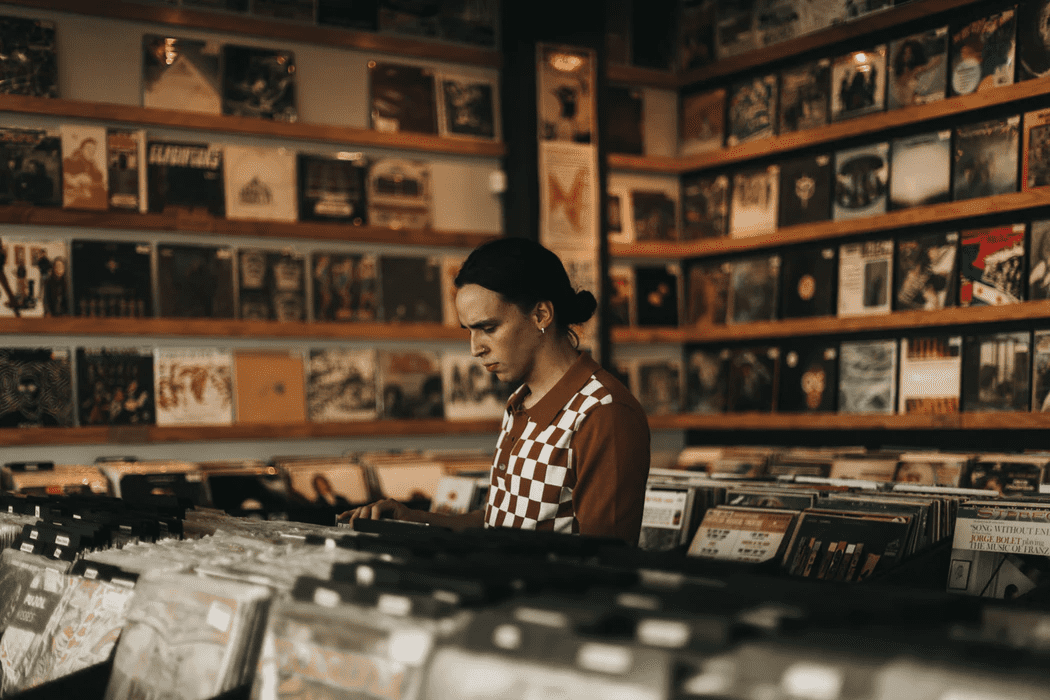 1) Keep All Employee Information In One Place
Nothing slows down the scheduling process like having to search multiple sources for the employee information you need.
The solution to that problem is to maintain a single file or database so all the details are in one place. You can simplify the process even more if the software you use to organize your team has access to that database.
2) Create A Template
You shouldn't have to reinvent the wheel every time you sit down to schedule your employees. That's just a waste of your valuable time.
Instead, create a custom staff rota template with the right formatting, fonts, and static information so you don't have to go set everything up before you can even start scheduling.
3) Incorporate Version Control
To make sure everyone has the most recent staff rota, include some way of indicating which version of the schedule they're looking at.
Some managers use a number (e.g., 1.1, 2.4, or 3.7), some use a date, and yet others use a letter (e.g., A, B, C, D) to communicate when they finalized and distributed the schedule.
4) Encourage Your Employees To Do Some Of The Work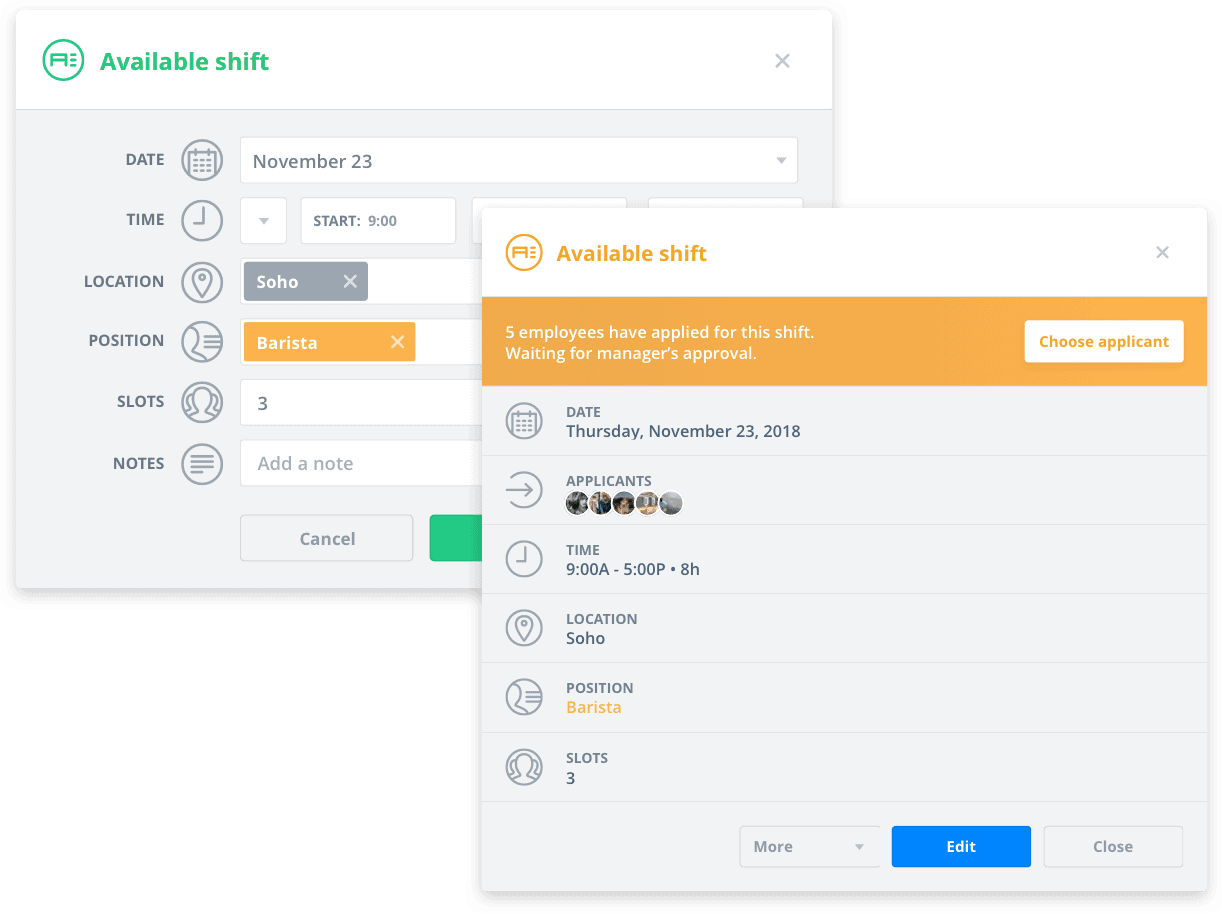 You should always encourage your employees to find their own substitutes when they can't work a specific shift.
To reduce some of the work that you have to do, allow team members to claim the shifts they want to work on an "open-enrollment" type of staff rota.
5) Maintain Control Of Changes
Give your employees a modicum of freedom over when they work (see above), but always maintain control over any changes they want to make.
Establish early on that any alterations or direct scheduling by team members have to meet with your approval before becoming final.
6) Establish Contingency Plans
Even the best staff rota can fail at the last minute.
To avoid panic and chaos when half of your workforce calls in sick with the flu or your second in command is sequestered for jury duty, it's vital to create contingency plans that can handle scheduling emergencies.
These plans should allow you to call in employees at a moment's notice or to rearrange shifts so that all business hours are covered adequately.
The Only Tool That Does It All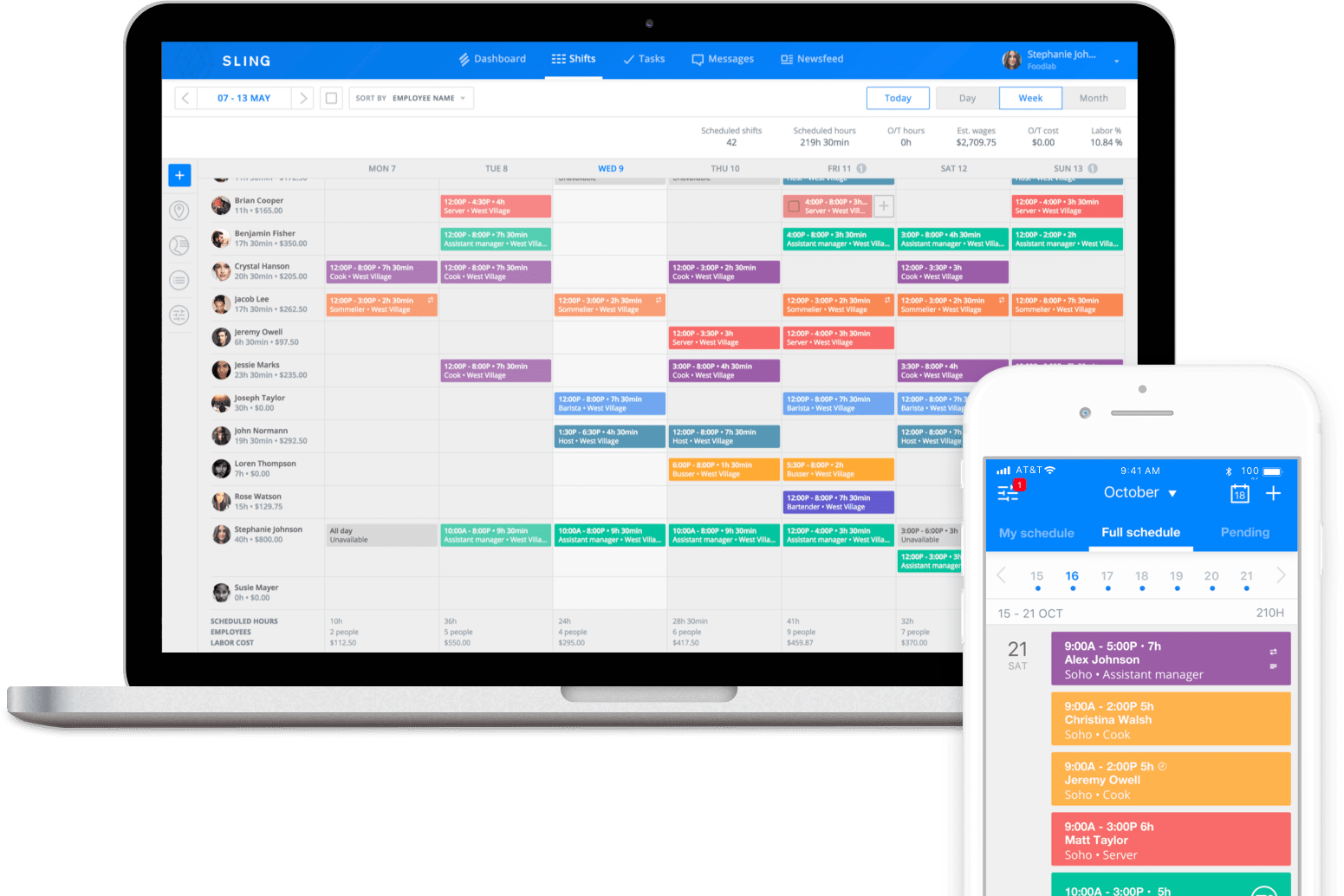 Only one tool helps you build the best staff rota possible in the minimum amount of time — Sling.
Sling was built specifically with busy managers in mind, so it addresses all of the staff rota issues that you might face when managing and optimizing your workforce.
No more piecing together numerous smaller apps in an attempt to satisfy your business's needs. Sling is an all-in-one, turn-key solution for companies of all sizes.
Sling offers an intuitive and well-organized suite of tools that makes it simple to create clear, easy-to-read staff rotas well in advance of your regular publishing date.
Sling's myriad features give you advanced control over every aspect of your scheduling process, including:
Storage
Distribution
Access
Version control
Finding substitutes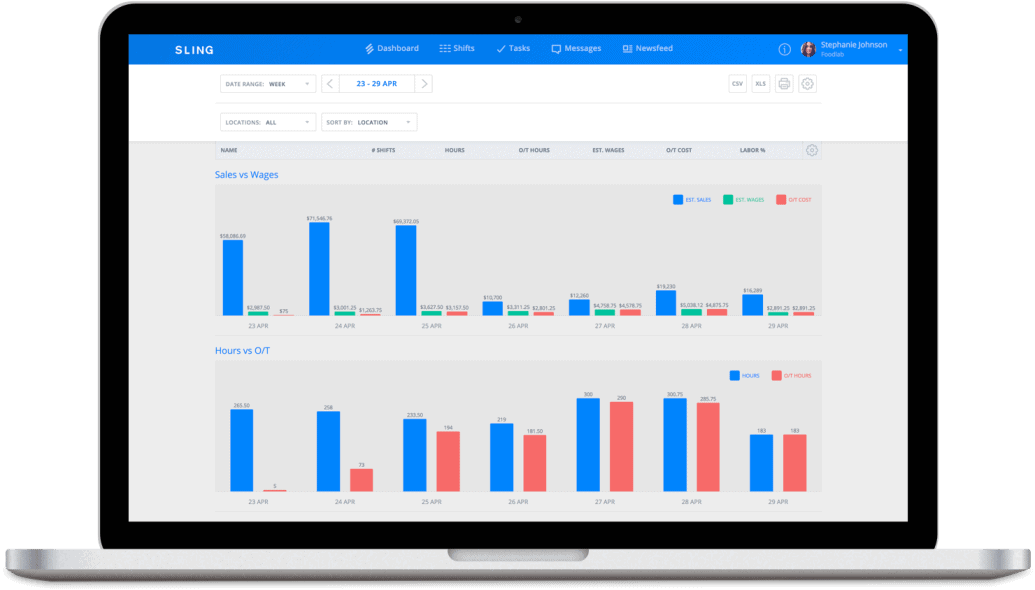 The cloud-based program also provides a central location where employees can go to indicate when they can work and when they need time off. Sling then incorporates that information and displays reminders about double-bookings, time-off requests, and unavailability while you create the staff rota.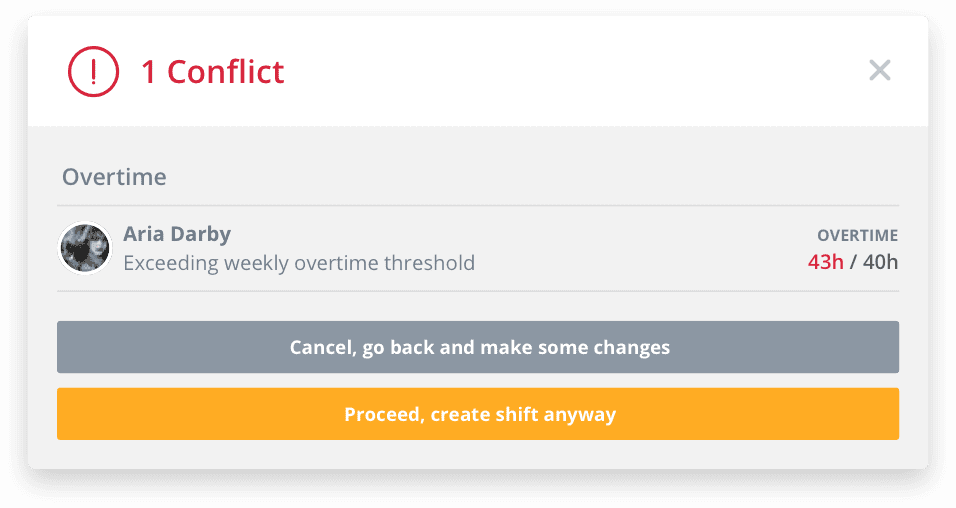 These features — and many more — minimize the time it takes to create and manage your staff rota no matter how large your business.
For more resources to help you manage your business better, organize and schedule your team, and track and calculate labor costs, visit GetSling.com today.