Clocking in and out used to require employees to fill out a paper worksheet or punch in using a manual time clock. Those methods were fine for their day, but now there's a better way to track work hours: cloud-based web platforms like Sling.
But the integration of this advanced technology raises a number of questions, including:
How should you go about integrating the software into your existing infrastructure?
How will your employees use a cloud-based platform for clocking in and out?
What benefits can you expect to experience?
What rules and regulations should you establish for your employees?
What is the best software for this purpose?
The experts at Sling will answer all those questions (and more) as they show you how to simplify clocking in and out for your employees.
How To Integrate Cloud-Based Time Clock Software Into Your Business
One of the many nice things about cloud-based software solutions like Sling is that they only require a very basic computer and an internet connection. That means you won't have to hire an IT person to retrofit your business. Your employees won't have to take classes to figure out how to make the app work. And you won't have to dip into your savings to buy an expensive computer to handle the software. Everything is done online.
To get started, you'll need to set up a time clock that integrates with cloud-based software so your employees can clock in and out. You'll also need a computer with an internet connection in your office so you can calculate time cards. You can simplify the process even further by allowing your employees to clock in and out using their own smartphones. This is possible because a web-based platform like Sling links every device that you specify to your account in the cloud. We'll investigate how this works in the next section.
How To Use Web-Based Solutions For Clocking In And Out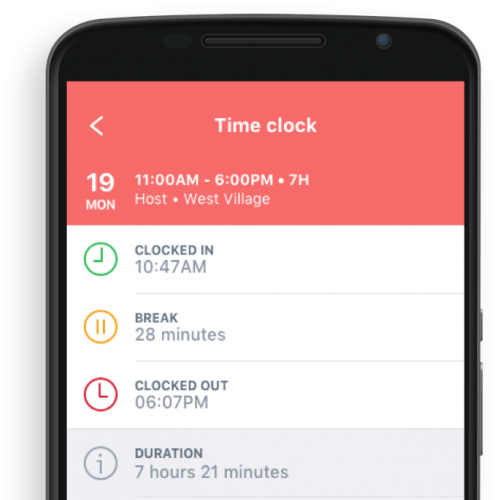 Using a web-based software solution on a mobile device for clocking in and out couldn't be simpler. We'll walk you through it using Sling as an example.
Create an account on GetSling.com.
Add an employee using their position, business location, email address, and phone number.
Invite the employee to download the app and join your account.
After they install the app on their device and log in, they'll have access to the time clock (as well as a host of other powerful features that only Sling provides).
The employee can then start their workday with a simple tap. The time clock system automatically records the time they clocked in.
At the end of the day, the employee does the same thing to clock out.
All the information is added to the employee's time card report which can be accessed via the computer in your manager's office. The app even allows this data to be exported, if necessary, for payroll calculation. It's just that simple. And this is only one of many benefits when you allow your employees to clock in and out using an app like Sling.
Benefits That Are Only Possible With Apps Like Sling
If simplified clocking in and out isn't enough, here are 5 other benefits that are only possible with apps like Sling.
1. Employee Reminders And Alerts To Clock In And Out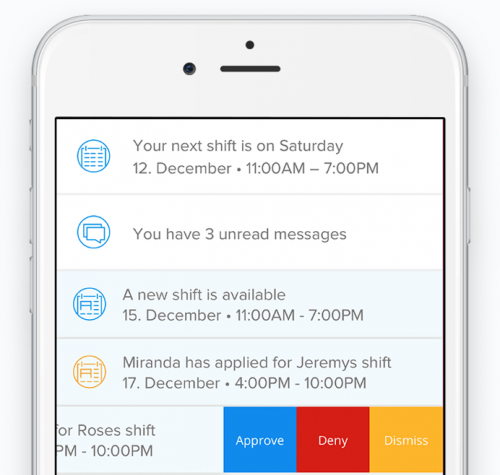 With web-based apps like Sling, you can set up notifications the remind your employees to clock in and out when they're supposed to. This helps avoid problems when it's time to calculate your employees' time cards.
2. Know Who Is Clocked In At All Times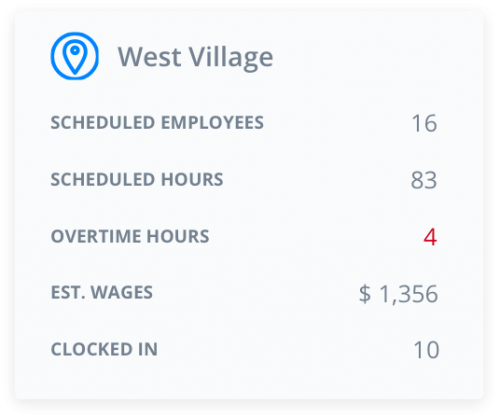 You can log in to the Sling app at any time (and from anywhere) to see exactly who is clocked in or out. This helps monitor what's going on in your business when you can't be there, or when you have to stay in your office to finish another task.
3. Prevent Unauthorized Overtime
Sling helps prevent unauthorized overtime by providing the app administrator (or administrators) with tools to limit early or late clocking in and out.
4. Prevent One Employee From Clocking In And Out For Another Employee
The secure nature of cloud-based apps like Sling mean that employees can no longer clock in and out for each other. This prevents chronically-late employees, or employees who leave early, from falsifying their records with the help of a friend.
5. Monitor Employee Tardiness
When you use an app like Sling you can quickly see who has arrived late or left early. Monitoring and recording tardiness in this way can help correct employee behavior down the line.
These are just a few of the benefits that you can hope to gain by incorporating a time-tracking app like Sling. But the mobility allowed by web-based apps like Sling means that new rules and regulations should be established to govern employee behavior. Here's an example of these rules and regulations.
Clocking In And Out Rules & Regulations
The following items should be clearly listed in your employee handbook. Keep in mind that we cannot list every rule and regulation you may need for your business. Tailor the items on this list (and the language used) to fit your requirements.
For all employees and departments:
Employees are required to have a record of hours worked for each seven-day period (work week).
Employees should use the web-based timekeeping system provided for that purpose.
Employees must clock in by the start of their assigned shift.
Employees must clock out at the end of their assigned shift.
Employees may not clock in more than 5 minutes prior to the start or end of their assigned shift without manager's approval.
Employees may not clock out more than 5 minutes after the start or end of their assigned shift without manager's approval.
Clocking in and out within the time frame covered in points three and four above will be considered an "on-time report for duty". Work hours will be calculated based on these numbers.
Employees must clock out if they leave the work location for any reason other than work duties assigned by a manager.
Employees should always clock in and out at their assigned duty station.
Any adjustments to the time recorded using our software system must be approved by your immediate supervisor.
Managers will be accountable for any manual changes submitted by employees.
If applicable, employees must clock out for their assigned lunch break and clock back in when the lunch break is over.
Employees should not clock out for other allowed breaks.
Employees who have worked more than 40 hours during one week will be paid for the additional hours worked at a rate equal to 1.5 times their regular wage. For example, if an employee works 42 hours in one seven-day period, the first 40 hours will be paid at a rate of $10 for a total of $400 (before taxes). The remaining two hours will be paid at a rate of $15 ($10 x 1.5) for a total of $30. The total amount paid to that employee would be $430 (before taxes).
Employees must get prior permission from a manager to work overtime, except in the case of an emergency.
Under no circumstance should one employee clock in or out for another employee.
Any employee who does clock in or out for another employee will be immediately terminated.
Violations of these procedures may result in disciplinary action. Such action may include, but is not limited to, oral or written warnings, suspension without pay, termination.
The Best App For Organizing And Tracking Your Employees' Work Hours Is Sling
We've already covered the many time-tracking benefits you can gain by incorporating an app like Sling into your business infrastructure. But the benefits go far beyond just keeping track of work hours. The real power of Sling lies in scheduling your employees so that clocking in and out goes as smoothly as possible.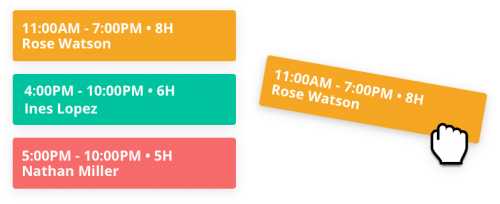 Sling can have a profound impact on the time you spend scheduling employees, because it combines cloud-based distribution with powerful tools that make even the most complicated rotating shift schedules a piece of cake. Here are just a few of the benefits you can enjoy when you use Sling to schedule your employees:
Copy schedules between days and weeks.
Drag and drop shifts where you want them.
Create recurring shifts that appear in the same place every time.
Set up notifications to help you avoid overlapping shifts and double-bookings.
Automatically send out push notifications to remind employees when they have to work.
Send messages, files, photos, videos, and links to one person, a user-defined group, or everyone at the same time.
Assign tasks to individuals and groups and monitor their progress.
Keep employees engaged with what's going on in your business.
While there are many apps that deal with scheduling or clocking in and out by themselves, only Sling combines the two into a powerful all-in-one solution for your business. Whether you're establishing your own business-based newsfeed for employees, or creating tasks to help everyone work better, Sling is the best choice for busy managers who want to simplify both the scheduling process and clocking in and out.