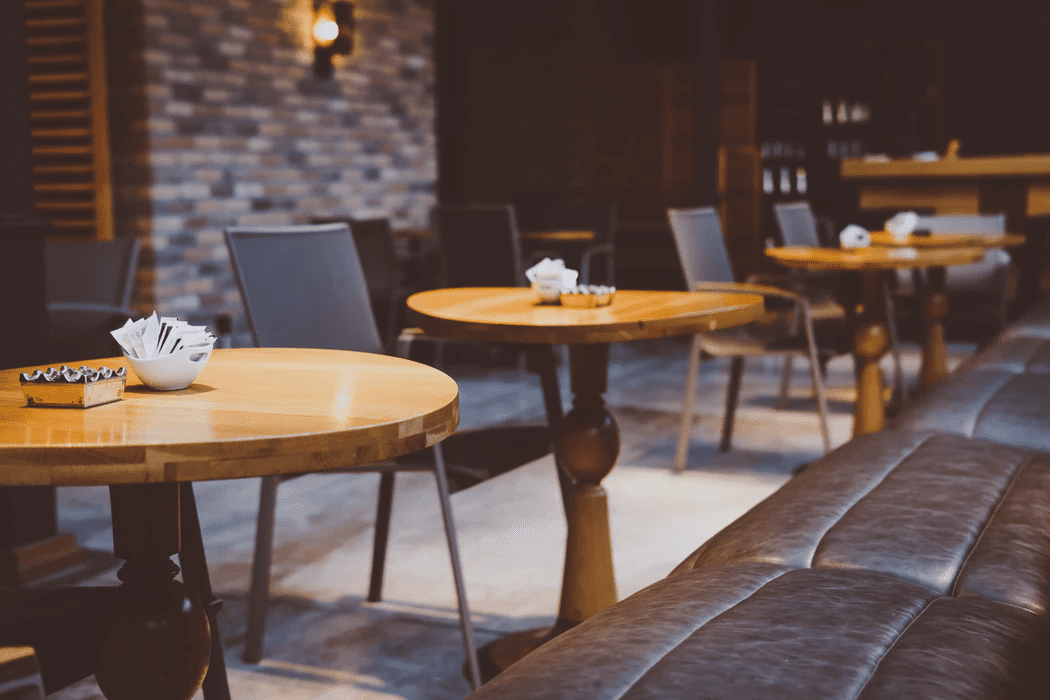 A good restaurant floor plan can mean the difference between a crowded, chaotic environment and a spacious, relaxing environment. The best option for you, your team, your customers, and your business overall is the spacious, relaxing environment.
But how do you go about creating such a restaurant floor plan? By taking inspiration from other successful layouts.
In this article, the restaurant management experts at Sling provide eight examples of restaurant floor plans that are sure to stimulate your creativity.
8 Ideas To Inspire Your Restaurant Floor Plan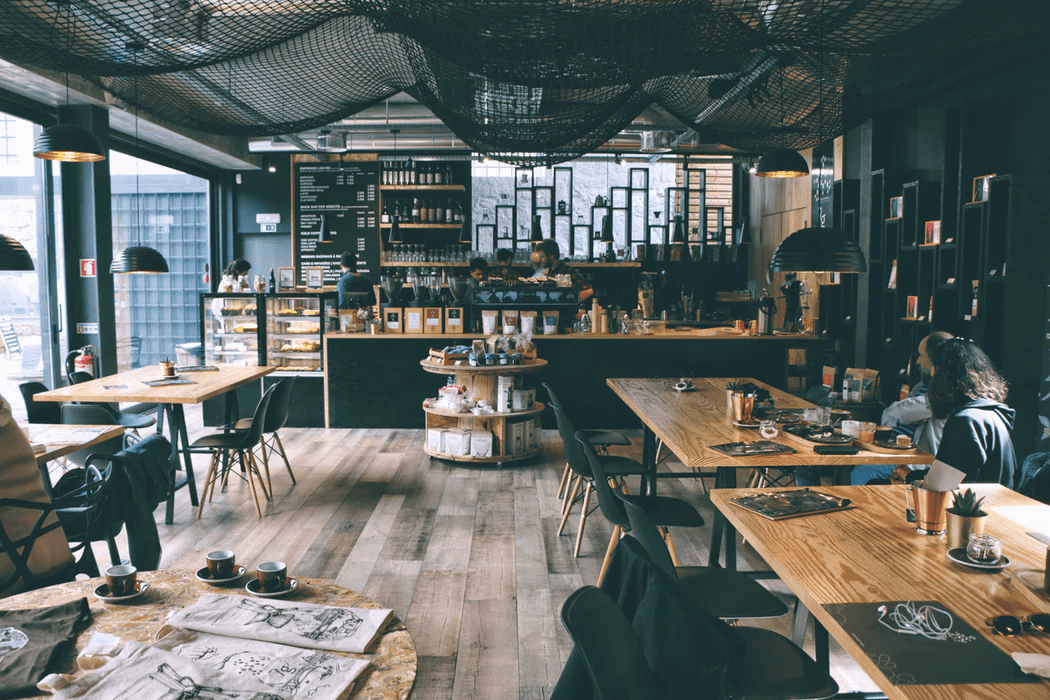 We've divided these floor plans into four general categories — kitchen, entry, bathroom, and dining room — so that you can focus on the good without getting lost in all the detail.
Kitchen Floor Plans
The kitchen layout below provides all the space your restaurant team needs to remain productive even during the busiest hours.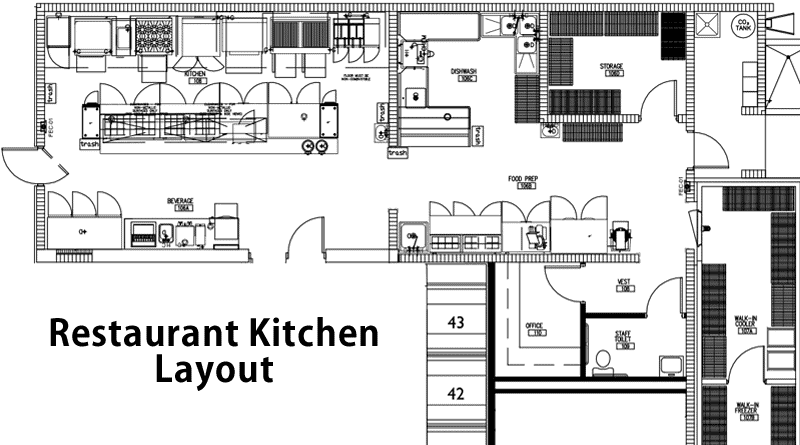 Source: Posist.com
Notice that each job (cooking, beverage, food prep, dishwashing) has its own dedicated area in the above floor plan. This keeps traffic jams and congestion to a minimum so your team can work quickly and efficiently during the lunch and dinner rushes.
The kitchen layout shown below has its own delivery entrance that is separate from the food prep area. With that unique feature, your staff can accept deliveries, restock, and take inventory without getting in the way of the cooks and servers.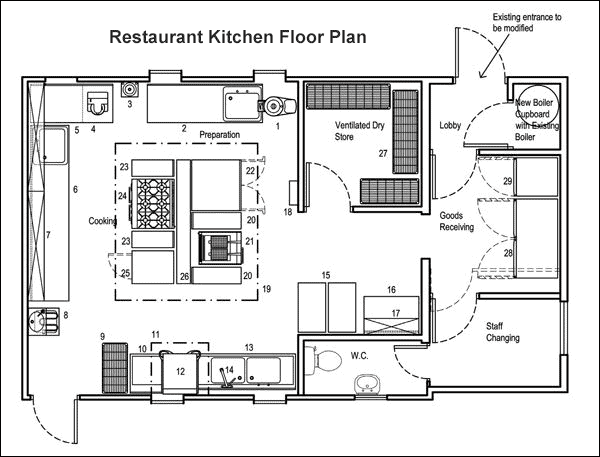 Source: Pos.toasttab.com
Another feature of this restaurant floor plan that deserves recognition is the staff changing room and bathroom in the lower right corner. These necessary areas give team members a place to go during their break and keep them from disturbing your customers.
Restaurant Entry Floor Plans
Many restaurant owners overlook the entryway when considering their floor plan. But an attractive, well-maintained lobby can enhance your image and make all your guests feel comfortable.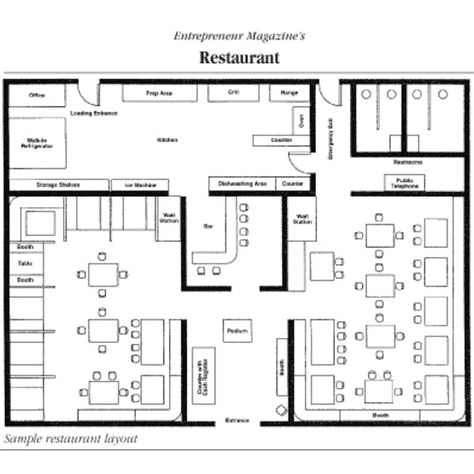 Source: Pinterest.com
We don't know the exact dimensions of the entryway above, but the restaurant layout does one thing particularly well: it separates the guests just walking in from the guests already seated.
For those walking in, it sets a mood of exclusivity and stylishness. They wonder what's going on around the corners and can't wait to be seated. This improves the guest experience and gives the restaurant a touch of mystery and class.
For the guests who are already in their seats, separating the entryway from the dining room(s) serves to create a bubble of privacy around their meal.
These guests aren't distracted by all the people coming in and going out. They aren't inconvenienced by the cold or hot air rushing in when outside doors are opened. And they aren't subjected to the noise of those making waiting for a table.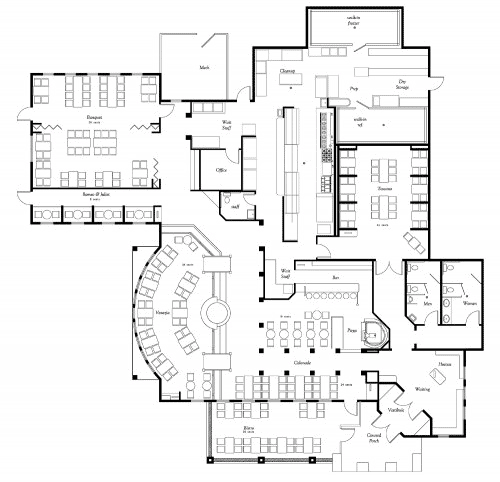 Source: Giovannisitalianrestaurant.com
Similarly, the restaurant floor plan above separates the new guests from the dining guests. It also provides ample seating for those waiting for their table.
Another well-thought-out feature you'll notice is that the bathrooms are situated adjacent to the entryway. With the restrooms so close, waiting guests don't have to trek through the dining room — disturbing the dining guests in the process — to use the facilities.
Bathroom Floor Plans
After the kitchen, the bathroom may top the list of the most important areas of your restaurant floor plan. This is remarkable since the bathrooms occupy such a small amount of space when compared to your restaurant as a whole.
But a well-laid-out, well-maintained, clean bathroom can mean the difference between a good image and a bad image.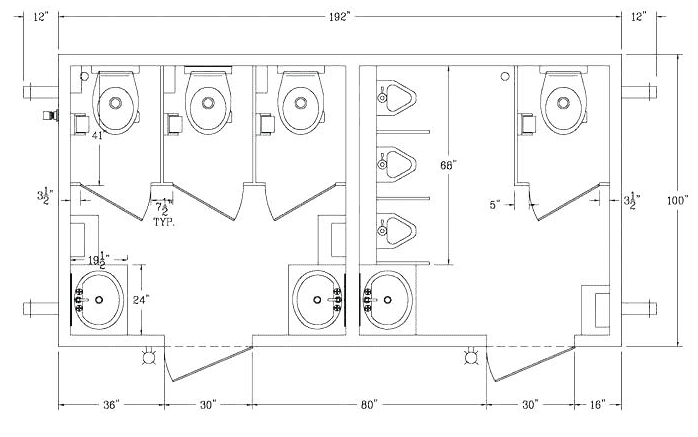 Source: Juliavaconsin.com
The bathroom layout above provides ample facilities for close to 200 guests in your restaurant (not all at the same time, of course).
The only thing we would improve on is including a second sink (perhaps removing one urinal) in the men's room. This provides three toilets and two sinks for each gender and prevents lines from forming near the restroom.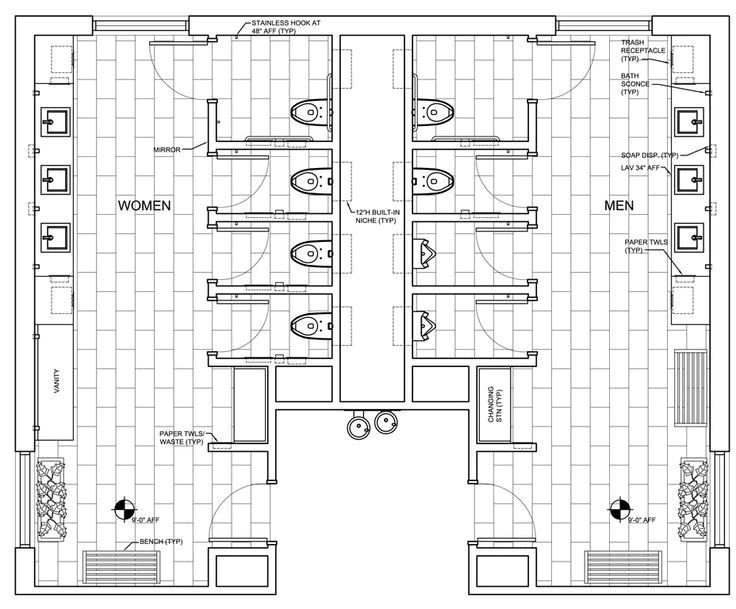 Source: Bettermidmissourijobs.com
The above bathroom layout provides even more room for visiting guests. Notice the benches toward the bottom of the design and the vanity area in the women's room (left side).
Including a separate mirror and counter space where ladies can freshen up prevents congestion at the sinks and makes moving around much easier.
It's also worth noting that both restrooms include a changing table (it's not labeled on the women's side) for guests with small children. This convenience can make your guests feel welcome and cared for without you or your team saying a word.
Dining Room Floor Plans
The dining area in your restaurant floor plan can make your guests feel relaxed and at-ease or rushed and distracted. It goes without saying that the former is better than the latter.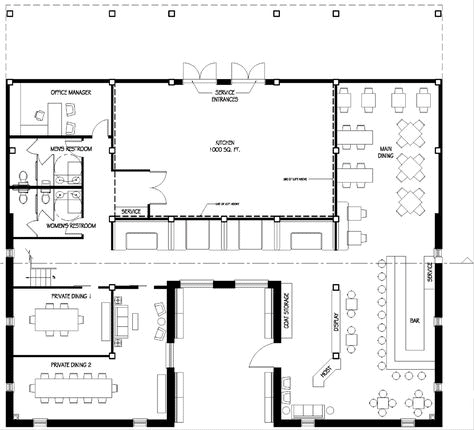 Source: Pinterest.com
The layout above does a good job of isolating the dining rooms by combining the entryway and the bar in one corner of the restaurant. This layout also provides separate dining rooms for even more privacy when necessary.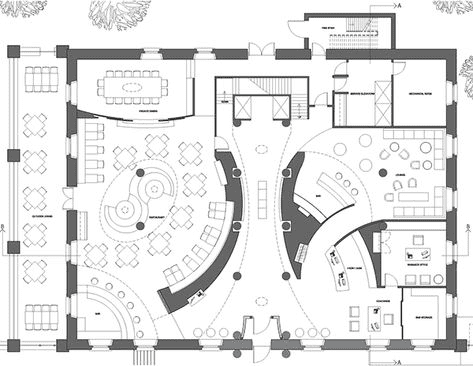 Source: Pinterest.com
The eating area in this second restaurant floor plan (left side) is completely separated from the often noisy bar and busy bar, reception, and food prep areas (right side). This helps to maintain the ambiance created by the dining room itself.
Schedule Your Team To Maximize Your Floor Plan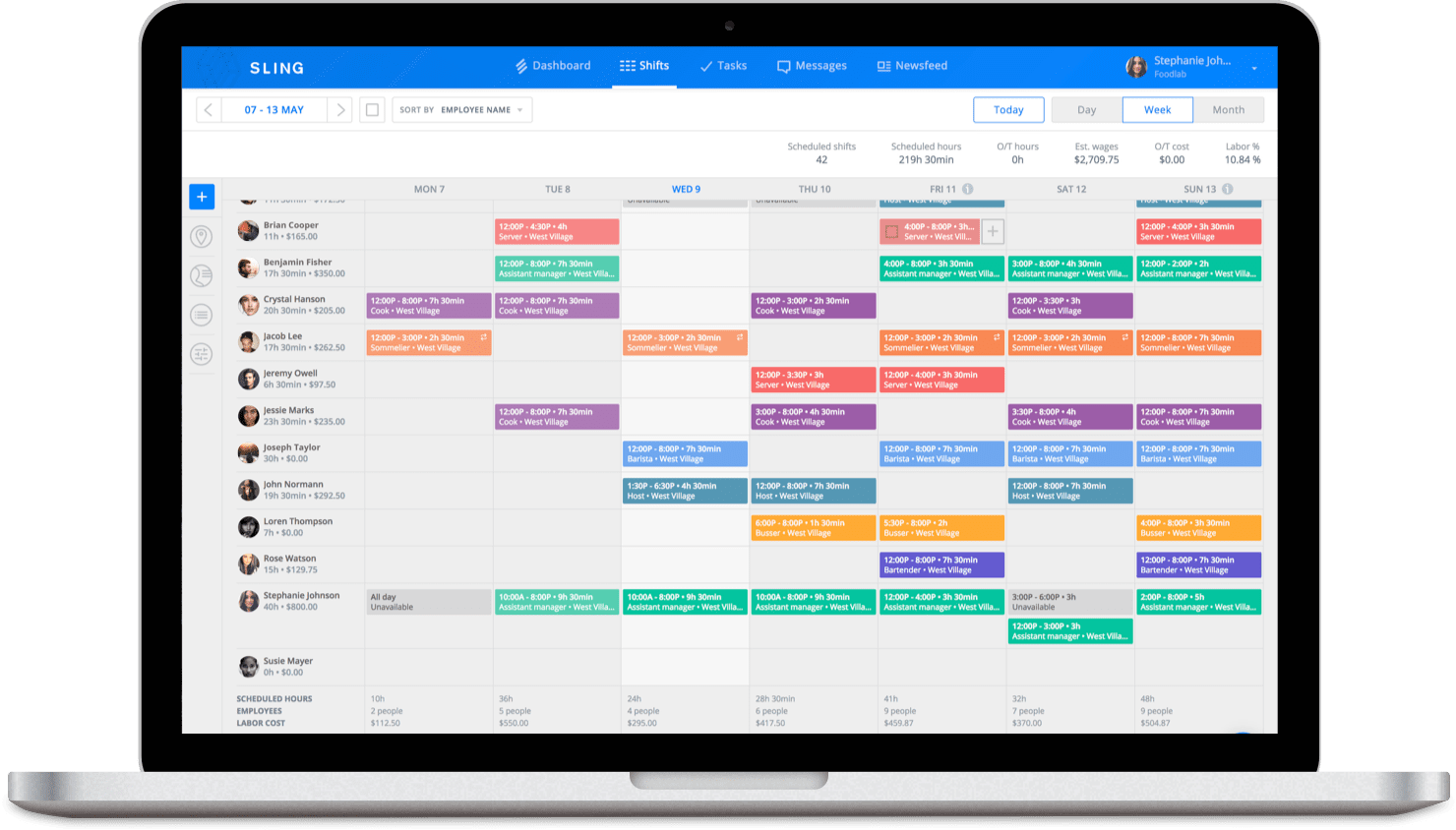 It doesn't matter how large or small your floor plan is, you can maximize the efficiency and productivity of your team by creating the best work schedule possible.
For example, if you manage a mom-and-pop diner with six booths and an eight-person bar area, you don't need five servers, two food runners, a host or hostess, and someone to supervise the bar. Depending on the time of day, you may only need two or three servers to cover all your seating options.
By keeping your team as small as possible for the space, you can minimize your payroll costs while maintaining efficiency and productivity. The Sling suite of tools can help.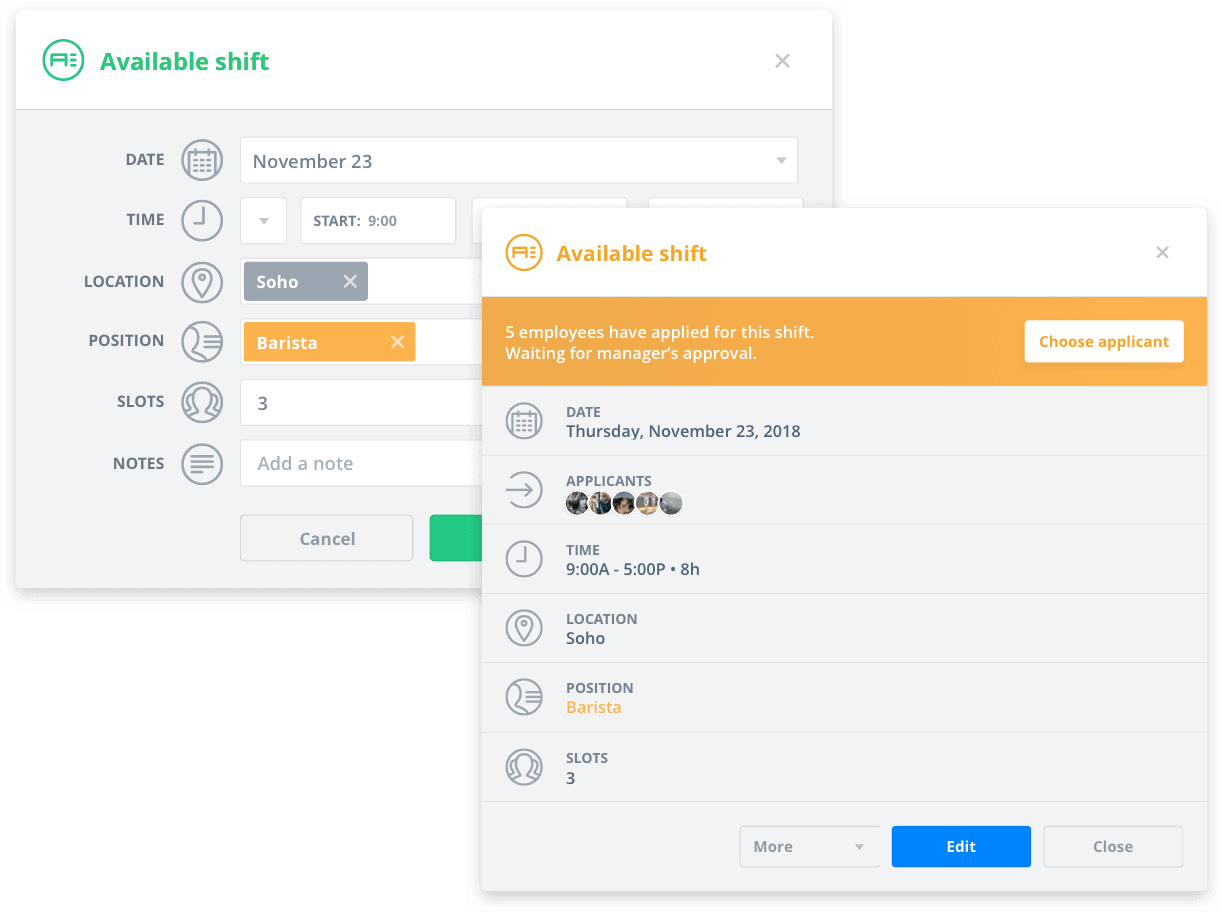 Sling contains a wide array of features to streamline even the most difficult schedule, including:
Calendar-based team organization
Time and attendance tracking
Built-in time clock
Labor cost optimization
Customizable reports
Paid-time-off control
Messaging
Task list
And much more…
Sling even offers artificial intelligence that notifies you when there's a conflict in your schedule and cloud-based schedule distribution so your team can access the schedule anywhere, anytime.
These features make the scheduling process quick, easy, and efficient so you can concentrate your time and energy on making your business a success.
For more free resources to help you manage your business better, organize and schedule your team, and track and calculate labor costs, visit GetSling.com today.