Restaurant social media marketing is more important for the success of your business than ever before. Even when your customers can't come out and visit your restaurant in person, they can still stay in touch — and perhaps order delivery — through the power and reach of the internet.
But what makes for an effective restaurant social media marketing program?
In this article, we give you tips to help you create, perfect, and maximize the best social media plan for your business.
Tips For Restaurant Social Media Marketing
1) Hire A Restaurant Social Media Marketing Manager
Hiring a social media marketing manager can take a lot of the burden off the FOH/BOH managers — or management in general — and give them more time to focus on perfecting the day-to-day operations of the business.
Even if you can't hire a full-time social media manager, consider redistributing responsibilities so that an existing manager can, for example, work part-time on inventory and part-time on social media.
Another possible alternative is to hire a freelancer online to spend a few hours a day managing and updating your social media presence.
2) Go Where The People Are
The first tip for effective social media marketing is to go where the people are.
Once, a restaurant could get the most out of just three sites: Facebook, Instagram, and Twitter. And while those three sites are still major players today, other sites are growing in popularity.
If one site isn't your thing, consider an alternative. It's still a good idea to have at least a very basic marketing presence on Facebook, Instagram, and Twitter, but don't be afraid to experiment with other sites as well.
You also may want to consider setting up a profile on Yelp. Customers will review you on this platform whether you have a presence there or not, so check it regularly and respond to negative feedback as kindly and professionally as possible.
3) Complete Your Profiles
Whether you hire a restaurant social media marketing manager or you do it all yourself, be sure to complete the profile for every site to which you belong.
Provide as much information as possible, including:
Physical location
Phone number
Business hours
Type of cuisine
Specialties
Not only will this make your profile look more professional, but it may also improve where your restaurant ranks in search results and on map apps.
4) Use Video
Incorporating video into your social media strategy may take a bit more effort, but the exposure that type of content generates is leaps and bounds above simple text and images.
That's not to say that you should do away with images completely. In many ways, they are still the bread and butter of any good social media presence, but more and more people are choosing to share content that contains video over content that contains only images.
Video is the ideal way to do such things as:
Promote new specials
Profile your employees
Hold a Q & A
Show your customers behind the scenes
Offer cooking lessons with your head chef
Invite customers to special occasions like trivia night and your grand opening
Once you start using video to promote your restaurant, you'll find even more new and interesting ways to incorporate it into your social media marketing efforts.
5) Organize Contests
Organizing contests as part of your restaurant's social media strategy is a great way to get existing customers more involved in your business and bring new customers through the door.
Even a simple contest like holding a drawing for the chance to win a free appetizer or dessert builds engagement, rapport, and loyalty with those who view your post (even if they're not customers yet).
We already mentioned free appetizers and desserts, but other examples of effective contests include:
Free gift cards
Free entrees
Free dinner for a year
A chance to attend a free event — such as a big game viewing — at your restaurant
Free delivery for a month
Give it some thought and get creative and we're sure you'll come up with some pretty cool contests of your own.
6) Perfect Your Photos
Visual appearance in your restaurant marketing is everything, especially when it comes to social media. To that end, we always recommend posting the best, most attractive photos possible.
Keep in mind that it doesn't take a professional photographer — though that does help. Investing in a high-quality, high-resolution camera and good lighting is enough to get some excellent shots.
With your own equipment, you'll be ready for those last-minute or quick-turnaround posts highlighting that beautiful dish your chef made or the flash mob that performed just down the street.
7) Respond To Reviews
People will talk about your restaurant online. They'll rave about it. They'll review it. They'll critique it. And they'll even criticize it from time to time.
You want that talk, but you also want to curate the best reputation possible. Take the time within restaurant social media marketing efforts to respond to as many reviews as possible.
For example, thank the reviewer for eating at your establishment and for the nice things they said. And especially address those with negative reviews and find out what you can do to improve.
This very public interaction between you and your customers will help build your restaurant's reputation as a quality place to eat and as a business that is concerned about the feelings of those who eat there.
8) Geo-Target Your Restaurant Social Media Marketing
Whichever platforms you choose for your social media marketing, one or more of them will allow you to geo-target your ads to potential customers in your area.
You can, of course, set online marketing campaigns to target different metrics as they apply to potential customers (e.g., age, favorite foods, likes, dislikes, etc.), but you can also set your marketing to target everyone in a specific area.
Geo-targeting makes it easy to get your message out to those who live and work near your restaurant and who could turn into repeat and regular customers.
9) Post At The Right Time
Posting social media content at the right time is one thing that many managers never think about. They'll just post whenever they have the time in the hopes that it reaches the intended audience.
But if you wanted to highlight your lunch specials, would you post pictures and videos at 10 p.m.?
Sure, you may be giving your audience time to plan, but there is such a thing as too much lead time. Your customers are busy and are likely to forget if you post things 14 hours before they happen.
Find the optimal time to post — and know when your customer base is most active online — and your social media marketing campaigns will have a higher chance of success.
Take Your Restaurant Social Media Marketing To The Next Level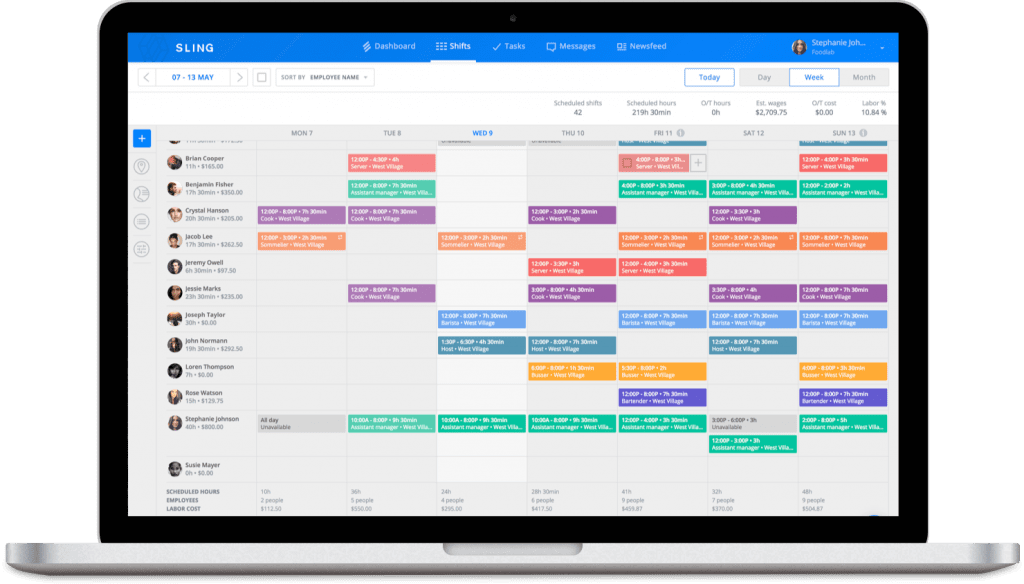 You can cap off your restaurant's social media marketing efforts — and take them to the next level — by ensuring that your team provides the best service possible to new and returning customers alike.
Good service is the cornerstone of every successful restaurant. And a major component of good service is scheduling the right mix of employees throughout the day.
For example, schedule your most efficient team members during lunch when time is at a premium, and schedule your most personable team members during dinner when customers have more time and are more likely to linger.
If that sounds like an impossible task, rest assured that it's not. The Sling scheduling app makes creating even the most complicated staff rotas a breeze.
Whether you have one employee, 10 employees, or 100 employees, Sling's artificial intelligence helps you assemble just the right team for each shift at your restaurant.
Sling also includes many other features, including:
With Sling, you can schedule faster, communicate better, and organize and manage your workforce from a single, integrated platform.
And when you use Sling for all of your scheduling needs, you'll have more time to focus on bringing your restaurant social media marketing to life and making it shine.
For more free resources to help you manage your business better, organize and schedule your team, and track and calculate labor costs, visit GetSling.com today.