As a manager, you face an endless list of detail-oriented tasks. From maintaining inventory to managing multiple employees to creating and executing a marketing strategy — your day is full! Who's got time for calculating time cards?
You may feel this way about the process, but getting everything ready for payroll is an integral part of making your business successful.
So what's a busy manager to do? Count on your fingers? Rely on the old pencil-and-paper method? Heavens no! This is the 21st century!
Calculating time cards should be done on a computer. But within that basic do-it-on-a-computer framework, there's a wide range of options to suit every preference and business need. These options are divided into three categories:
Do-it-yourself time card calculators
Online time card calculators
Software and cloud-based time card calculators
We'll show you what you need to know about time card calculators in general and give you the best options in each group. Let's start with the DIY approach.
Table Of Contents
Do-it-yourself time card calculators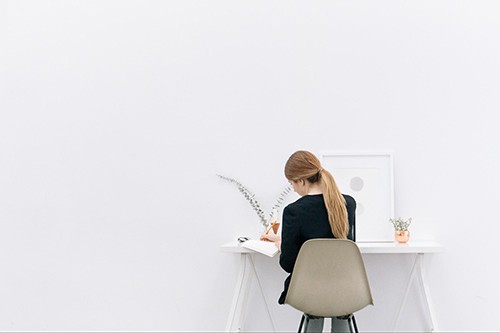 Do-it-yourself time card calculators are for those who like to know every little detail about the math involved in calculating a time card.
This is possible because you actually build the calculator from scratch using a program like Microsoft Excel or Google Sheets. If the DIY option appeals to you, here are two resources you can use to get started.
1) How to create a basic time card calculator
This is the simplest time card calculator you can build on your own. It's not terribly involved and you only need to know the rudimentary features of Excel.
In column A, type the days of the work week.
Highlight cells B1 (next to Monday) through the last day of your work week. This will be the time work started.
Right click on your selection, left click on Format Cells, left click on Time, and choose the format that works best for you.
Repeat steps 1 and 2 for the cells in column C. This will be the time work ended.
In cell D1, type the formula =SUM(C1-B1)*24.
Copy this formula into all the cells in column D that correspond to a work day.
In cell H1, type the hourly pay.
In cell E1, type the formula =SUM(D2*$H$1).
Copy this formula into all the cells in column E that correspond to a work day.
In a cell in column D a few rows below your last work day, type the formula =SUM(D2:D8). This will calculate the total hours worked for the week.
In the cell right below the one you used in step 10, type the formula =SUM(E2:E8). This will calculate the total pay for the work week.
That's it. You've got your own time card calculator! Save this simple version, then tweak the format, formulas, and other details to better fit your work schedule.
2) Time card calculator templates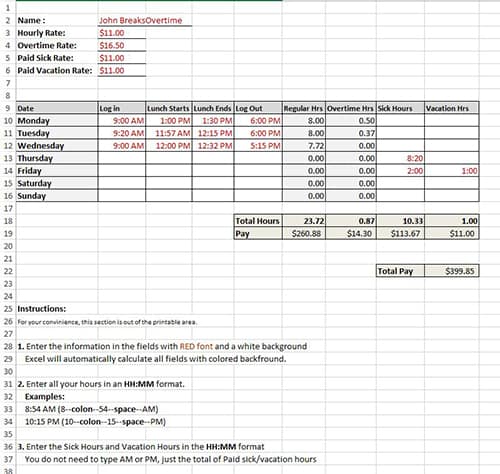 Source: CalculateHours.com
If you still like the thought of being able to peek behind the curtain to see what's going on, or to tailor the calculator to satisfy your needs, a time card calculator template might be just the thing.
Over at CalculateHours.com, they offer free templates for every different work schedule imaginable. And if you don't find the perfect fit among their many downloads, you can always tweak one that's almost right.
It may take more time than the online and software options we've listed below, but the control the do-it-yourself and template options offer is unparalleled.
Online time card calculators
Many of the online time card calculators on this list are free to use. They may not have all the features of the DIY or software options, but they'll do for basic time card calculating.
There are some online time card calculators that offer the same deep functions that software calculators do, but these versions are often only available for a price.
The nice thing about online calculators (be they free or pay-to-use) is that they are available anywhere, anytime as long as you have a computer (or a mobile device) and an internet connection. Here are some excellent options.
1) TimeCard
Source: TimeCardCalculatorGeek.com
TimeCard from CalculatorGeek.com offers a simple interface and added functionality like lunch, overtime, time off, and sick/vacation variables.
2) Free Time Card Calculator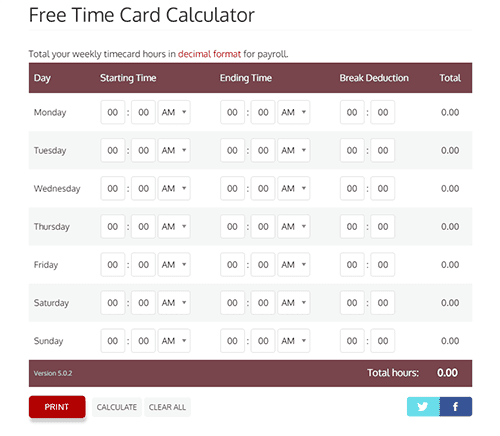 Source: Redcort.com
Redcort Software has produced a no-frills, extremely-easy time card calculator for everyone to use. It offers start time, end time, break deduction, and totals — that's it.
Sometimes, though, that's all you need (or want) from your time card calculator. Intuitive and basic, but it gets the job done.
3) Time Card Calculator With Total Pay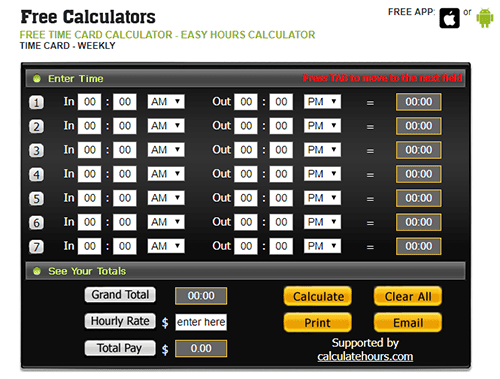 Source: CalculateHours.com
Like the other options in the online category, the calculator produced by CalculateHours.com is quite basic. It does, however, include an option to enter an hourly pay rate. The calculator will then produce total pay based on the hours worked for the week. Cool!
4) Online Time Card Hours Calculator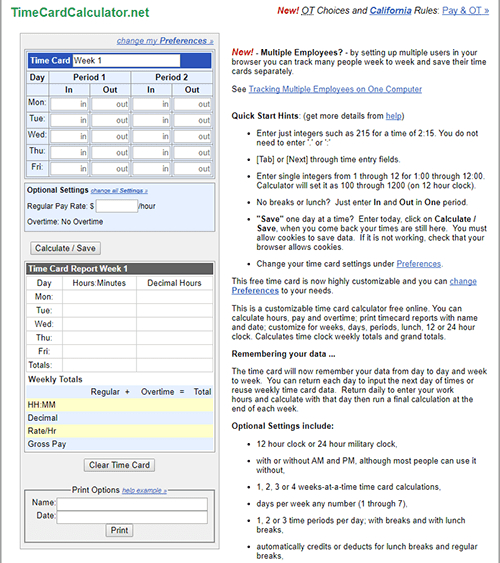 Source: TimeCardCalculator.net
TimeCardCalculator.net offers a nifty online time card hours calculator that allows you to customize your experience to better fit your needs. You can:
Choose the day on which your work week begins.
Calculate pay with overtime.
Round hours to tenths, hundredths, or thousandths
Save your setting for the next time you use the site.
It also makes available a helpful instruction document in case you're new to dealing with time cards.
5) On The Clock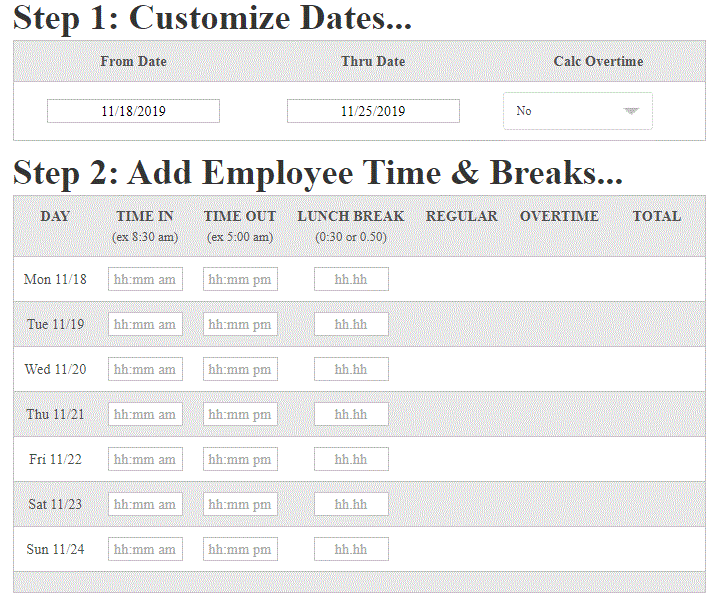 Source: OnTheClock.com
On The Clock is a free and easy-to-use time card calculator that provides basic functionality for determining total payroll hours for a given period of time.
You simply:
Choose a start date and end date to match your pay period
Select if you want the calculator to edit overtime
Add time in, time out, and lunch break (if applicable) on each day that applies Monday – Sunday
Save as PDF or Excel
It's as easy as that.
As you can see, though, On The Clock is a very basic time card calculator. If you need more advanced features, you're better off using a complete option from the Software And Cloud-Based Time Card Calculators section.
6) Toggl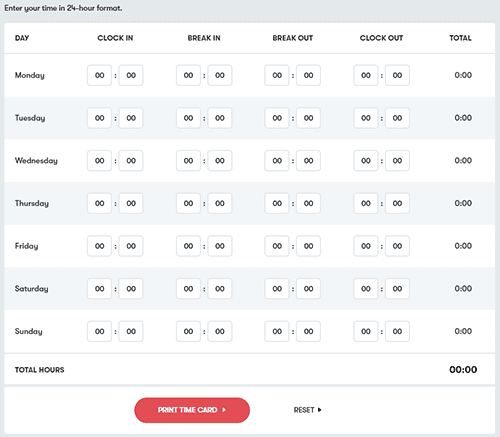 Source: Toggl.com
The Toggl time card calculator lets you incorporate a break period into the middle of your employees' workday for more accurate accounting and payroll.
You can also customize Toggl's calculations to accommodate:
Rounding or no rounding
Base pay rate
Overtime rate
Calculate-overtime-after trigger
Toggl will only allow you to enter work time in the 24-hour time format (e.g., 08:00, 12:45, 14:30, 17:00, etc.), so if your business doesn't use those types of numbers, things may get confusing when it comes time to prepare payroll.
7) Jibble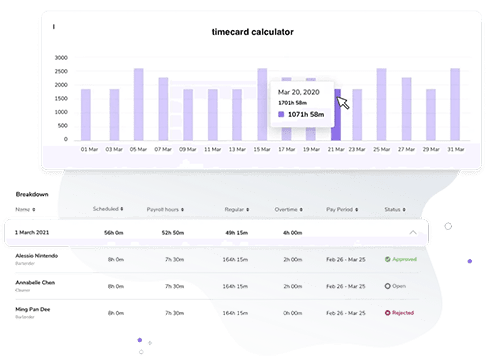 Your business needs an accurate time card calculator to ensure that you pay your team the right amount come payday. But that doesn't mean filling in time cards and calculating them manually. There is a better way.
Jibble's time card calculator works with your mobile, desktop, and tablet devices so you can track employee work time whether they're in the office, on-site, or working remotely.
Jibble also includes:
Multiple overtime settings
Customized breaks (with reminders)
Immediate work time availability (no waiting until the end of the pay period to view)
Detailed analytics
Exporting to XLS or CSV formats
Native integrations
As flexible as Jibble is as a time card calculator, it's still just that: a calculator.
It doesn't address other essential business activities, such as scheduling, task management, labor cost control, and communication. To achieve those features, you'd have to cobble together other apps and hope that they work nicely together.
You're busy enough and shouldn't have to spend extra time trying to make your software function the way you need it to.
Instead, choose an all-in-one, cloud-based solution like Sling. Sling gives you everything you need to manage your team right out of the box — including an integrated time card calculator that works with its other built-in time-tracking and task-management features.
8) GigaCalculator
With GigaCalculator, you can easily produce a work hours timesheet for any given week. You can then use the resulting time card to complete your payroll process.
To simplify calculations, GigaCalculator renders total work time in hours and minutes (e.g., 42:30), as well as in decimal notation (e.g., 42.5 hours).
The online time card calculator even supports the inclusion of lunch breaks.
When you're finished, print or save the time card (as hard copy or PDF) for easy transmission to the payroll-processing business of your choice.
GigaCalculator is flexible enough that it allows you to generate a variety of time cards, including:
Weekly payroll card
Bi-weekly card
Custom-period card (up to 31 days)
That's utility and versatility that will help streamline all of your payroll activities.
For more control of all aspects of your time card calculations, labor costs, and budgeting, consider the software and cloud-based options in the next section.
Software and cloud-cased time card calculators
The main difference between an online calculator and a software calculator is you download the latter directly to your computer. This means you can only use the calculator on one computer (unless you pay for a multi-computer license).
Software time card calculators typically offer a whole host of advanced features that free online versions do not. Again, it all depends on what you need to make your payroll run smoothly.
A newer, more versatile option is the cloud-based time card calculator. These apps provide the best of all worlds by combining the advanced features of the software versions with the anywhere, anytime access of the online versions.
And with cloud-based time card calculators, you're not restricted to one — and only one — computer. You can access, manipulate, calculate, and save from any desktop computer, tablet, phone, or mobile device.
That just makes good sense for busy managers who may need to get some work done even when they're not in the office.
Check out these software and cloud-based time card calculator options.
1) Sling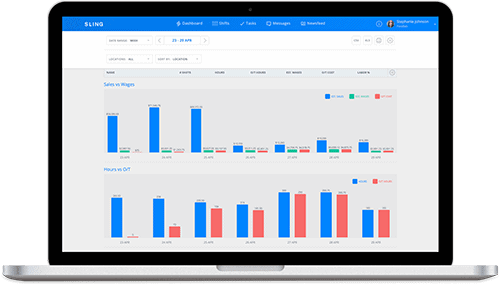 Source: GetSling.com
Sling is the premier scheduling software for businesses of all sizes. But the benefits don't just stop at quick and easy employee organization.
Sling is a suite of tools that revolve around workforce management. Most notably, the built-in time clock that turns any computer or mobile device into a clock in/clock out terminal, associated time card calculator and timesheet feature, and advanced labor cost controls that help you stay on budget and keep your business in the black.
With Sling, you can set wages by employee or position and then see how much each shift will cost you. You can then use the integrated tools to forecast and optimize your labor costs while scheduling so that calculating time cards at the end of the pay period isn't such a shock.
Sling even offers a built-in artificial intelligence that alerts you when you're scheduling over your labor budget or when you are about to schedule someone into an overtime situation that might become a problem.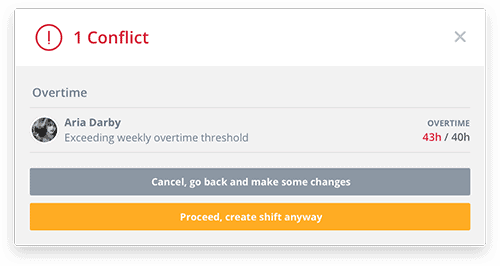 Thanks to Sling's unique ability to coordinate all the tools in its suite and keep track of your employees' comings and goings, when it's time to calculate time cards, simply review the numbers and then export their timesheets into your preferred format for seamless payroll processing.
No manual entry, no complicated formulas, no possibility for error — just quick and easy time card calculations so you can get back to the activities that make your business a success.
And that's just the tip of the Sling iceberg.
Sling was built specifically with busy managers in mind, so it addresses all of the scheduling, labor, and payroll issues that you might face when managing and optimizing your workforce.
No more piecing together numerous smaller apps in an attempt to satisfy your business's needs. Sling is an all-in-one, turn-key solution for companies of all sizes.
Sling's myriad features give you advanced control over every aspect of your scheduling and labor processes, including:
Storage
Distribution
Access
Version control
Finding substitutes
The cloud-based program also provides a central location where employees can go to indicate when they can work and when they need time off. Sling then incorporates that information and displays reminders about double-bookings, time-off requests, and unavailability while you create your schedule.
These features — and many more — minimize the time it takes to manage and organize your workforce no matter how large your business.
2) Inch
Inch's primary role in business workflow is as a task-management and employee-organization tool.
But its powerful and well-rounded suite of tools also includes time card calculator features that are only rivaled by its bigger sibling, Sling.
Like Sling, Inch is cloud-based software that is available anywhere, anytime, and on any device your team might use (smartphones, tablets, laptops, and desktops running Android, Windows, iOS, or macOS).
Such versatility and flexibility make managing time cards and payroll for in-office teams, distributed teams, remote teams, field service teams (and everything in between) easier than ever before.
You also get robust features including:
Basic staff scheduling
Team communication
Geofencing
Built-in time clock
Notifications to keep everyone on the same page
Timeline view
Map view
And much more
If you're looking for the complete team-management solution that allows you to keep your employees organized by the month, day, and hour, Sling and Inch are the tools for you — time card calculator included.
3) TimeTrak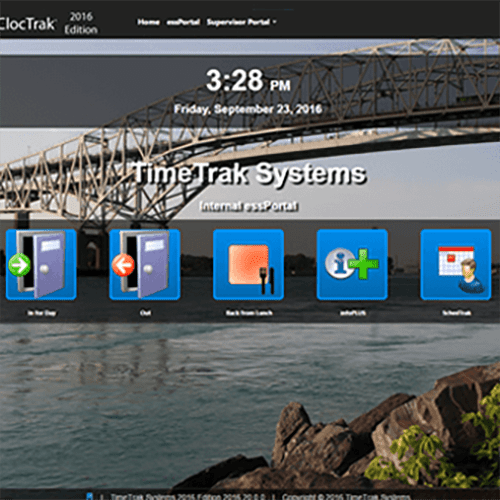 Source: TimeTrak.com
TimeTrak is a full-featured software suite that offers more than just time card calculating. You can also harness labor analytics, benefit accrual tracking, and hardware for every situation.
The TimeTrak software even gives you the option of working from the cloud which can give you the access of an online calculator with the full-functionality of a native program.
4) ShopClock

Source: ShopClock.com
ShopClock is a powerful set of tools that allow you to maintain and process employee timesheets.
When employees clock in and clock out using ShopClock, the software pretty much does everything else. All you have to do is review and approve the hours worked.
Then, you can print the information or forward it to your payroll processor. You can even try ShopClock for free to see if it fits into your workflow.
5) RealTime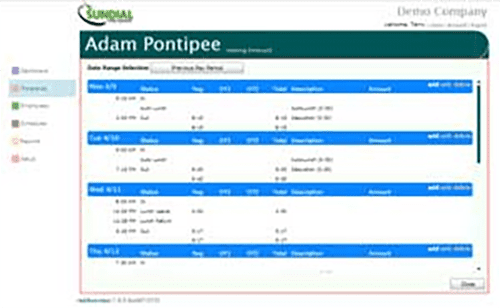 Source: SunDialTime.com
Like TimeTrak, RealTime by Sundial Timekeeping offers, not just time card calculating, but hardware and reporting options as well. RealTime also includes such advanced features as:
Job costing
Accruals
Employee self-service
Overtime
Differentials
And like ShopClock, you can try out their software before you buy.
6) TimeTrax PC
Source: PyramidTimeSystems.com
TimeTrax PC from Pyramid Time Systems integrates simply into your existing workflow. First, employees punch in or out on a stand-alone computer and, second, the TimeTrax software immediately logs that information to your database. That's it!
You are then free to utilize the software to modify and print all manner of reports for payroll and productivity use. TimeTrax accommodates 50 to 100 employees and can even interface with major payroll systems.
7) Clockify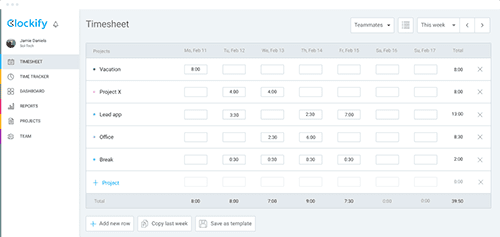 Source: Clockify.me
Like many of the other entries on this list, Clockify is a simple time tracker and timesheet app that can also function as a time card calculator. With it, you can track productivity, attendance, and even billable hours.
Clockify gives you insight into your employees' workweek, helps you improve project or job profitability, and serves as a window into project activity so your employees can see who worked on what and when.
Unfortunately, Clockify is more of a time tracker for project-based businesses than a fully functional time card calculator for businesses of all kinds.
If you run a restaurant where the job doesn't change on a regular basis (e.g., your servers work as servers and your cooks work as cooks), Clockify might not be the best choice.
You would be better served by using the first entry in the Software And Cloud-Based Time Card Calculator section: the more advanced Sling suite of tools.
8) Buddy Punch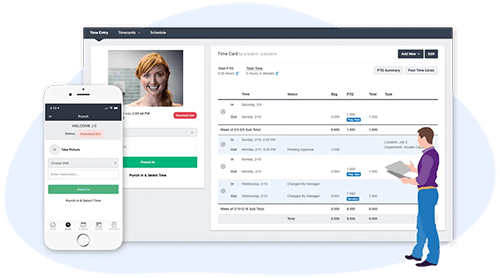 Buddy Punch was created to replace both the pen and paper and excel spreadsheets that so many businesses still rely on (even as we near the end of the first quarter of the 21st century).
Buddy Punch's time card calculator app makes it easy to stay on top of attendance tracking, time off, and overtime — all in real-time without the delays and headaches caused by pen-and-paper methods or faulty spreadsheets.
With Buddy Punch, employees can use a four-digit pin, QR code, facial recognition, or the tried-and-true username and password to log in and start tracking their work time.
You can also set up emails or mobile notifications when an employee is nearing their maximum hours for the day or week so you can adjust their schedule accordingly.
You can even track time-off requests with the built-in calendar that allows employees to book or request time off.
Then, at the end of the pay period, you can use job codes to clarify what was done when, run custom reports, or export everything to Excel for further manipulation.
As useful as these features are, many of them are only available at the end of the pay period (when you're manipulating the data for final processing).
The job codes feature is certainly useful, but taking the time to manually mark all the entries on each and every employee's time card means that you won't have time to address more crucial business issues.
More advanced software and cloud-based tools, like Sling, allow you to set parameters and tags beforehand so that they appear on your employees' time cards as they track their time.
That way, when their timesheets reach your desk, they're complete and ready to be put through your business's time card calculator and sent off to payroll processing.
9) Justworks Hours
Justworks Hours is a time card calculator that sums up all work hours and attendance entries and then compiles them into a total-work-time report that is ready for the final payroll calculation.
All you have to do is fill in any clock-in and clock-out variables for your employees and be sure to enter all the deductions for lunches and breaks.
Justworks Hours' main features also include:
Free timesheet calculator
Employee productivity reports
Workforce automation
Automatic alerts and reminders
Accurate payroll and invoice reports
Overtime and project tracking
Error-proof recordkeeping
Justworks Hours is suitable for small businesses, startups, or companies with hundreds of employees. But, unlike Sling, the standard features aren't free. In fact, you'll wind up paying $5 per month per user (plus a $20 base fee per month) to get what you need.
Sling offers Free, Premium, and Business tiers that are still less expensive than Justworks Hours' standard plan.
10) Virtual TimeClock Pro
Virtual TimeClock Pro is an easy-to-use, full-featured employee time clock and time card calculator.
Virtual TimeClock Pro makes it easy to keep track of both paid and unpaid breaks and lunches. It even displays the current status of each employee (e.g., working, not working, on break, at lunch, etc.) so you know what your team is doing at all times.
For more privacy, you can set up Virtual TimeClock Pro to display PINs for all your employees instead of their names. This is perfect if you want to keep everyone's current status private.
Virtual TimeClock Pro also includes features such as:
One-time cost (no monthly fees)
Regular, daily, and weekly overtime hours
Unlimited number of workers
Weekly, biweekly, semi-monthly, or monthly payroll
Easy manual backups
Intuitive interface
Virtual TimeClock Pro's basic plan is only good on one computer for three employees. For that, you'll pay $99.
Sling, on the other hand, is $2 per user per month for an unlimited number of employees using as many devices as is necessary (no restrictions).
That's affordability, flexibility, and utility you can't find anywhere else.
Choosing the best time card calculator
Choosing the best time card calculator is about more than just crunching numbers.
When it comes right down to it, you could do that yourself. What you really need is a suite of tools that streamlines and automates every aspect of your job.
For that, the software you choose should come with specific functions that go above and beyond the features of the majority of the time card calculators on this list.
Those functions include:
Organization
Task management
Seamless interface
Reporting
Activity timelines
Time tracking
Immediate data availability
Manual data export
Compatibility
Forecasting
Accessibility
Those functions are essential for the successful operation and management of your team and your business.
But, the last one, accessibility, is now more important than ever.
In fact, in today's mobile work environment, accessibility is one of the most important features of any software you choose. Why?
Because you never know where you're going to be when you or someone on your team will need access to the tools and information necessary to get the job done right — especially if you manage multiple locations or teams with on-site, remote, and mobile employees.
That's why your time card calculator — and, indeed, all your team-management software — should work anywhere and on any device.
It doesn't matter what stage of the workflow you're at, accessibility is key.
It all starts with scheduling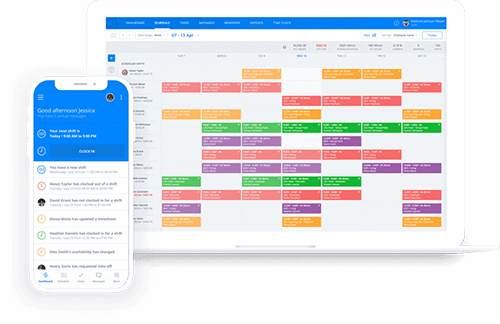 As great as a time card calculator can be at making your managerial life easier, the real magic lies at the very beginning of the process: scheduling.
If you thought calculating time cards was complicated, scheduling multiple employees for multiple shifts is going to push you over the edge.Thankfully, there's a software solution that transforms the scheduling process from a chaotic mess into an organized masterpiece. That solution is Sling.
Sling is designed specifically for the scheduling process, so all of its tools are aimed at simplifying this task. Sling is built around four unique features:
Shifts
Messages
Newsfeed
Tasks
The Sling Shifts feature contains all the intuitive tools you'd expect from an app that's dedicated to scheduling.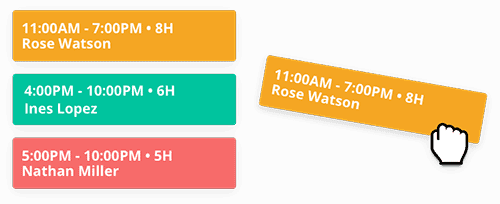 It even provides guidance, suggestions, and up-to-date availability and time-off requests to help you avoid conflicts. Sling even notifies you of overlapping shifts and double-bookings.
The Sling Messages and Newsfeed features make communication between you and your team a breeze. You don't have to rely on phone calls, email, or some other third-party app to stay in touch.
You can communicate directly with your employees (and your employees can communicate with you) on Sling through push notifications. You can even share files, photos, videos, and links.
The Sling Tasks feature allows you to assign jobs to individuals or groups and follow their progress.
Tasks lets you create to-do lists and share them by name, group, location, or position. You can even set due dates and send reminders as deadlines approach.
Sling helps managers bring their teams together, keep everyone informed, and build a better company culture. What more could you ask for in a free app?
For more resources to help you manage your business better, organize and schedule your team, and track and calculate labor costs, visit GetSling.com today.
See Here For Last Updated Dates: Link
This content is for informational purposes and is not intended as legal, tax, HR, or any other professional advice. Please contact an attorney or other professional for specific advice.