What do you get when you cross a tireless entrepreneurial spirit with a love for all things coffee? A coffee shop owner, of course! If that's you in a nutshell, why not consider getting involved in an industry that caters to more than 100 million customers in the U.S. alone?
You may not go international right away, but you can start by tapping into the demand for high-quality coffee in your area.
If your interest is peaked and you're curious about how to start a coffee shop, we've got a treat for you today. The experts at Sling break down the process into easy steps so that you can finally make your dream of coffee shop ownership a reality.
Table of contents
How to start a coffee shop: Plan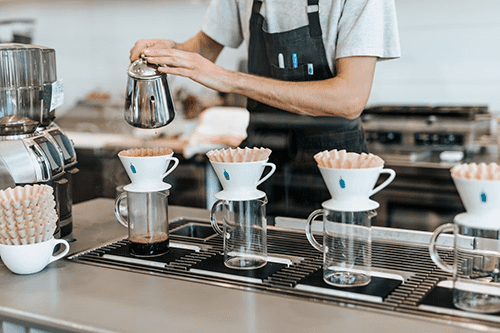 Starting a coffee shop is like starting any business: you'll spend the bulk of your time researching and learning about the industry. After that, it's about location, team, and customer service. Let's start at the beginning.
1) Analyze your priorities
One of the very first steps in deciding how to start a coffee shop actually has nothing to do with the business itself.
Instead of jumping down the list, take some time to analyze your priorities and formulate a picture of how you want your work life and personal life to look when the business is running full steam.
In other words, create a strategy to help you achieve the work-life balance you're after. Ask and answer questions such as:
What are my strengths when it comes to business?
What are my weaknesses?
What am I passionate about?
If money were no object, how would I run the coffee shop?
Can I handle working long and variable hours?
How much financial stability do I need?
Personal questions like these will help you decide if you do, indeed, want to run a coffee shop or if you might be better suited starting a different kind of business or working in an existing business.
2) Work in a coffee shop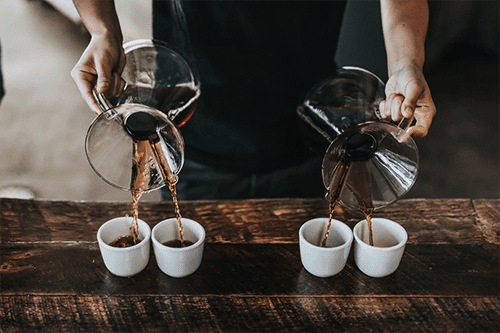 The best way to decide if you really want to start a coffee shop is to work in one for a while. You'll see if it's the right fit for you, and you'll gain valuable experience in basic business practices, like:
You can then transfer the lessons you learn working for someone else to your own unique venture.
3) Research state and local health codes
Health codes for the foodservice industry (including coffee shops) are extensive and rigorous. Once you start looking, you'll be surprised at just how many rules and regulations there are for handling, preparing, storing, and transporting food and drink.
Many of these rules differ slightly from state to state and city to city, so be sure to research based on where your coffee shop will be located. If it all seems like too much, maybe you should direct your entrepreneurial spirit elsewhere.
4) Create a business plan
Every business needs a plan, and your coffee shop is no different. Be sure to include information about:
Equipment needs
Accounting methods
Food and drink offerings
Target market
Price structure
Employee needs
Marketing plans
When complete, your business plan will show you exactly what you need to do to get your coffee shop up and running.
5) Plan for technologies that streamline workflow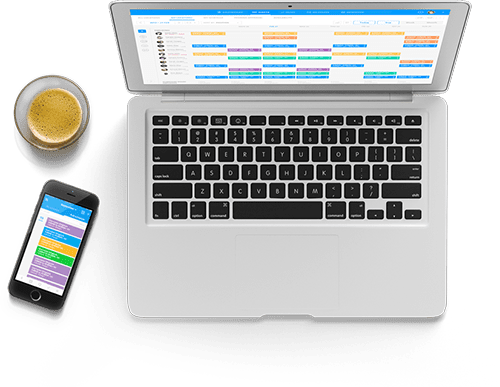 You're going to want to give your employees the technology they need so they can focus on producing a good product and providing stellar customer service. And we're not talking about the latest and greatest espresso machine (although that would help).
We're talking about time-saving software, like Sling, that streamlines repetitive tasks and makes them easier to complete — for you and your employees. Tools in the Sling suite include:
Technologies that streamline workflow will allow you and your team to perform to the best of your ability.
6) Create a cool name
Start thinking about a cool name for your coffee shop early on in the planning stage so you have plenty of time to settle on something you like. It should be easy to remember, and leave the consumer with no questions as to what your business is.
You'll have to include the business name when you start filling out forms (e.g., choosing and registering your business structure and opening a bank account).
Once those forms have been processed, it can be time consuming and expensive to make changes. You can avoid these speedbumps by having a name ready to go when it's time to start putting things on paper.
How to start a coffee shop: Set up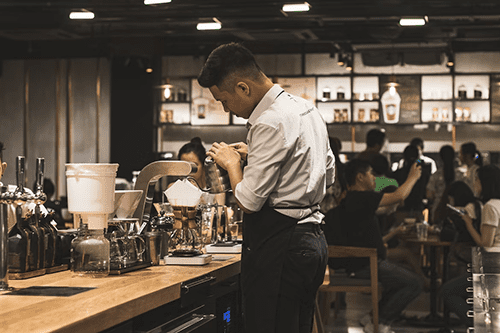 7) Build a business strategy
Every business, large or small, needs some type of business strategy to be successful. In fact, skipping this step could set your coffee shop up for failure later on down the road.
When you research strategy implementation, you'll discover there are multiple levels to deal with, including:
At this point in the process, we suggest focusing on the business-level strategy in order to provide a framework for the employee-specific activity to come (the functional-level strategy).
Building a business strategy before you even open your doors provides insight into how you can:
Find direction
Establish priorities
Facilitate decision making
Simplify adaptation
These variables — all byproducts of creating a business strategy — can help you get a leg up on your competition.
8) Choose a business structure
One of the first steps in the setup phase of deciding how to start a coffee shop is choosing a business structure. At its most basic, that involves registering your company with the proper authorities (i.e., local, state, and federal departments).
Start the process by choosing a legal entity, such as:
Sole proprietor/self-employed — working by yourself under your own name (e.g., Joe Coffee)
Doing Business As (DBA) — a sole proprietor doing business under another name (e.g., Joe Coffee working as Bake & Brew)
Limited Liability Partnership (LLP) — a legal arrangement that serves to keep personal assets and business assets separate
S-Corp — an independent corporation that allows profits and losses to pass through to the owner's personal income
C-Corp — an independent corporation that is taxed separately from the owner's income
Deciding on the business structure you want to operate under opens the door to then registering with the federal government to get a Taxpayer Identification Number (TIN) and with state and local authorities to obtain any necessary licenses.
9) Get to know your customer base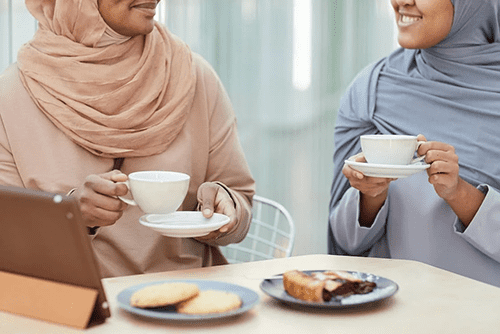 It may seem a bit early to get to know your customer base, but doing so even before you open your doors provides valuable insight into:
Customer demographics
Demand for your product
How your customer base will react to your product
Problems inherent in the market
Appropriate price points
Variables that influence your customer base's buying decisions
With that information in mind, you can perfect your product, your message, your image, and every other aspect of your coffee shop to appeal to your target audience as much as possible.
10) Save money and budget for the beginning
It's going to take a while for your coffee shop to turn a profit AND provide you with a living wage. Before you invest a dime, set aside some money to live off of while your coffee shop gets going. That way, you can focus all your energy on making your business the best it can be.
11) Find the right location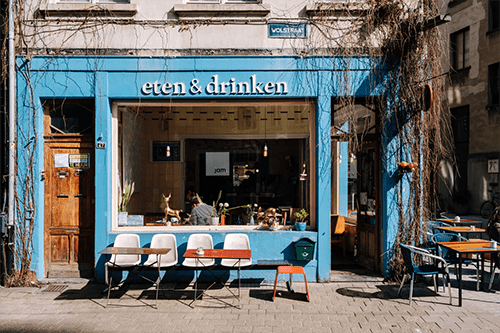 Having just the right location is crucial for your coffee shop. Try to find a location that is within walking distance of an urban area (business or residential). That will attract customers and allow them to use your coffee shop as a meeting place or a stop-over on their way to and from work.
12) Open a bank account
Even if you go the sole proprietor route when choosing a business structure, it's a good idea to open a separate bank account for your coffee shop.
Doing so will not only make recordkeeping and payroll much easier, but it will also simplify the process of paying business and personal taxes (which can be a nightmare if you're using one account for both purposes).
With a separate account for business activities, you won't have to spend extra time separating personal expenses and income from business expenses and income when tax time rolls around.
Be sure to speak with your accountant and tax professional before making any financial decisions.
How to start a coffee shop: Operate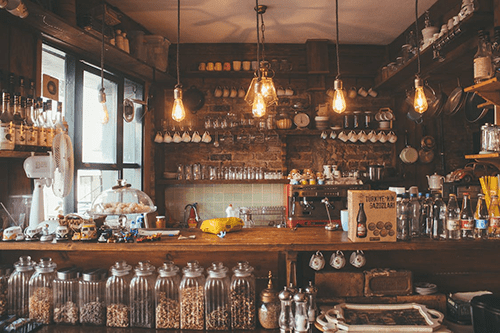 13) Advertise before you open
Don't wait until opening day to advertise. Get the word out early and often. You may not have a large budget for marketing when you first start out. If that's the case, rely on guerrilla tactics like:
Creating a presence on social media
Contacting the media to let them know of your soon-to-open coffee shop
Giving away free coffee at local events to generate interest
Promoting your opening day by dropping off a flyer and free coffee at local businesses
There are literally hundreds of ways to advertise on the cheap. Use your imagination and get creative.
14) Hire and schedule employees
Hiring and scheduling employees may seem like a daunting task. But with a little help from modern technology, it can be a breeze.
The Sling software suite is particularly useful for such difficult tasks as:
Once you've hired and scheduled the perfect team, you can use Sling to assign tasks, get a handle on labor costs, and even democratize future scheduling.
15) Purchase equipment
Equipment for a coffee shop can get quite expensive if you don't control yourself at first. So you don't blow your budget before you even get started, keep things as simple as possible at first.
Purchase tools and equipment that will get the job but won't break the bank. You can always upgrade the cappuccino machine later on when the money starts rolling in.
16) Market your coffee shop
If you started advertising before your coffee shop opened, continue marketing your business after the doors are open.
As you consider ways to do this, don't just focus on the most expensive options. There are plenty of ways to get the word out that only cost a fraction of what you might spend on such things as TV, radio, and local print media.
Try these relatively inexpensive marketing alternatives:
Ask your friends and family to talk up your coffee shop
Post flyers on local bulletin boards
Put together a Facebook page
Build a website
Get creative with your marketing efforts to reach as much of your target audience as possible.
17) Focus on customer service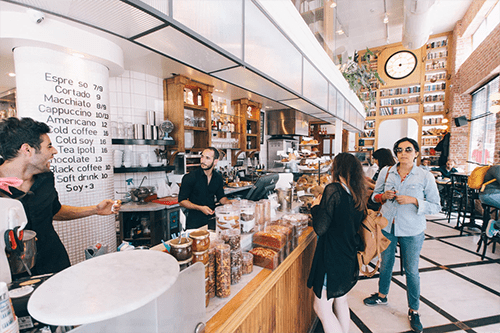 From the moment you open your doors on the very first day, encourage your employees to focus on customer service. This, along with a consistently high-quality product, is the hallmark of every successful business.
18) Provide the best product
While customer service is the heart of your coffee shop, the product you serve is the soul. Train your team to brew and mix the best cuppa joe for every single customer who walks through the door.
If you give them a quality experience every time — smiling faces and tasty treats — they'll stick with your business for the long haul and help your coffee shop succeed.
Research and planning are key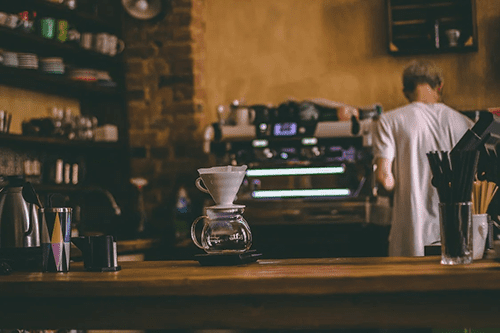 Look back over the list of steps for how to start a coffee shop. What do you notice?
More than half of your activity is some form of research, planning, or preparation. That underscores the importance of these tasks.
You'll notice we don't say, "Get a coffee maker. Start brewing." That's not a good recipe for success. In fact, it's very easy to get in over your head if you skip the research, planning, and preparation phases. Why?
Learning how to start a coffee shop — and then doing it — is much like building a highrise: The majority of the work occurs before the walls go up.
Because those phases — research, planning, and preparation — form the foundation on which your business sits. If your foundation is weak, your coffee shop will be shaky and may topple at the first signs of difficulty.
But, if your foundation is strong, your coffee shop can weather any storm that comes its way.
So, be patient, take your time, dot all your "i"s, and cross all your "t"s. With all that planning under your belt, you'll have the knowledge you need to guide your coffee shop to success.
Consider starting small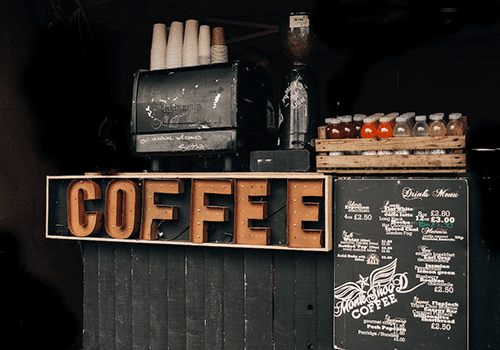 There's certainly something to be said about going all-in right from the start. But if that makes you nervous — as it should — consider starting small.
Instead of going right for a brick-and-mortar location, you might want to try a kiosk in the mall, a rolling street cart, or a small corner of an office building.
Starting small like this can give you valuable experience in your niche without breaking the bank or putting you in debt. And once you've got some experience under your belt, not to mention profits rolling in, you can always expand into a second, larger location.
But regardless of whether you start big or small, the steps in this guide will help you build your coffee shop into a great success.
The best software for starting a coffee shop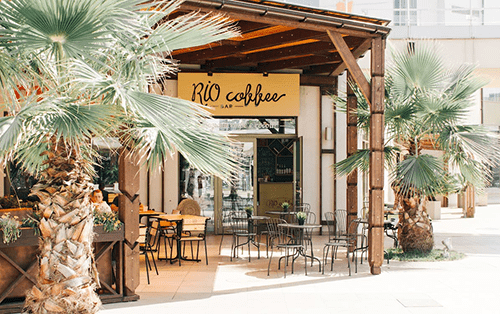 As we mentioned earlier, incorporating the best computer software in your workflow right from the start can give your new business the boost it needs to be successful from the moment you open the doors.
When it comes to organizing, managing, and optimizing your workforce, there's no better app than Sling.
When you harness the power of the Sling app, you'll save countless hours each week that you can then dedicate to learning how to start a coffee shop, growing your new small business, and ensuring its success.
For more free resources to help you manage your business better, organize and schedule your team, and track and calculate labor costs, visit GetSling.com today.
See Here For Last Updated Dates: Link
This content is for informational purposes and is not intended as legal, tax, HR, or any other professional advice. Please contact an attorney or other professional for specific advice.