So you want to start a catering business? That's great! The catering industry is ripe with potential. In the United States alone, some 10,000 registered catering businesses generated over $8 billion last year (2017) alone. You can be a part of that wide-open market. All it takes is a love for food and a bit of hard work.
In this article, the experts at Sling will reveal how to start a catering business in 10 easy steps. Along the way, we'll address such issues as:
Working from home or a storefront
The importance of state and local health codes
Creating a business plan
Getting incorporated and licensed
Hiring and scheduling employees
We'll also discuss financing (to make it all possible) and advertising and marketing (to keep it all going). But before we get to those important issues, let's investigate some vital steps that many potential caterers miss altogether.
10 Easy Steps For Starting a Catering Business
1) Work In A Catering Business For A While
The best way to figure out if you want to start a catering business is to work in one for a while. You'll gain valuable experience in such foundational business practices as:
Food prep
Menu development
Suppliers
Networking
The lessons you learn can be directly applied to the catering business you start.
2) Decide Where You Want To Work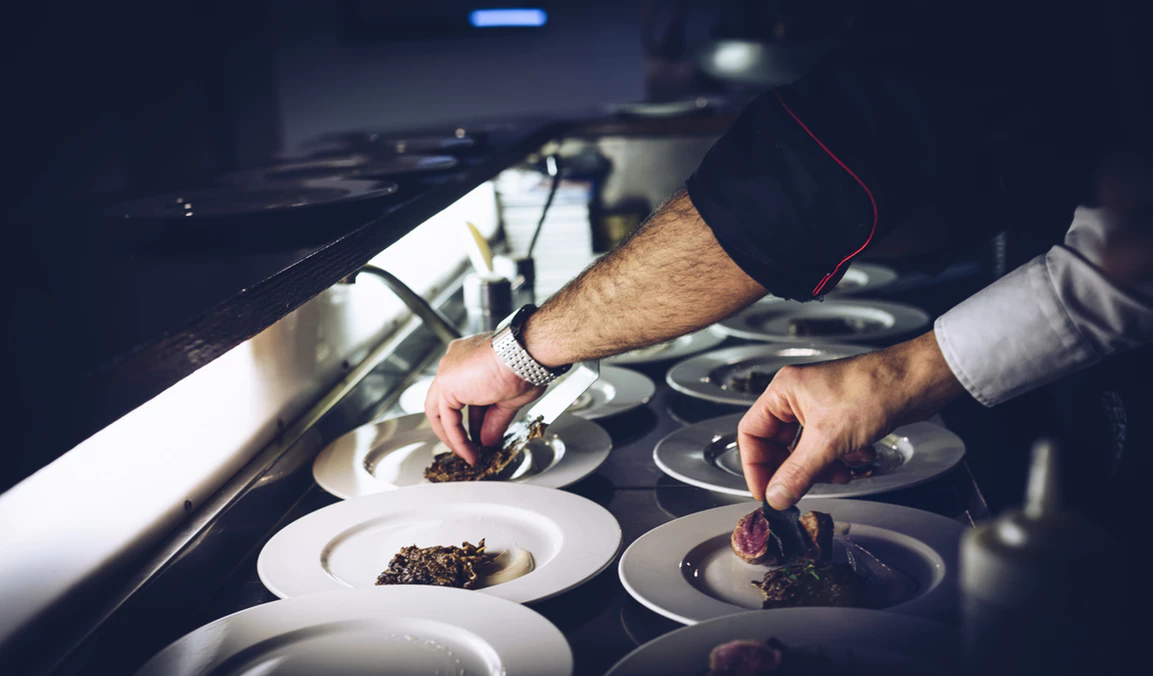 One of the unique aspects of the catering business is that it can be done anywhere. Yes, you'll need cooking, storage, and transportation equipment, but all those things can be assembled at your home or in a street-facing storefront. There are benefits and drawbacks to each, but you can always move from your kitchen to a storefront when you're more established. Plus, starting a catering business in your home can help to keep overhead low while you get things going.
3) Research Your State And Local Health Codes
Health codes for the foodservice industry are extensive and can differ from state to state and city to city. You may be surprised at just how many rules and regulations there are for handling, cooking, storing, and transporting food. And don't forget requirements like periodic inspections and food-grade equipment.
Learning about the health codes that apply to the catering business can help you decide whether to move forward or find another dream.
4) Make A Business Plan
Every business needs a plan, and a catering business is no different. Your business plan should contain the following information:
The mission statement of your catering business
Menu offered
Equipment needs
Target market (you can expand into other markets later on)
Price structure
Advertising and marketing strategy
The details you include in your plan will help you secure funding (if necessary) and show you exactly what you need to do to get your catering business off the ground.
5) Get Incorporated
Catering businesses carry a lot of risks: from fires and food poisoning to transportation accidents and employee injury. If you're operating your business as a sole proprietorship, you could be liable for any damages. That means the law could come after your personal property to settle any debts.
You don't want to lose your home over something that happened to your business. Consider forming a legal entity for your catering business (e.g., a C Corp, S Corp, or LLC) so you're protected from anything that might happen on the job.
6) Get Licensed
You'll also need to get a business license in order to operate legally in your state or city. Keep in mind that the license to operate in one city doesn't necessarily mean you can operate in another city. If you are catering an event outside your usual location or in another part of the state, you may need to obtain a separate license. Inquire at your local courthouse, and they should be able to tell you exactly what license(s) you'll need.
7) Secure Financing
Before you can "open your doors" and start catering events, you're going to need to secure financing. Whether you need money for kitchen equipment, freezers and warmers, or a van for transportation, the financing will have to come from a bank or investors. You can also look into government programs and grants designed especially for small-business owners.
8) Hire Employees
If you've never run your own business before, hiring employees may seem like a daunting task. Start by writing an effective job description to post online or in your local paper. When you find someone with potential, follow this three-step procedure:
Call them in for an interview.
Check their references.
Hire and train.
And don't feel like you have to hire 10 employees at first. Many catering companies have started out with just two people—a chef and a server—before expanding the size of their team.
9) Schedule Your Employees
Whether you have one employee or 100, you'll need to give some thought to how you're going to schedule your staff. Ask yourself these questions:
The answers to a lot of those questions will depend on when during the day (or night) the majority of your events occur. Once you have a handle on the type of schedule your catering business needs to succeed, use employee scheduling and time clock software, like Sling, to make this difficult task super simple.
10) Advertise, Advertise, Advertise
If you're committed to running a catering business, you should get started advertising and marketing right away. Consider starting with a website. Research restaurant websites, and use what you find there to create your own effective online presence.
After researching, advertise your fledgling business through word-of-mouth, flyers on telephone poles, or whatever guerilla marketing tactics you can think of. Keep in mind that it may take a while for your first client to contact you.
Starting Small Is The Key To Success
You may be tempted to "go big" right from the start. That's not necessary. Begin by catering a friend's birthday party or your significant other's business lunch. Gain some experience, take on larger events, and expand and build from there.
Taking it slow doesn't mean you've failed; it just means that you can see the potential pitfalls of getting too big too fast and want to avoid them. Remember, running a successful catering business is a marathon, not a sprint.
For further restaurant-management resources and for help scheduling your employees, visit GetSling.com today.