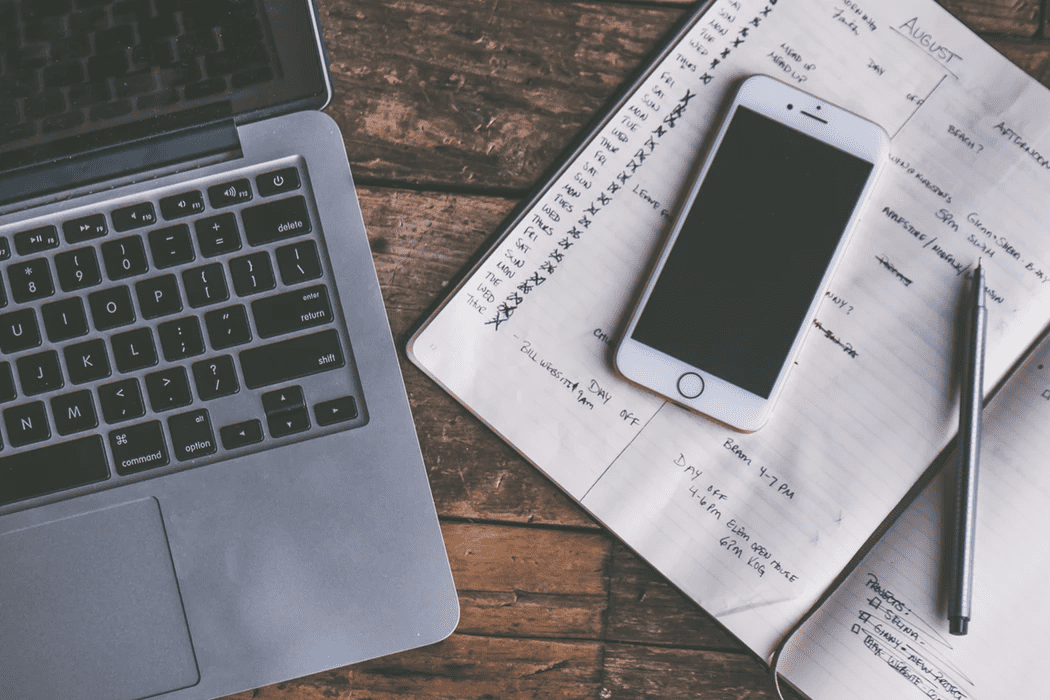 If you find that your employees are frequently changing shifts, informing you at the last minute that they can't work a shift you've already scheduled, or just not showing up, it's time to implement an employee availability form.
What Are Employee Availability Forms?
An employee availability form is pretty self-explanatory: it's a piece of paper on which your employees indicate when they can and cannot work.
For simplicity's sake, many businesses only ask for hours that employees can't work, rather than making them list all the hours they can work. It just depends on what information you need to make your scheduling process run as smoothly as possible.
Information To Include On Your Form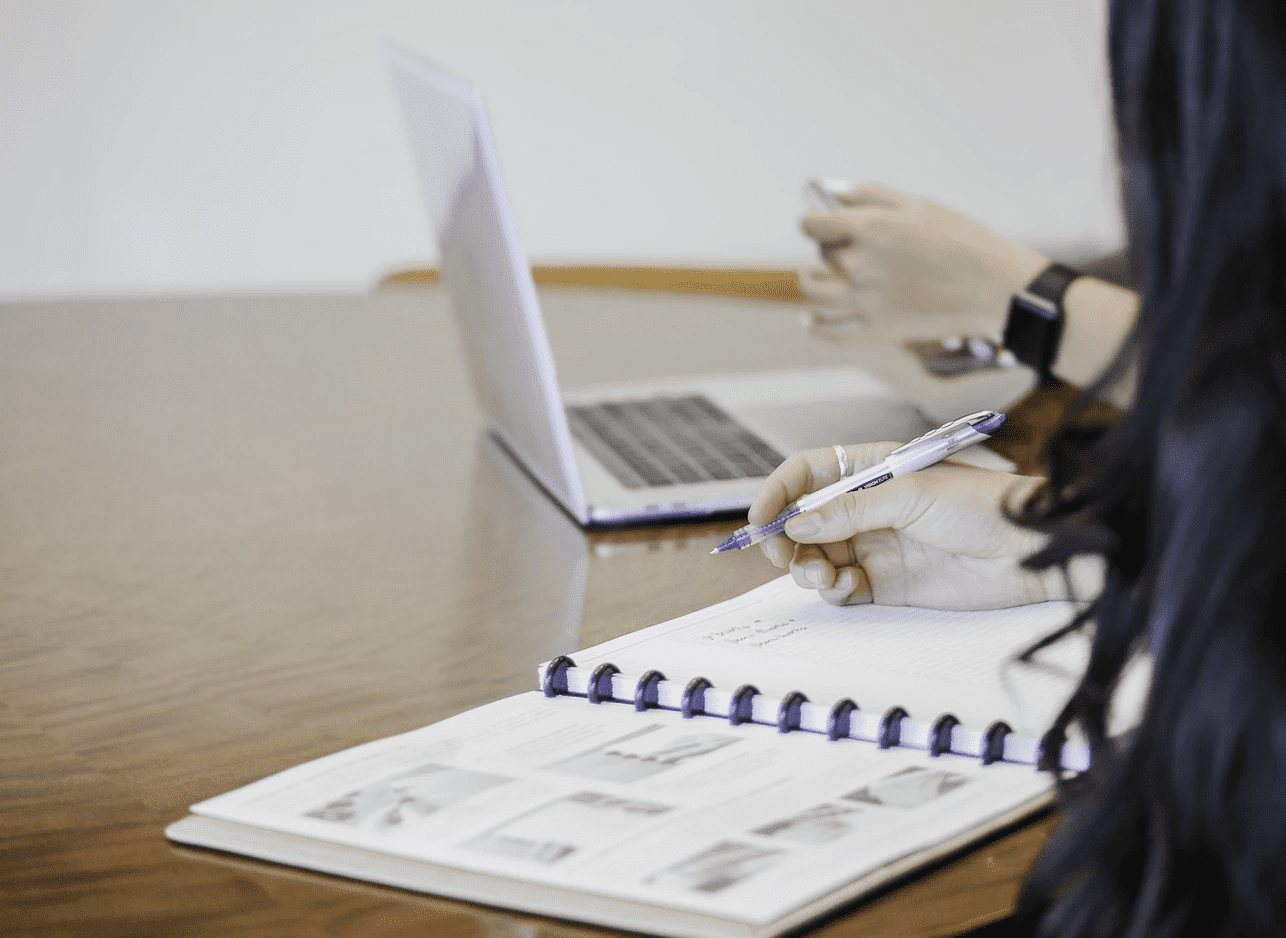 1) Employee Contact Information
Details such as name, phone number, and email address are essential so that you can contact the employee quickly if you have a question.
2) Signatures And Dates
In order to make the form official, both you and your employee need to sign and date it at the bottom.
The employee's signature acts as verification that, "Yes, I did indicate that these are the hours I can't work." Your signature shows that you understood the information and will take it into account when creating the next work schedule.
3) Instructions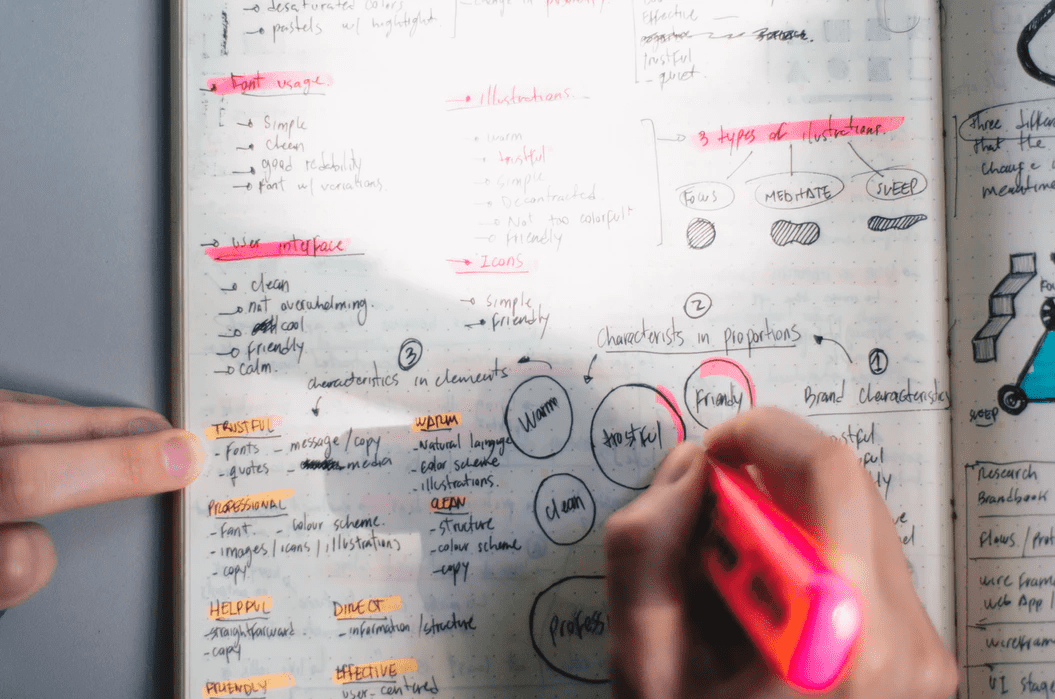 It's essential to include instructions on your employee availability form. Don't assume everyone will know how you want it filled out.
Keep the instructions simple and clear, and include specific words (e.g., "unavailable" or "no restrictions") when necessary.
If your business opens in the morning and closes at night (or doesn't close at all), it's vital to instruct your employees to include "A.M." and "P.M." so that there's no confusion about when they are available to work.

4) Availability
Include plenty of room on your form where the employee can indicate their availability. You may format this section as a checklist they can mark, a table they can color in, or blanks where they can write down numbers.
Whatever format you choose, make sure this space is simple and intuitive and that your employees can fill it out in less than five minutes (more quickly than that is even better).
5) Future Adjustments
It can also be useful to leave a space for future adjustments. If the employee knows about an upcoming change to their schedule, they can list it with their availability the first time through so they don't have to come back and fill out a new form.
This puts the burden on you, the manager, to keep track of when the new availability takes effect.
Employee Availability Form Template
Below, we have included a very simple employee availability form template. We give you permission to copy it and use it as-is or make changes to suit your business needs.
<START TEMPLATE>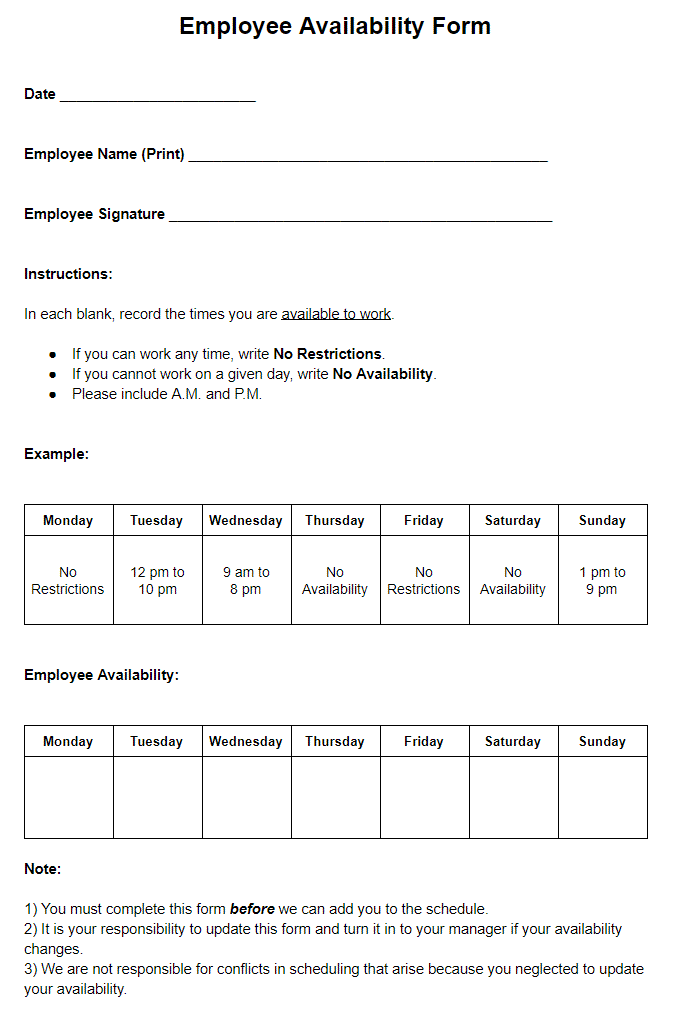 <END TEMPLATE>
Keep Your Form Up To Date
An employee availability form is only as useful as the accuracy of the information it contains. A form that is too far out of date is going to cause more problems than it is meant to solve.
Every six months (at the minimum), ask your employees if their availability has changed. If it hasn't, make a note on the form. If it has or will shortly, have your employees update their forms (i.e., fill out a new one) with their current information.
If your employees are young, in school, don't work full-time, or their schedule just happens to change frequently, it is useful to conduct an availability review more often. For some businesses, two or three months is the standard.
How To Use An Employee Availability Form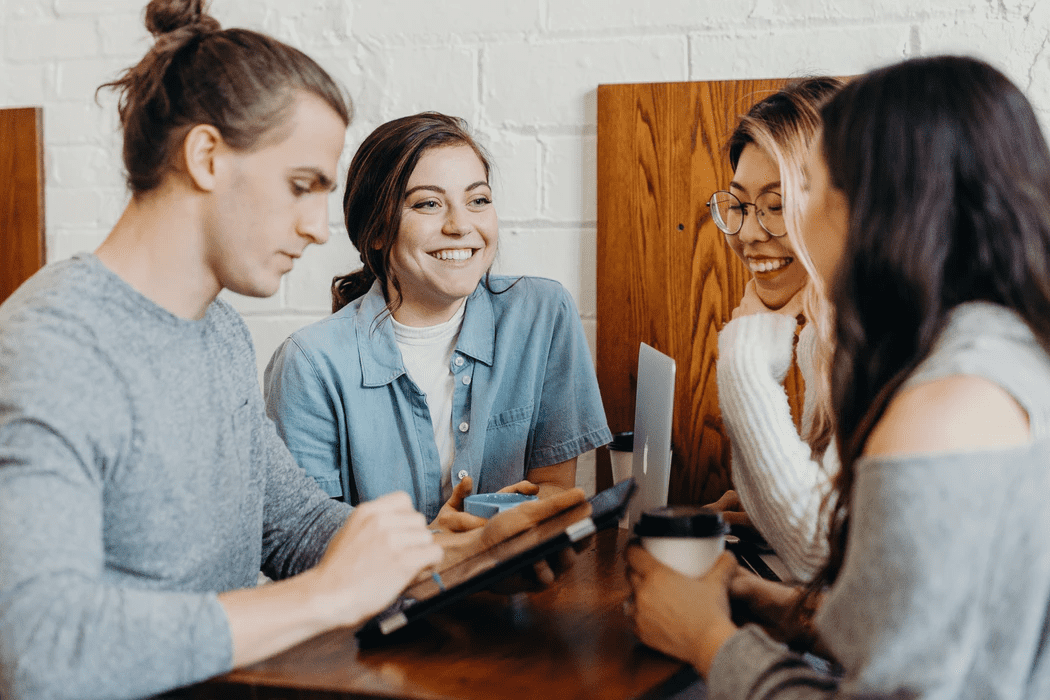 1) Prepare
Make an announcement or send a message to all of your employees that you will be conducting an availability review in the next few days. Instruct them to look at their personal schedules to see if anything has changed.

2) Meet With Employees
Sit down with each employee and have them fill out a new form. If nothing has changed (and won't change in the near future), make a note on the form and have the employee sign and date next to the note.
For new hires, include the availability paper along with other new employee forms. You can also streamline the onboarding process by including a copy of the availability form in your employee handbook. Both new and long-time employees can then access the form whenever they like.
3) Review The Form
Be sure you review what your employee wrote before signing off on the form. It's easy to forget A.M. and P.M. or leave a blank empty while filling in information. Making sure you understand the employee's availability prevents problems when it comes time for you to create a work schedule.
Sling Keeps Your Employee Availability Current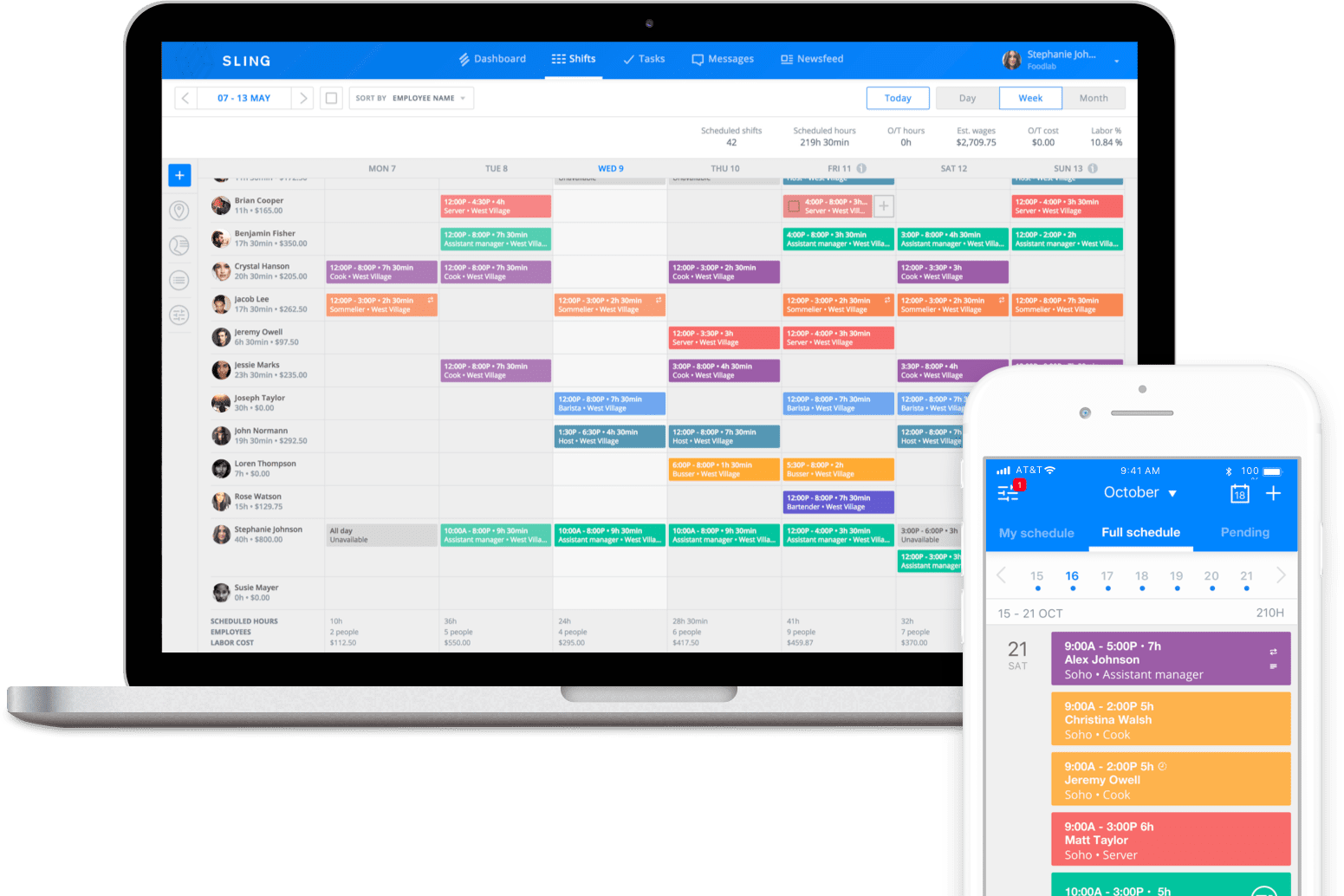 The Sling app makes it easy to keep your employee availability current. Transfer the information from the employee availability form with the click of a mouse or the tap of a finger.
Sling will then alert you if you schedule an employee during a time they can't work. No more constantly referring back to your employee files to find whether an employee can work a specific shift or not. Sling does it for you.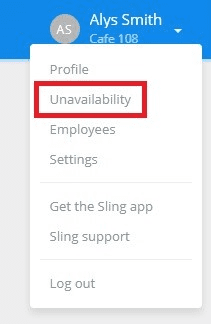 And with Sling's powerful cloud-based interface, your employees can change their availability themselves from right inside the app. It's never been easier to keep your employee availability up to date thanks to Sling's suite of scheduling and employee-management tools.
To learn more about what Sling can do for your business and for more free resources to help you manage your business better, organize and schedule your team, and track and calculate labor costs, visit GetSling.com today.