Restaurant management software is a rapidly expanding niche of software development. Some of these apps are designed to solve specific problems, like shift scheduling or point of sale, while others boast all-in-one suites for every aspect of restaurant management.
The reality of the restaurant business is that culinary excellence isn't enough to make an eatery a success. Many restaurants operate on very narrow margins and fail because of mismanagement rather than anything wrong with the menu.
Although the challenges of the restaurant business haven't changed, the tools available for taking them on have. There is an ever-growing market of specialized software for all of the outside-the-kitchen things restaurateurs have to think about.
To keep it simple, we'll break things down into a few broad categories of restaurant management tasks and look at some options in each.
Table of contents
Software for managing your restaurant's workforce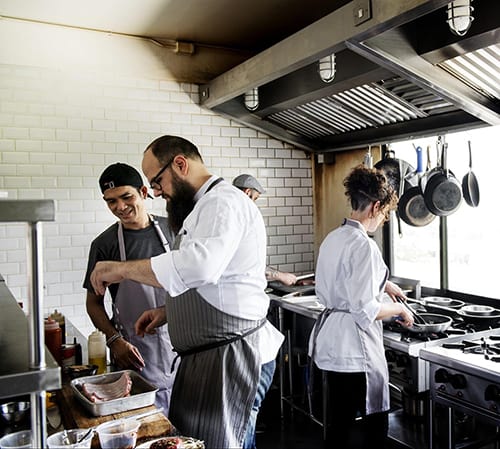 The first category of software we'll look at can help you hire, schedule, train, and get the most out of your employees.
1) Sling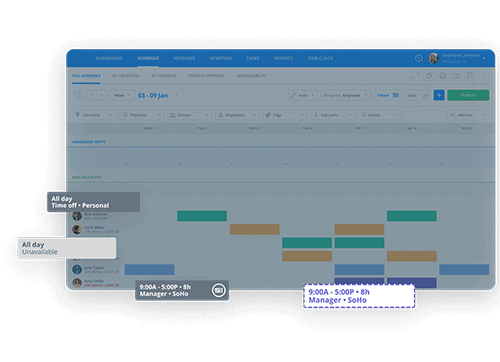 Sling is an employee scheduling tool that can be used by practically any type of business. However, it has many satisfied users, especially in the restaurant industry.
With Sling, you can create schedules quickly and easily, taking into account availability, time off, and shift trade requests.
Sling also allows you to set a payroll budget, assign wages from within the app, and view cost per shift to improve your margins. You can view data on labor costs versus sales over time to make intelligent decisions on how many staff you'll need clocked in at different times.
In addition to scheduling, Sling offers task management and team communication features with notification alerts to keep your entire team on the same page.
All in all, this software is a great way for restaurant managers to make sure every shift is properly staffed and save money at the same time.
2) WhenIWork
WhenIWork is another option for restaurant employee scheduling. It offers schedule templates, one-click automated scheduling, and can be used for businesses with just one location or multiple locations.
3) 7Shifts
7Shifts allows you to automatically post job openings for different positions on sites like Indeed, post training videos for new hires, create schedules, calculate payroll, and distribute tips.
4) Spiffy
Spiffy aims to modernize staff training for restaurant and retail businesses. It delivers quick, digestible bursts of information in an Instagram-like format with quizzes at the end of each module so you can get rid of boring employee handbook binders.
5) Kudos
Whatever type of business you're in, recognizing employees for good work is an important part of maintaining morale. Kudos helps you do that and also allows employees to recognize each other, with the ability to set up custom rewards, like gift cards.
6) Kickfin
Kickfin is a tip distribution software that automatically calculates tip payouts and sends them to employees' bank accounts after every shift so they have instant access to their earnings.
Restaurant management software for operations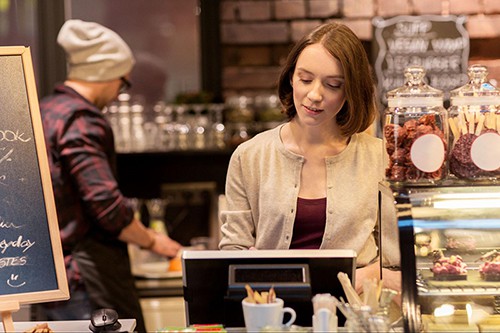 Our next category of software is all about streamlining various aspects of your restaurant's operations.
7) Toast POS
Toast is one of the most popular options for point of sale (POS) needs in restaurants, coffee shops, and bars. Toast offers both front desk and tableside hardware for taking orders, processing payments, and allowing guests to track the status of their orders.
In addition, Toast offers products ranging from payroll and tips management to inventory management, email marketing and more.
8) OpenTable
OpenTable is a popular platform for taking online reservations, eliminating the need for the old-fashioned system of taking reservations by phone and writing them down.
OpenTable also offers table management and the capability to send marketing emails to guests encouraging repeat visits.
9) Clover
Another POS software solution serving restaurants is Clover. It offers countertop, portable, and mobile options. Clover's data tracking syncs with the cloud so you can access reporting on sales and deposits from wherever you are.
10) Applova
Applova offers a full line of self-ordering kiosk hardware and software designed to fit restaurants of all sizes. The kiosks can make personalized menu recommendations based on historical buyer behavior, with continuous learning to improve the quality of the recommendations.
11) Yelp Guest Manager
Yelp Guest Manager is an online reservation and waitlist system. It also offers detailed analytics to help restaurant managers track performance and allows users to document guest preferences for better service on repeat visits.
12) UpMenu
For many types of restaurants, online ordering has become essential. UpMenu is an online ordering platform with a built-in customer loyalty system and options for building branded websites and apps.
13) FoodDocs
FoodDocs uses AI technology to help restaurants stay in compliance with food safety regulations. It covers local health codes from the U.S. and UK and proclaims to save managers hours per week on routine safety tasks.
14) Chowly
If you take orders from food delivery services, like DoorDash or Grubhub, Chowly can accept orders from all of these services and enter them into your POS system without anyone having to do it manually. It can also automatically update your menu on food delivery services.
Accounting and administration software for restaurants
Finding a little bit of extra margin in your operating expenses can make or break your business. This next category of restaurant management software can help you with these crucial number-crunching and administrative tasks.
15) MarginEdge
MarginEdge is a software tool designed to help restaurants achieve healthier operating margins by improving back-office efficiency. It offers invoice processing, recipe and menu analysis, inventory and food usage tracking, and various other cost management features.
16) MarketMan
MarketMan helps restaurants save money by simplifying the process of ordering ingredients and eliminating waste.
This gives you a high-level view of all of the product being used by your restaurant at all times and allows you to communicate with all of your vendors from one platform.
17) Craftable
Craftable connects purchasing, recipes, inventory, and sales with accounting to help restaurateurs make their operations more profitable.
18) reciProfity
reciProfity helps restaurateurs intelligently determine the ideal price point for each menu item based on the cost of ingredients and also optimize their menu by analyzing which items aren't generating revenue.
Other helpful restaurant management software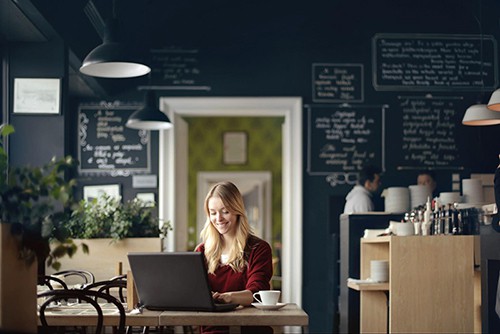 There are countless other things that go into running a successful restaurant, depending on the particular type of establishment. We'll wrap up with a few examples of miscellaneous solutions for your restaurant's "odd job" needs.
19) Yodeck
Many fast-casual restaurants and cafes use TVs or similar screens as menu displays. Yodeck is a web-based platform for designing, scheduling, and using digital signage. The platform comes with templates so you don't need a lot of design or digital publishing experience to get started.
20) iMenuPro
This tool is an easy-to-use online menu maker that allows you to design and print menus. It has built-in templates to get you started and drag-and-drop functionality so you can quickly make updates for new items.
21) Servmetrics
Servmetrics is a dashboard software for delivery-based restaurants that allows customers to leave feedback via text message and allows managers to quickly fix a negative experience or encourage a happy customer to give a social media shout-out.
22) Belly
Belly allows restaurants and other businesses to create their own customized loyalty rewards programs for guests. It can track customer activity and has integrations with popular social media platforms.
23) Cloud Cover Music
Cloud Cover Music allows you to play fully licensed, ad-free music to set the ambiance for your restaurant or cafe.
24) ReviewTrackers
ReviewTrackers is a reputation management platform that allows you to view all of your customer reviews from sites like Yelp and Google in one place.
Restaurant management made easier with Sling
Restaurant management software tools are available to help with almost every aspect of running a successful restaurant. Even experienced restaurant managers may be pleasantly surprised by some tools that have recently become available.
Sling takes the stress out of creating a schedule that will keep your staff happy and your bottom line healthy. In addition, Sling offers powerful features for communicating with your team and assigning tasks so that things don't fall through the cracks.
To learn more, visit GetSling.com.
See Here For Last Updated Dates: Link
This content is for informational purposes and is not intended as legal, tax, HR, or any other professional advice. Please contact an attorney or other professional for specific advice.