The right hotel management software can help make managing customers and employees easier and more enjoyable for everyone involved.
With the right digital solution in place, your team will be better positioned to focus on value-added tasks, like providing stellar customer service, rather than just getting through the basics of your guests' stay.
In this article, we discuss some of the top hotel management software solutions so that you can choose the one that's right for your business.
Best hotel management software
1) Sling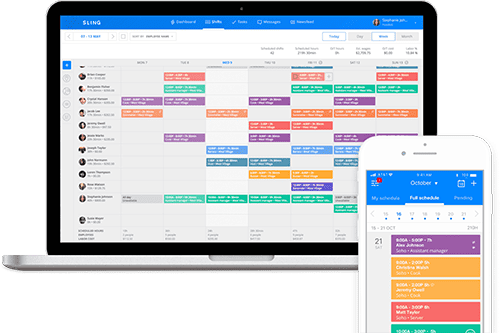 Running a short-term-stay business is hard enough. Your hotel management software solution should make it easier. That's where Sling comes in.
Sling is an all-in-one employee management solution designed to support teams of all types and sizes, whether they're desk-based, deskless, in-house, or remote.
Features of this top-tier hotel management software suite include:
Powerful scheduling and distribution features
Built-in time-tracking
The ability to clock in from any mobile phone
Geofencing to keep this feature accurate
Labor-cost control
Budgeting
Overtime control
Employee document tracking
Paid-time-off monitoring
Employee and team communication
Push notifications
Recurring shifts
Scheduling-conflict notifications
The Sling app operates in the cloud and is available on any smartphone, tablet, laptop, or desktop running Windows, iOS, or Android so your team can be in sync no matter where they are or what device they're using.
Try Sling for free with just a few clicks and then get even more features and flexibility with a Premium or Business plan.
2) Little Hotelier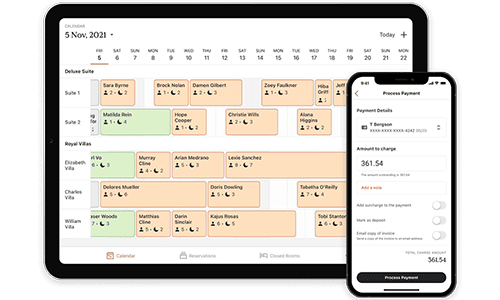 Source: Littlehotelier.com
The Little Hotelier hotel management software suite is designed for small hotels, bed and breakfasts, and other short-term-stay businesses.
The software gathers everything you need into a centralized calendar that can help everyone on your team stay on track and maintain their productivity throughout the day.
Little Hotelier supports Windows, iOS, and Mac devices and is available in the cloud for easy access anywhere, anytime.
3) Oracle Hospitality
Source: Oracle.com
Oracle Hospitality is a hotel management software solution designed to streamline operations.
The software delivers a range of services (both online and off) as well as cloud solutions that enable hospitality businesses to focus on customer service and increase profitability in the process.
Oracle Hospitality is available in the cloud and on-premises through a variety of devices and operating systems, including smartphones, tablets, laptops, and desktops running Windows, Linux, Android, iOS, and MacOS.
4) ResNexus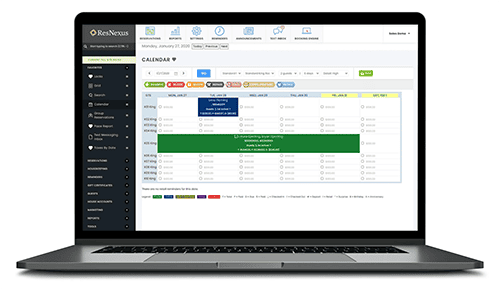 Source: Resnexus.com
ResNexus is an easy-to-use hotel management software suite designed to streamline various processes within the short-term-stay industry.
When certain components are activated, employees can work from a shared task list (making room cleaning that much easier) and communicate with one another at any time using any device (mobile or desktop running any number of operating systems).
5) Connecteam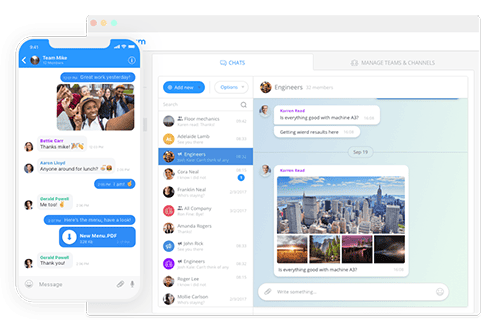 Source: Connecteam.com
Connecteam is a hotel management software solution and team management app that gives managers and staff the tools they need to save time, improve customer service, and increase productivity throughout their operation.
Connecteam is available on desktop and laptop for Mac and Windows and on mobile devices (phones and tablets) for Android and iOS.
6) SkyTouch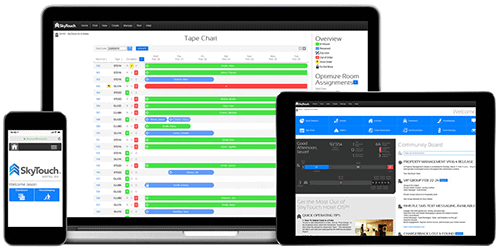 Source: Skytouchtechnology.com
The cloud-based SkyTouch hotel management software helps users control all aspects of the traditional hotel property management system.
The platform continues to evolve and adapt to customers' specific needs, whether they're operating one or two rooms or building a global hotel network.
7) Preno
Source: Prenohq.com
Preno is a solution designed to streamline hotel staff activities.
The user-friendly interface and real-time dashboard can help boost the efficiency and productivity of everyone on your team and make the check-in process easier and more enjoyable.
Like many of the other offerings on this list, Preno operates in the cloud and is accessible on a variety of devices running Windows, Linux, Android, iOS, and macOS.
8) Guesty
Source: Guesty.com
Guesty is a hotel management software designed to simplify short-term property management operations.
Geared toward vacation rentals, urban rentals, aparthotels, and glamping services, Guesty provides operators with a core platform that includes analytics, automation tools, central calendar, and labor controls.
Guesty is available on the web and as native software for Android, iPhone, and iPad.
9) Front Desk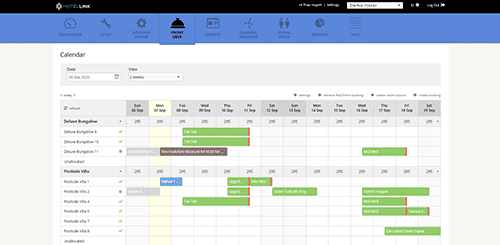 Source: Linkedin.com
Front Desk is hotel management software that helps managers and staff of small- to medium-sized businesses reduce their manual work and simplify their daily operations.
Front Desk makes this possible through a user-friendly interface that gives employees the ability to access their shift schedule and other tools from any mobile device.
10) Mews Operations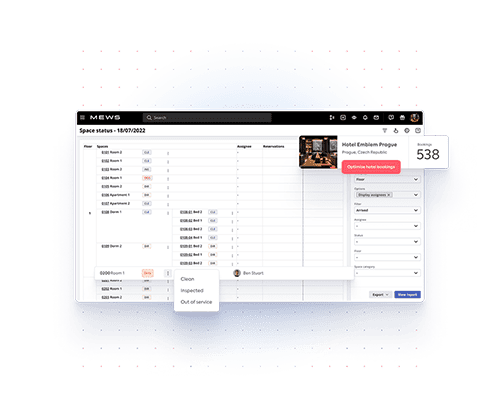 Source: Mews.com
The Mews Operations hotel management software comes with a long list of useful features, including:
Real-time dashboard
Inventory tools
Work schedule coordination
Task management
Intuitive design
And more…
11) Hotello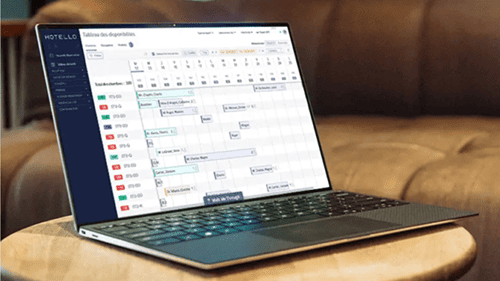 Source: Hotello.com
Hotello is another tool to streamline property management activities. With plenty of features and automation to make your staff's job easier, they'll be able to focus more on your guests and less on the speedbumps that get in the way of good customer service.
Hotello supports Windows, iOS, and Mac devices and is available in the cloud for easy access anywhere, anytime.
12) StayNTouch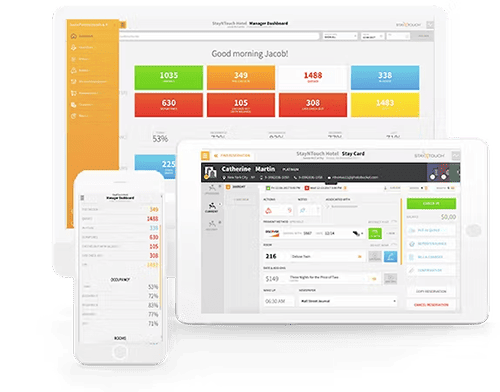 Source: Stayntouch.com
StayNTouch is designed to provide the tools and the access to simplify operations in a short-term-stay facility.
Mobile and color-coding features on the interface make it easier for front desk staff to access, locate, and make use of information about their workday and the customers they're serving.
Managers can access the app in the cloud via devices running Windows, Android, iOS, and MacOS.
Streamline your operation with hotel management software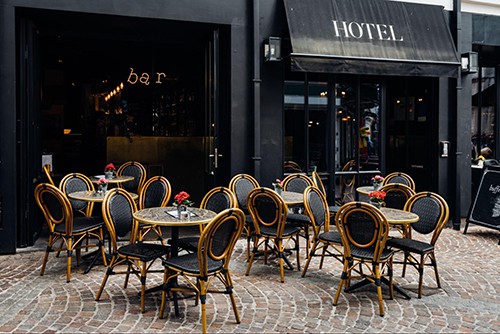 Making your hotel the best it can be is about more than just having a great staff. Your employees have to have the tools they need to be able to do their job well the first time through.
The Sling hotel management software can help.
Sling offers a wide variety of integrated tools — everything from scheduling, time tracking, and communication to employee documents, team task management, and labor cost control — to help you streamline your hospitality operation and make it run like clockwork.
Try Sling for free today and experience firsthand how it can make your business better.
And for more free resources to help you manage your business better, organize and schedule your team, and track and calculate labor costs, visit GetSling.com today.
See Here For Last Updated Dates: Link
This content is for informational purposes and is not intended as legal, tax, HR, or any other professional advice. Please contact an attorney or other professional for specific advice.