The right employee communication app can mean the difference between a streamlined, straightforward workflow and a chaotic, confusing workflow, especially in the restaurant industry.
In this article, we discuss the top employee communication apps so you can find a solution that works well for your entire team.
Top employee communication apps
1) Sling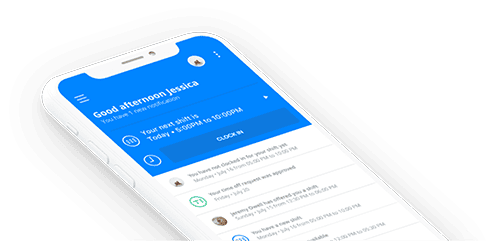 Sling is an all-in-one employee communication app and management solution designed to help teams of all sizes and types do their job better.
Whether your employees work at a desk, in the field, in-house, or remotely, they can harness the power of Sling's many features, including:
Sling's tools are available on a wide array of devices — including smartphones, tablets, laptops, and desktops — running Windows, iOS, and Android.
Try Sling for free today or get even more to help your team with a Premium or Business plan.
2) Slack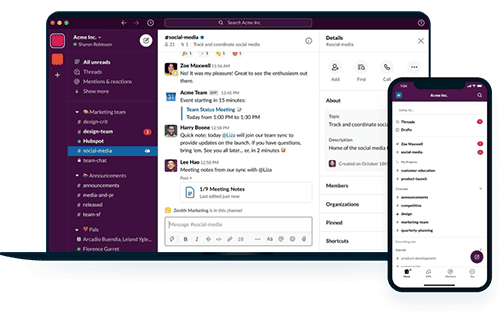 Source: Slack.com
Slack is a text-based communication tool that includes such features as channels, threads, tagging, and public and private messaging.
Slack can help your business centralize communications and streamline the way your team works.
The app is available free to try on Android, Windows, and Mac devices, or you can access more features with their Pro, Business+, and Enterprise Grid plans.
3) Trello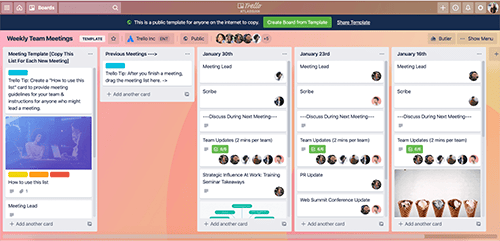 Source: Trello.com
Trello is a web-based, kanban-style, list-making application that can help businesses streamline their workflow and organize their to-dos so that everyone is on the same page.
While it's not an "instant message" employee communication app like some of the other entries on this list, it can be used to coordinate activities throughout an organization.
Teams can access Trello on the web and through a variety of devices running macOS, Windows, iOS, and Android.
Trello has a free version, or you can access advanced features with the Standard, Premium, or Enterprise plans.
4) Basecamp

Source: Basecamp.com
Basecamp is a project management and online collaboration app that puts everything you need to get work done in one easy-to-access place.
Through the software, you can set up projects (called boards within the app) for different employees or teams, chat with individuals and groups, and track the progress of their work.
You can access Basecamp through a free trial on any iOS, Android, macOS, or Windows device, or sign up for the Basecamp plan or the Basecamp Pro Unlimited plan.
5) Microsoft Teams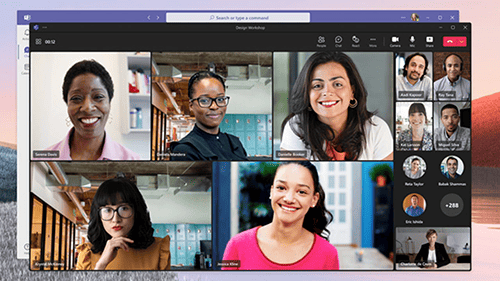 Source: Microsoft.com
Microsoft Teams is an employee communication app that specializes in audio/video conferencing.
The software also comes with a chat system that allows teams and individuals to communicate with each other one-on-one, create groups, and talk with coworkers attending the same meeting.
Microsoft Teams has a free version (with meetings up to 60 minutes and 100 attendees) or you can get more features with an Essentials, Basic, or Standard plan.
6) Monday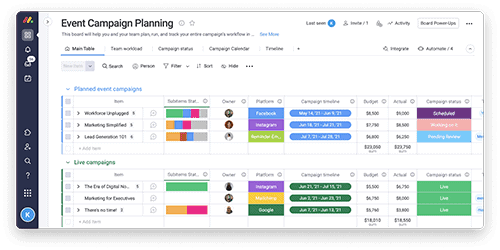 Source: Monday.com
Monday is another Kanban-style organization app that can help your business keep everyone up to date on the status of a particular task or project.
After you set up a task and assign privileges, members can tag each other, comment, add details, and communicate in a variety of different ways.
Try Monday for free (for up to two users) on Windows, macOS, iOS, and Android devices, or choose their Basic, Standard, or Pro plan.
7) ContactMonkey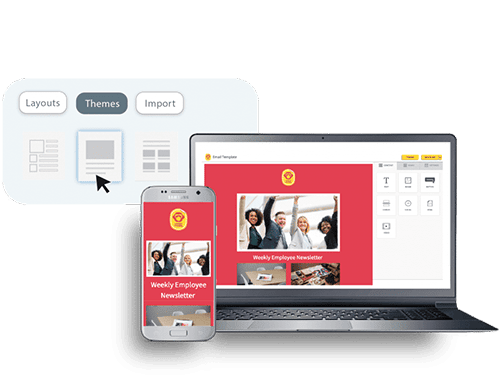 Source: ContactMonkey.com
ContactMonkey is an employee communication app that focuses on email and SMS text messaging.
The software lets you design, distribute, and control high-quality messages of all sorts and offers Outlook and Gmail integration that can make it easier to incorporate into an existing workflow.
Pricing for their Essential, Plus, and Enterprise plans are available upon request.
8) Viva Engage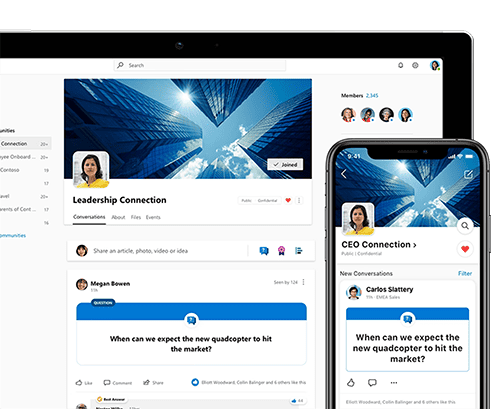 Source: Microsoft.com
Viva Engage is a business-based social networking service provided through Microsoft 365 that focuses on communication both within a single organization and between different organizations.
Viva Engage is available on a variety of devices and operating systems and can be accessed through Microsoft 365 or the Microsoft Viva Suite for $12 per user per month.
9) Chanty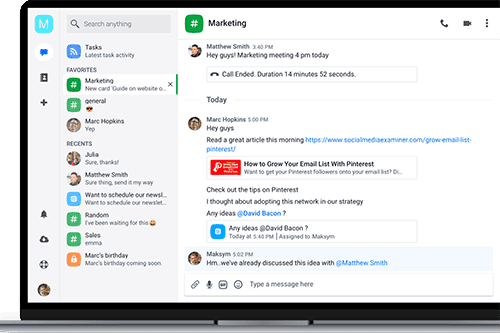 Source: Chanty.com
Chanty is a combination employee communication app and workflow management tool that can help your business organize discussions, tasks, documents, and other content into a seamless workflow that everyone in your organization can access.
Chanty is available on desktop and mobile through the Microsoft Store, the App Store, or Google Play and comes with a free plan (for up to 10 members) as well as a business plan for $3 per user per month.
10) Jostle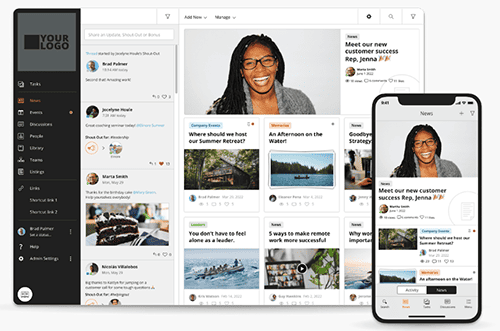 Source: Jostle.com
The Jostle software can help your business create a centralized communication platform, clarify what needs to be done, bring your company culture to life, and strengthen engagement within your teams.
You can try the Jostle employee communication app for free if you have fewer than 15 team members, or visit their website to specify the number of employees you do have and see how much their Bronze, Silver, Gold, and Platinum plans cost.
11) Jabber
Source: Jabber.com
Jabber is a comprehensive employee communication app that offers instant messaging, voice and video calls, voice messaging, desktop sharing, and conferencing for businesses large and small.
Jabber is available on a variety of devices for Windows, Mac, Android, and iOS, but you can only get pricing by contacting the company directly.
12) Webex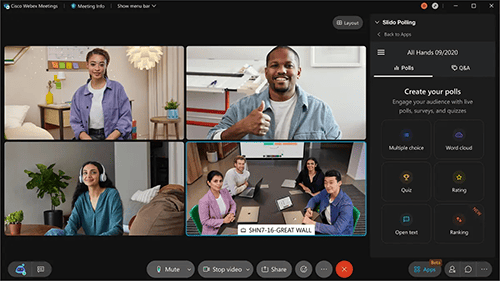 Source: Cisco.com
Webex enables communication via a variety of mediums including text, audio, and video.
Managers can use real-time translation between these three formats to help streamline discussions between different languages, countries, and cultures.
Webex includes a free version for meetings up to 50 minutes or 100 users, or a Business plan for meetings up to 24 hours and 200 users.
13) Zoom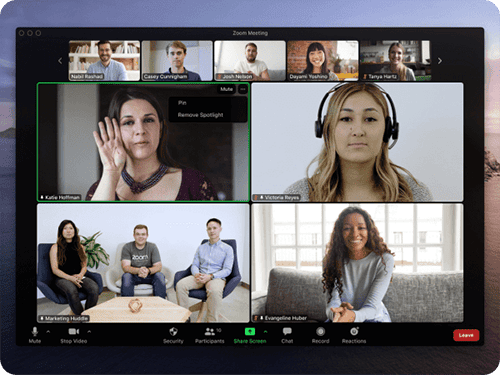 Source: Zoom.com
The Zoom software can help your business create a unified communication and collaboration platform with features such as:
Virtual meetings
Team chat
Online Whiteboard
Virtual workspaces
Zoom offers plans on any device for meetings up to 40 minutes or 100 attendees, or users can subscribe to one of their annual plans for more functionality.
14) Staffbase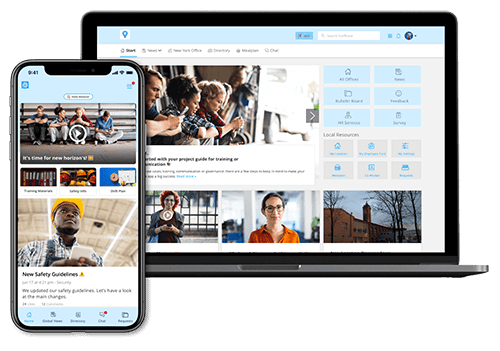 Source: Staffbase.com
The Staffbase employee communication app serves as a hub where team members can create, distribute, and manage information of all types through a variety of user-defined channels.
The price of your platform — be it through mobile or desktop devices — depends on which product plans you choose. Contact Staffbase for details.
15) Simpplr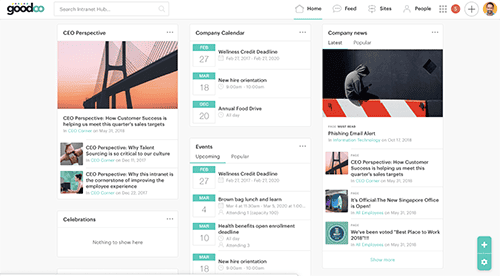 Source: Simpplr.com
Simpplr creates a simple and centralized channel through which all of your team's communication and knowledge can flow.
Contact Simpplr for pricing based on your company's size, complexity, and ongoing support needs.
16) ClickUp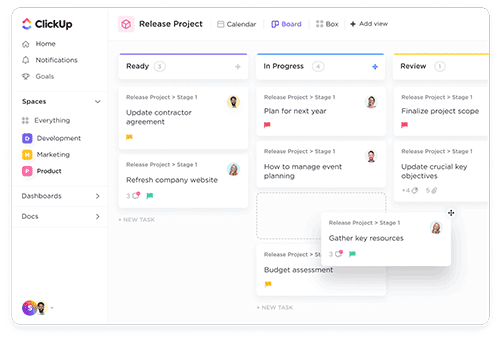 Source: Clickup.com
ClickUp is a flexible project management app that also features direct messaging, real-time collaboration tools, kanban and Gantt visualizations, and other features to keep everyone on your team on the same page.
ClickUp is free for personal use, or you can unlock more features through their Unlimited, Business, or Business Plus plans.
17) Helpjuice
Source: Helpjuice.com
Helpjuice offers a way to simplify internal knowledge bases, such as employee handbooks.
Helpjuice allows teams to communicate directly within documents via comments, replies, and notes so that everything is in one place.
Regardless of device and operating system, Helpjuice starts at $120 per month for up to four users and goes up from there to $289 per month for up to 60 users.
An employee communication app for all teams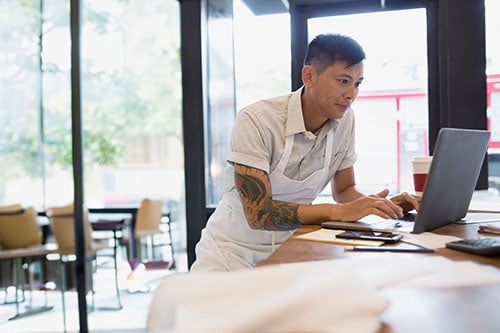 When it comes to choosing an employee communication app, you need something that streamlines the back-and-forth between team members but also contributes to other core aspects of their activity — things like scheduling, payroll, time tracking, and task management.
Sling is that app.
The Sling software includes a long list of features that can help you and your employees organize complicated shifts, record work hours, manage labor costs, simplify daily activity, and communicate with one another.
And, because Sling is based in the cloud, you can exchange messages with one individual or a group of employees, share documents, and distribute alerts in real time regardless of where your team is working.
For more free resources to help you manage your business better, organize and schedule your team, and track and calculate labor costs, visit GetSling.com today.
See Here For Last Updated Dates: Link
This content is for informational purposes and is not intended as legal, tax, HR, or any other professional advice. Please contact an attorney or other professional for specific advice.