Looking for a way to save time in your day so you can focus on making your business better? Create a monthly schedule template so your whole workforce management process goes quicker and smoother.
In this article, the experts at Sling give you tips on how to make the best schedule possible and provide you with a free template to get started.
Why Your Business Needs A Monthly Schedule Template
As a busy manager, you know that your time is valuable — perhaps one of the most valuable commodities you have to offer. You also know that scheduling takes up a big part of your workday.
A monthly schedule template reduces the amount of time you spend preparing before you get to the actual task of scheduling. You'll no longer have to remake the calendar month after month. Instead, you can store your template in your computer or filing cabinet so all you have to do is fill it out.
Your employee schedule is a reflection of the needs of your company and the team who works there. Your team may work a split shift every Thursday or rotate through a night shift once a month. As such, the information on your template may be completely different from another business's template.
This highlights the importance of creating your own monthly schedule template so that it satisfies all your needs. To help you in that regard, we've provided a very basic template with this article to serve as a foundation.
Before we get to that, though, let's discuss tips to help you create the best template for you, your team, and your business.
Tips For The Best Monthly Schedule Template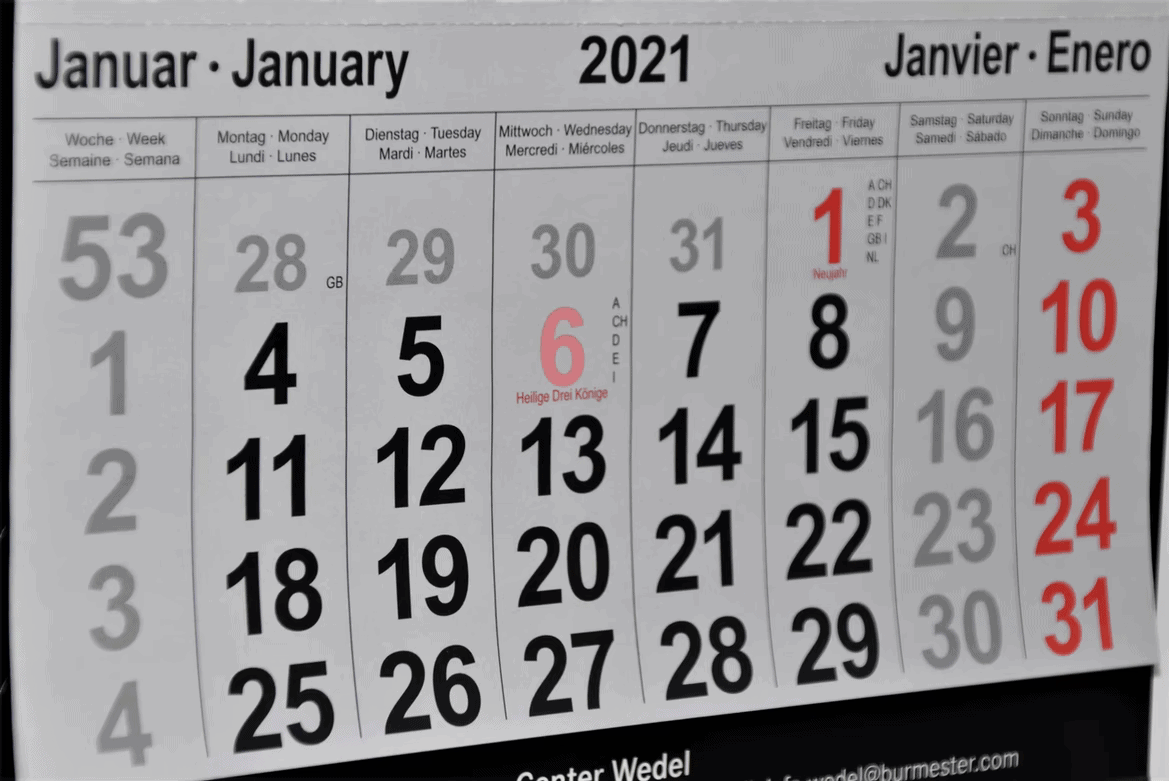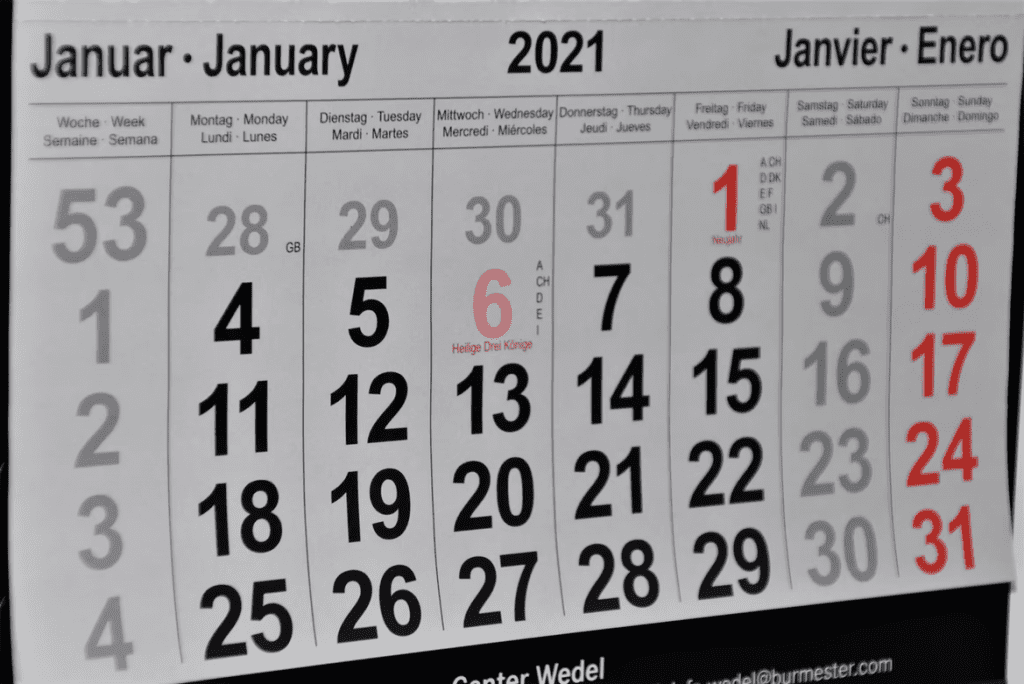 1) Know Your Employees' Strengths And Weaknesses
Knowing your employees' strengths and weaknesses makes it easier to put the right person in the right job during the right shift on your monthly schedule template.
For example, is employee A more efficient than employee B? If so, employee A might do better during the chaotic lunch rush when efficiency is a must.
Is employee B more of a people person than employee A? If so, employee B might do better during the more laid-back dinner service when customers are more likely to spend an hour or two at the table and server/customer interaction is more important.
2) Read The Monthly Schedule Template From Their Perspective
Close your eyes for a moment or put the finished work schedule in a drawer for a few minutes. Then, put yourself in your employees' shoes, open your eyes, and read the form from their perspective.
Is it easy to understand? What questions might your employees have about the final schedule?
Taking these things into consideration before using a template to produce your finished draft will prevent potential problems.
Here are some other questions to consider before creating your template:
Is it easy to find your name and when you work?
Is the schedule too cluttered?
Does the template need a key to help the reader understand it?
Would color make the template better?
What font and font size work best?
By keeping your template as straightforward and simple as possible, you can reduce the number of errors and, ultimately, make your job easier.
3) Factor In Business Needs
It's also valuable to examine your monthly schedule template with business needs in mind. Doing so can help you avoid issues with payroll, taxes, and total hours worked.
For example, ask yourself:
Is the final schedule easy to translate into a report for payroll?
Does the template help ensure that part-time employees don't work too much?
Does the final schedule based on this template limit overtime hours?
Examining these issues when you create your template is like taking the long view: It ensures that employees' weekly activity and reporting integrate seamlessly with monthly, quarterly, and annual activity as well as with other aspects of your business.
4) Think About Your Responsibilities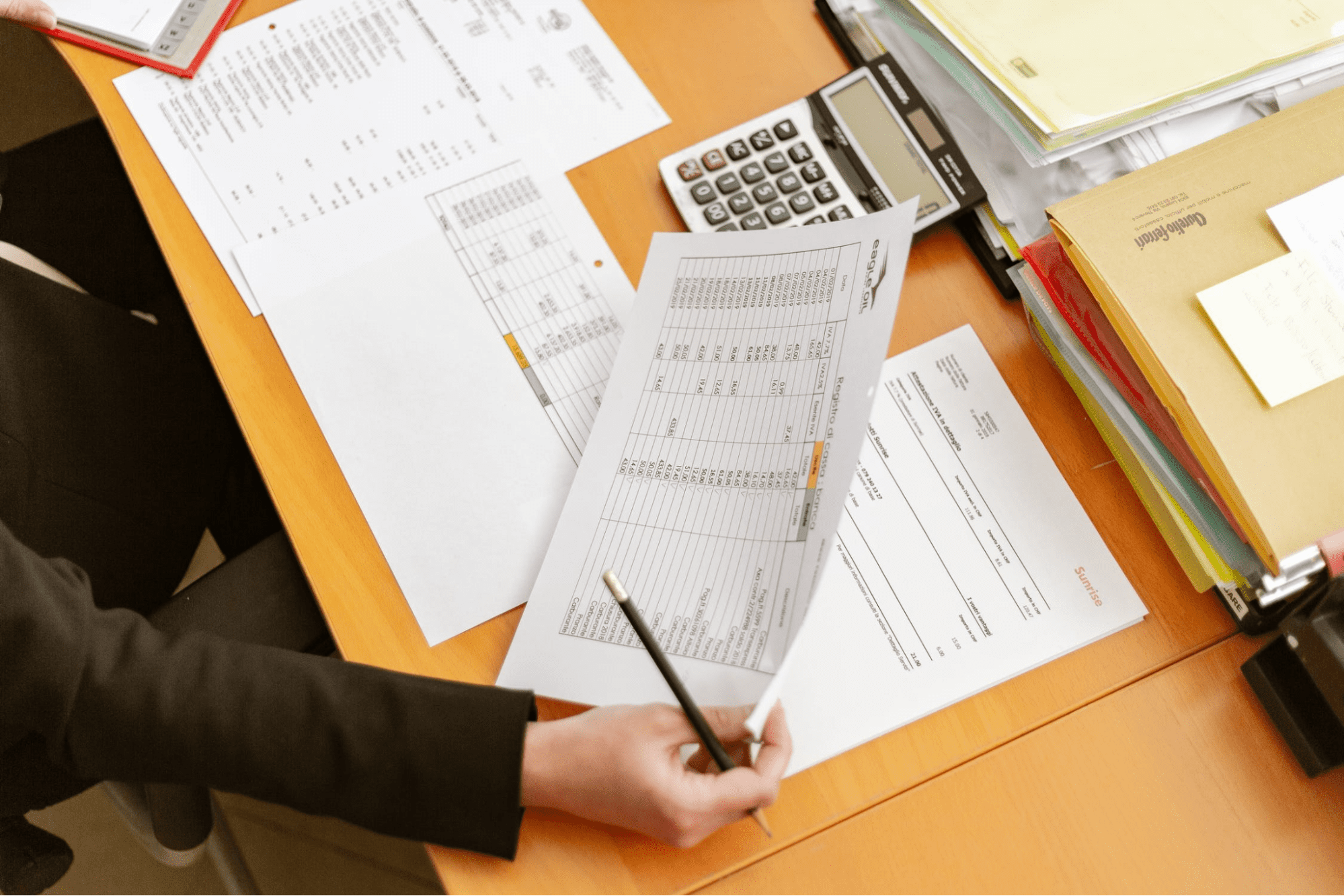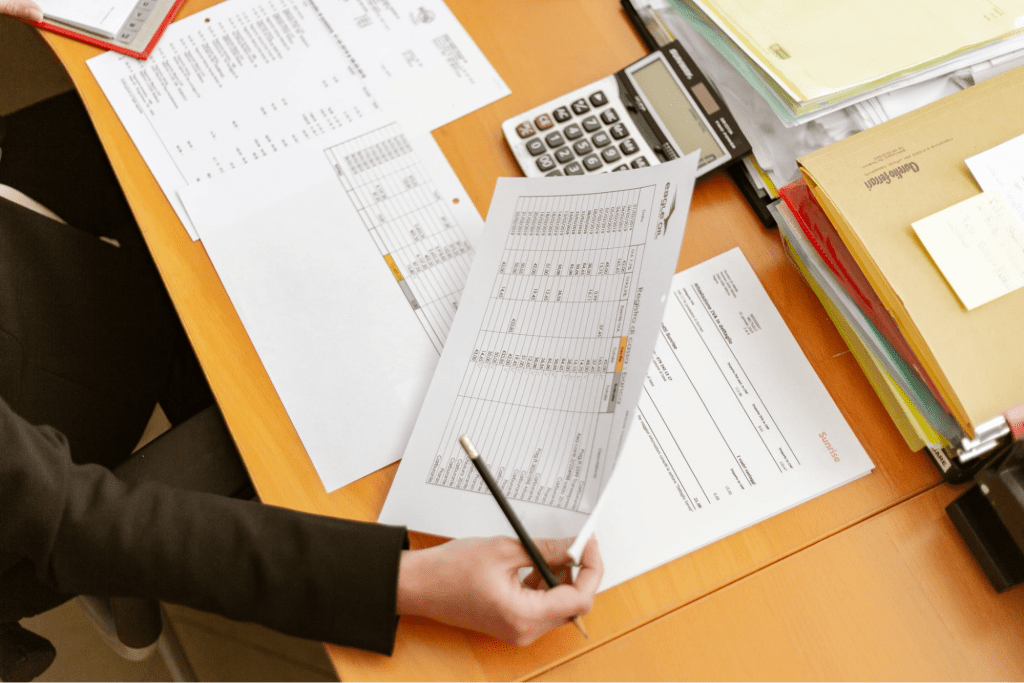 Producing a staff rota from a monthly schedule template is about more than just jotting down names and hours worked. As a manager, you have to think about your responsibilities as well.
Will you compose the schedule from start to finish or post open shifts and wait for employees to fill them? Will shift-change requests require your approval? When does the schedule become final?
This requires looking at the big picture — your overall availability and responsibilities — and making sure that creating and editing the schedule doesn't get in the way of more important activities.
Other questions to consider in regard to your monthly schedule template include:
When will you post the schedule?
Will you distribute a daily update?
Who's in charge of making sure all your team members see the schedule?
Thinking about your responsibilities, as well as factoring in employee and business needs, can help reduce the stress associated with schedule creation and your busy job in general.
5) Build Shifts Around Experienced Employees
Once you know your employees' strengths and weaknesses, you can use this information to assemble the best combination of team members for each shift.
Then, rather than starting at the beginning of the monthly schedule template and working through to the end, build your schedule around the employees best suited for a particular shift.
This serves two important purposes:
It ensures that each shift has at least one strong employee
It ensures that you have a core of experience on which other team members can rely
We gave you an example of the first point — the most efficient employee working during the lunch rush — in the Know Your Employees' Strengths And Weaknesses section earlier in this article.
As for the second point, an experienced employee can quickly improve the quality of a shift because other, less experienced employees watch, learn, and rise to the higher standards.
Mixing some of your best employees with some of your newer employees is a great way to create stability across all shifts.
Free Monthly Schedule Template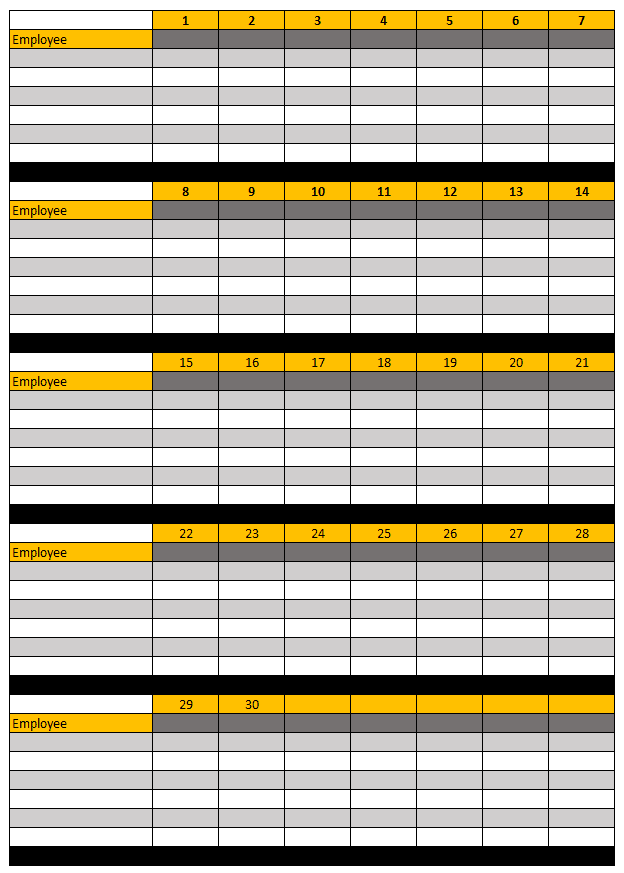 To help you get more done, we've included a simple monthly schedule template at the bottom of this article. You can use it to quickly schedule up to six employees for different shifts.
Simply fill in the month at the top left corner, the names of each employee, and the hours they work on each day (e.g., 8 a.m.-4 p.m., 12 p.m.-8 p.m., 4 p.m.-Close).
This monthly template can make the process of organizing your employees less of a headache, but it does nothing to help with:
Distribution
Communication
Tracking time-off
Finding substitutes
Only one solution does that (and so much more): Sling.
Software Makes Scheduling A Breeze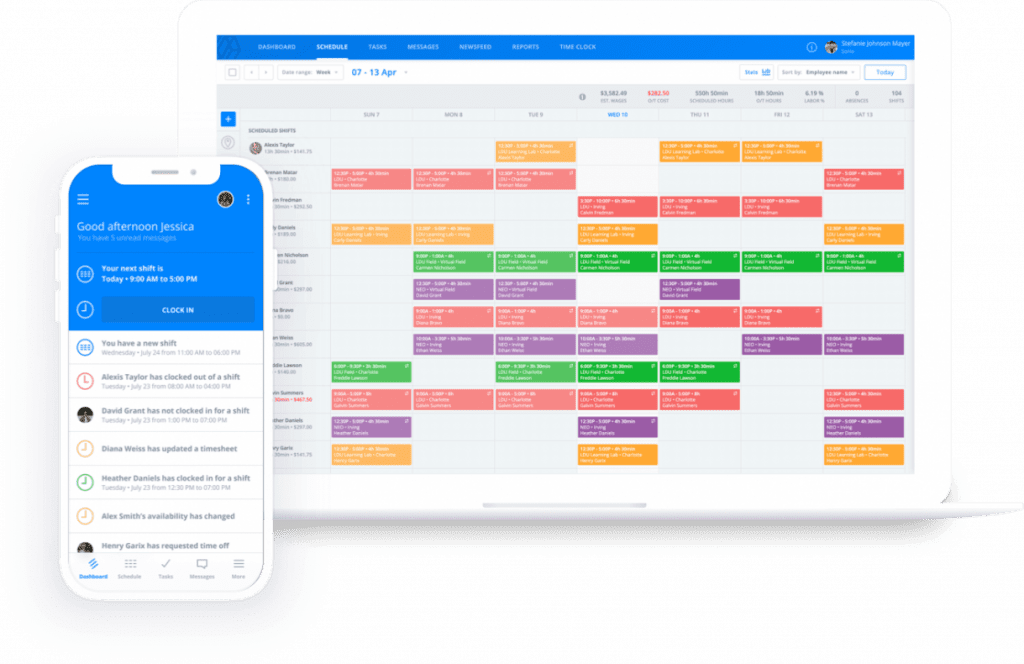 Sling is a powerful app designed with the busy manager in mind.
At its core, Sling addresses all the scheduling issues that a manager might face when scheduling employees. But it's about more than just plugging names into time slots. It's about optimizing your workforce to help them perform their best.
The intuitive and well-organized scheduling tools Sling offers make it easy to create clear, easy-to-read schedules well in advance. The cloud-based platform solves the distribution problem by providing simple and convenient storage and distribution. Just post your schedule in the cloud for all your employees to see.
If that isn't enough, you can even control who can view the schedule and who can make changes to it. All you have to do is give individuals permission or send them a link. They can log in to Sling to view the schedule anytime, anywhere, from any device.
Sling's cloud-based program also provides a central location where employees can indicate when they're available to work. Sling then displays reminders about double-bookings, time-off requests, and unavailability while you're creating your schedule.
Sling also offers powerful communication tools that let you contact everyone at the same time, a specific group of employees, or just one person through the messages feature. This cuts down on the difficult task of finding substitutes.
These features and many more reduce the time it takes to create your business's schedules and manage your employees. In fact, Sling helps managers bring teams together, keep everyone informed, and build better company culture.
In addition, you don't have to reinvent the wheel every time you create a schedule. You don't have to rely on overly simplified monthly schedule templates that simply can't address all your needs.
You don't have to conform your business to the features of a sub-standard scheduling program or template.
There's a solution made especially for you: Sling.
For more free resources to help you manage your business better, organize and schedule your team, and track and calculate labor costs, visit GetSling.com today.
See Here For Last Updated Dates: Link
This content is for informational purposes and is not intended as legal, tax, HR, or any other professional advice. Please contact an attorney or other professional for specific advice.