The success of your business demands that you hire the best employees. But the selection process is fraught with so many difficulties that finding the right person may seem like an impossible task. Thankfully, there's a simple four-step solution for every problem the employee search throws at you:
Write the best job description possible.
Ask the right questions during the interview.
Verify the prospective employee's abilities by using a thorough reference check template.
Incorporate onboarding best practices to make the new employee feel welcome.
This article deals with the third of those four steps—checking references—so you don't have to leave this crucial process up to chance. To help you in this endeavor, the experts at Sling have created a sample reference check template and a step-by-step guide to show you how to use it.
Using a Reference Check Template
1) Collect Reference Details During The Interview
During the interview, ask the interviewee for their references. Ideally, the candidate will provide written details, but in some cases, you will need to collect the information yourself. Regardless of how it's presented, the reference material should include:
Business name.
Reference's name.
Reference's position or title.
Reference's contact information.
Relationship to the candidate (e.g., supervisor, manager, owner).
Date range of employment.
Candidate's position or title.
Job responsibilities.
Reason(s) for leaving (e.g., fired, looking for something different, no opportunity for advancement).
After you've gathered all the pertinent information, be sure to get the candidate's permission to contact the reference. If the interviewee is still working at their current job, they may not want their employer to know they are applying for another job. In this case, they should provide (or you should ask for) another reference who can testify to their skills and abilities.
2) Compose A List Of Job-Specific Questions
After the interview but before you contact the reference, review your notes, the application (if one was filled out), and the candidate's résumé. Ask yourself:
Is there information on the application or the résumé that you need verified?
Do you have any questions or concerns about the applicant's suitability for the new job that the reference may able to answer or clarify?
What else would you like to know about the applicant that didn't come out on the paperwork or in the interview?
Based on your answers, compose a list of job-specific questions that you would like to ask the reference during your call. We've included a section in the reference check template at the end of the next section where you can record these questions and answers.
3) Contact The References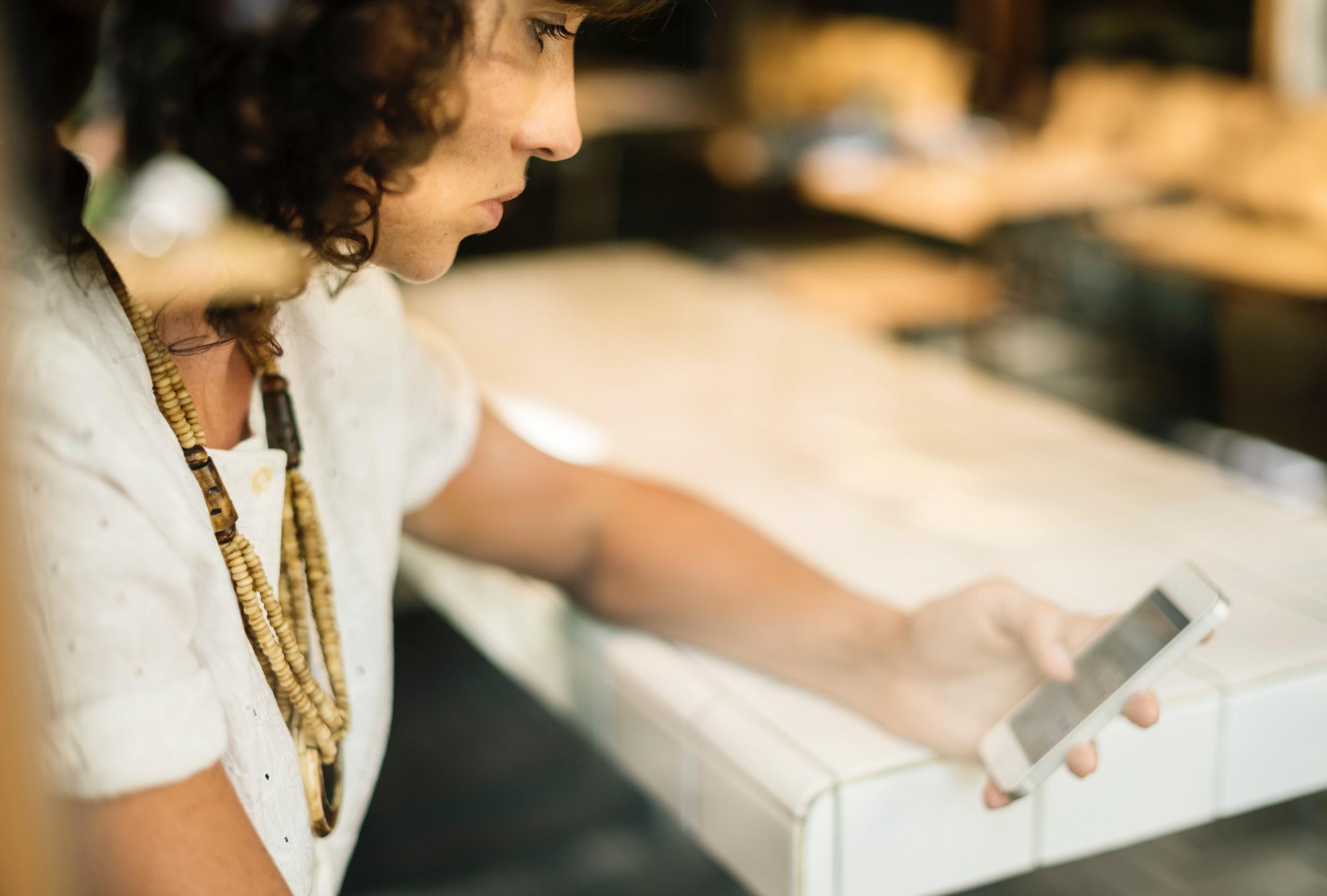 This is often the most difficult step in the process because managers and supervisors are extremely busy. Before you call or email, think about the best time to contact the reference. If they work in retail, try calling first thing in the morning or mid-afternoon to catch them when they're not involved in something else. If they work in food service, try calling right after the lunch rush.
For some references, your first call may be just to schedule an appointment to talk later. That's okay. Setting aside a specific time to talk is better than trying to squeeze a 10-minute conversation into five minutes. When the reference is rushed for time, she won't give her answers the thought they deserve, and you won't have the best information possible on which to base your hiring decision.
It's also important to remember that some references may prefer that you send them a form via letter or email. Don't be alarmed. Many businesses require that reference information provided to new employers be kept on file to protect against future legal action. With a paper or digital copy of their own, the reference can fill in the information requested, send the form back to you, and keep a copy for themselves.
ADD_THIS_TEXTSo what does a reference check form look like? We've included a sample template below.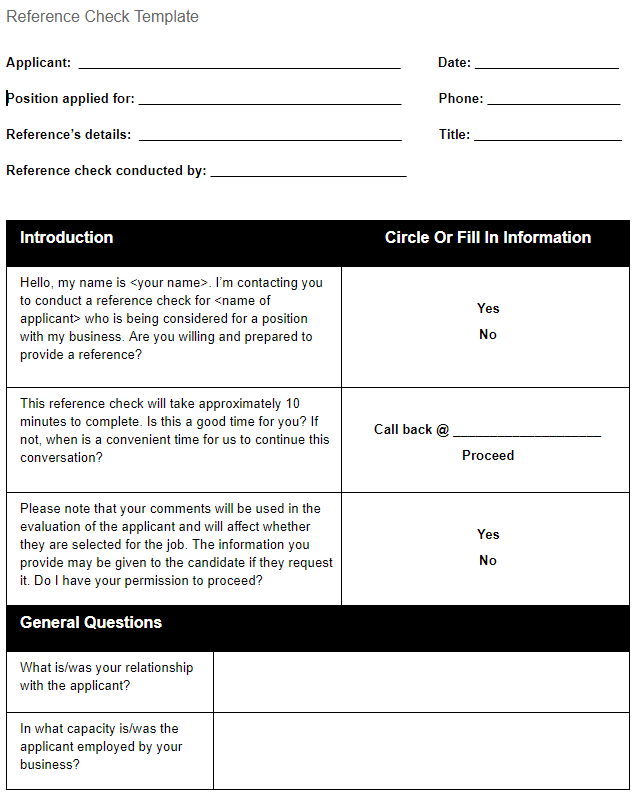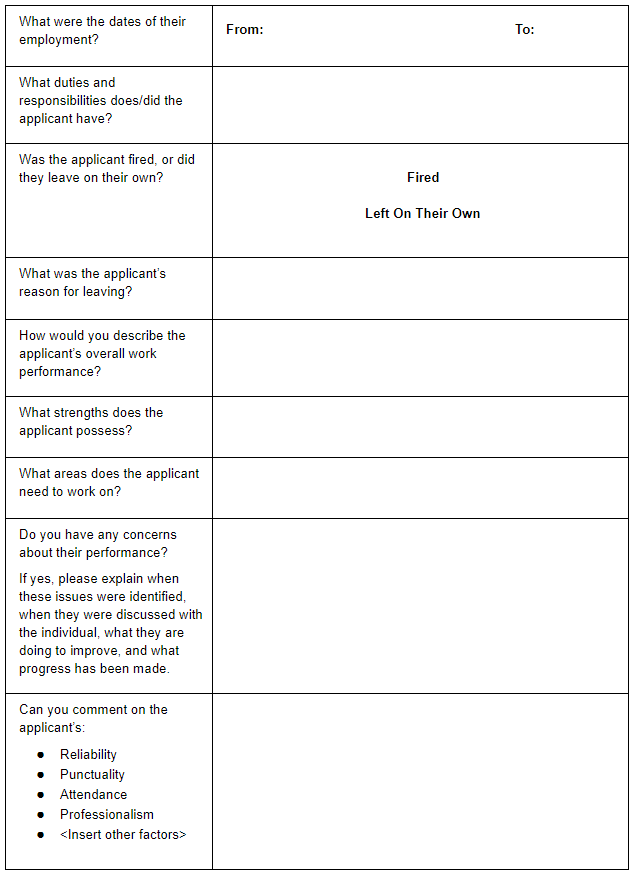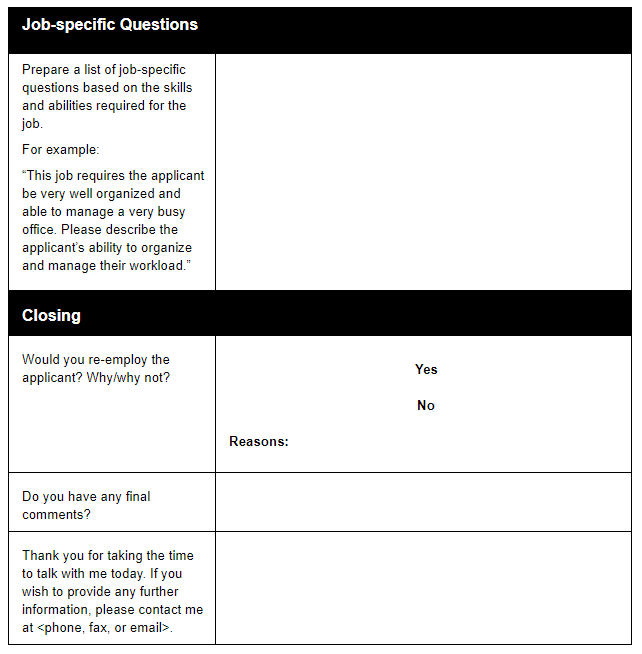 You're finally ready to hire your new team member! Before you make any decisions, walk away from the hiring process for a while. Turn your attention to another matter for an hour or two, and then come back to hiring with a fresh perspective.
After the break, review the application, the résumé, and your interview and reference notes one more time. Based on that information, choose the best candidate for the job.
5) Incorporate Your New Employee Into The Work Schedule
Now that you've hired a new team member, it's time to incorporate her into the work schedule. But scheduling multiple employees through a variety of different shifts is another one of those tasks that busy managers often dread.
Even though you can't get away from the need to schedule your employees and keep them on-task, you can simplify and streamline the process with a cloud-based app like Sling.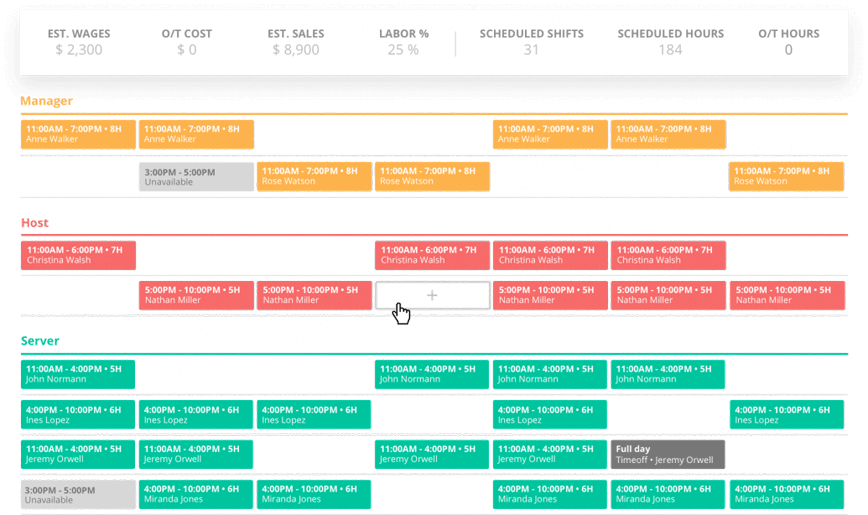 Sling is a suite of tools that are specifically designed with busy managers in mind. Sling combines the simplicity of a calendar view and the easy access of cloud-based technology with other advanced features like:
An integrated time clock that allows employees to clock in and out right from their phone or mobile device.
A messaging app that makes it easy to share photos, videos, and links; send messages; and chat with employees either in groups or in private conversations.
A newsfeed that acts as a digital hub for all your team member.
A task list that helps you assign specific jobs to groups or individuals.
Within each of those five main components, Sling is packed with intuitive tools like employee and task color coding, recurring shifts, and time-off notices. Sling even makes notifying employees about no-shows and available shifts easy with advanced communication features and push notifications sent directly to their phones.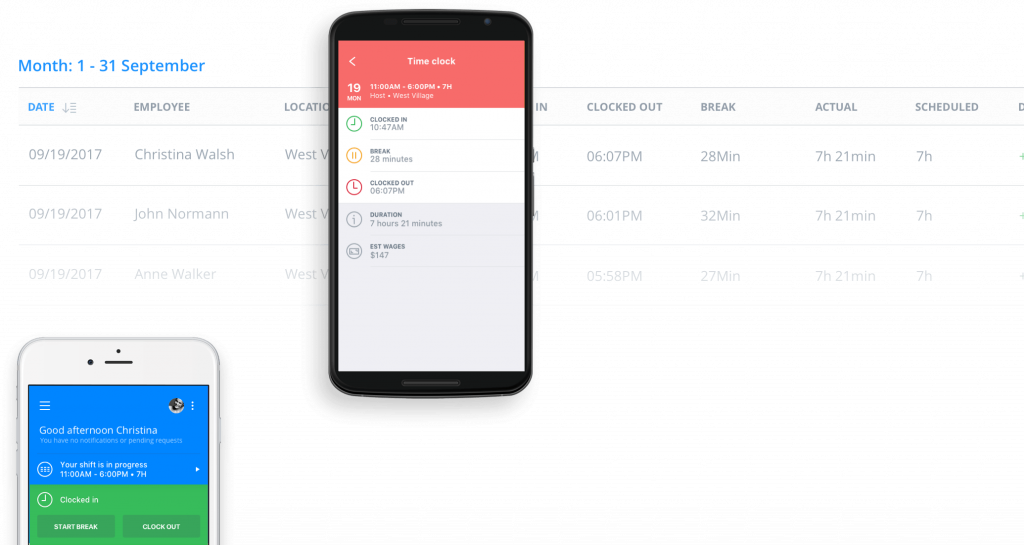 On top of all the features mentioned above, Sling also acts as your own scheduling personal assistant. Sling keeps an eye on your work and notifies you when you've overlapped shifts, double-booked an employee, or neglected to honor a time-off request. This cuts down on all the changes you have to make after you create the schedule.
These features and many more make Sling the best organization tool for busy managers. It frees you up to focus on more important tasks like building company culture, keeping your employees engaged, and building the best business possible.
See Here For Last Updated Dates: Link
This content is for informational purposes and is not intended as legal, tax, HR, or any other professional advice. Please contact an attorney or other professional for specific advice.